Director

Cast

Brie Larson

,

Teyonah Parris

,

Iman Vellani

,

Zawe Ashton

,

Park Seo-joon

,

Samuel L. Jackson

,

Lashana Lynch

,

Randall Park

Rated

PG-13

Runtime

105 min.

Release Date

11/10/2023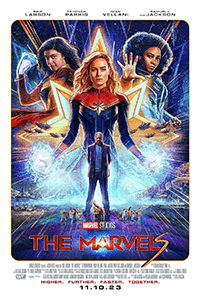 Ever since Avengers: Endgame (2019), Marvel Studios has spread itself thin, maintaining a relentless pace of three or so theatrical releases and multiple television series on Disney+ each year. Casual Marvel Cinematic Universe fans went from consuming a few hours annually to keep up with storylines to spending dozens of hours on multiple features and series just to know what the hell is happening. The Marvels, the MCU's latest superhero team-up, might be evidence of Marvel's quality control problem under overly productive conditions. To follow the narrative and various characters at stake within this feature, you must have seen not only the last several years of movies but also WandaVision (2021) and Ms. Marvel (2022). Anything short of that may result in confusion. Then again, this critic has seen those shows and still remains somewhat confused about the specifics. Not that it matters much since The Marvels is predicated on the charming screen dynamic between stars Brie Larson, Teyonah Parris, and Iman Vellani. Their playful chemistry is enough to lift this otherwise middling entry in the MCU into a passable feature.
The Marvels opens just a week after an article in Variety exposed how Marvel Studios has been lacking oversight and creatively flailing. Instead of studio chief Kevin Feige shaping every facet of each production, the corporate machine has taken over and delegated responsibilities to people with apparently lower standards, leaving entries like this one to proceed without the same attention Feige would have normally paid a reportedly $250 million production. This is a shame, given that Marvel wrangled filmmaker Nia DaCosta, who helmed 2021's Candyman, to guide this production. But instead of lending the movie her voice or placing her stamp on the material, the director, like so many before her, is swallowed up by the Marvel house style. This is not altogether surprising; most directors who work in the MCU never get a chance to express themselves in any meaningful way. So, while DaCosta's almost invisible presence behind the camera is disappointing, it's also the Marvel way. Indeed, after 32 films and ten TV shows, the homogenized quality of these entertainment products is the rule to which there are few exceptions. 
So what makes The Marvels unique? Certainly not the plot. Here, we have a story that resembles Zack Snyder's Batman v Superman: Dawn of Justice (2016), in that it deals with the consequences of a superhero's well-meaning actions. Long ago, presumably after the events in Captain Marvel (2019), Carol Danvers destroyed the AI known as the Supreme Intelligence controlling the Kree planet Hala, and in the long term, her actions inadvertently ruined the planet's atmosphere, caused a drought, and caused their sun to diminish—though, how one thing is connected to the others is not exactly clear. At any rate, an angry Kree named Dar-Benn (Zawe Ashton) feels Captain Marvel abandoned her people and wants revenge, so she sets out to steal resources from other planets that Captain Marvel calls home. Dar-Benn's master plan, involving a magical wristband MacGuffin and a network of intergalactic "jump points," takes time to materialize, but the movie spends so little effort establishing these details that it's pointless to repeat them here.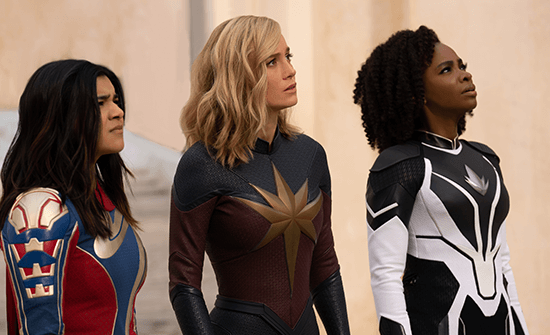 If the plot mechanics seem vague, if not unimportant, DaCosta and her cast propel the material forward. Alongside Larson, Parris reprises her role as Monica Rambeau, and Iman Vellani returns as the teen Ms. Marvel. The former still feels the sting of abandonment by Danvers after the events in Captain Marvel, though she's now imbued with light powers after WandaVision, the rules of which remain confounding. (Most of this background is shared in flashbacks, courtesy of a device the amnesiac Danvers uses to recall her erased memories, and they resemble a TV series recap more than experiences in the mind's eye.) The latter is hilariously starstruck by her idol ("Twinsies," she calls them), but she's also the optimistic glue that keeps the makeshift team together—she even coins the titular team name. Again, for reasons I cannot adequately describe, this trio is linked by their confusing powers, so if one uses them, another instantly teleports into her place in a fast-as-light switch. Therefore, The team must work together to determine how this initially inconvenient wrinkle can be turned into an advantage. However, the rules for these switches are never fully explained and seem to happen haphazardly, but it makes for a neat light show.
The Marvels has a casual, slapdash energy about it, similar to this year's Ant-Man and the Wasp: Quantumania and several other recent MCU features. The studio seems willing to take weirder swings and visit stranger worlds, such as a water planet where the inhabitants speak through song—prompting a short musical number between Larson and South Korean star Park Seo-joon. Elsewhere, Goose, the feline-esque Flerkin with tentacles and a voracious appetite, lays eggs on the space station where Nick Fury (Samuel L. Jackson) is stationed, requiring the staff to "herd cats" in an amusing evacuation sequence (the chaos of cats is always delightful). Fortunately, DaCosta doesn't turn the proceedings into an endless joke machine, as Taika Waititi did in last year's Thor: Love and Thunder. But along with the lively soundtrack, featuring the Beastie Boys' "Intergalactic" and M.I.A.'s "Double Bubble Trouble," this is a lighter and less consequential entry in the overarching MCU—a chapter that, similar to much of the post-Endgame output, feels more like filler than a necessary panel in a larger installation. 
Although the technical presentation is capable, as always, the Marvel Studios look delivers bland images that seem generic next to DaCosta's inspired and thoughtful visuals on Candyman—and this is especially disappointing given the presence of skilled cinematographer Sean Bobbitt, a frequent collaborator with Steve McQueen and Michael Winterbottom. Editors Catrin Hedström and Evan Schiff overcut the material to a brisk 105-minute runtime, meaning The Marvels doesn't risk overstaying its welcome like many blockbusters today. But most of its characters and plotting remain underserviced by a pace that could have used a few moments to stop, breathe, and build stronger emotional ties between our heroes. Even so, it's pleasant to watch Larson, Parris, and Vellani interact in female-forward situations, though the nature of their superpowers continues to elude me. By the end, the movie is a lower-tier MCU installment, but the quality is serviceable enough to keep you diverted. That's a mild endorsement for one segment of a vast franchise, but if they keep making negligible items like this, the franchise may peter out entirely.