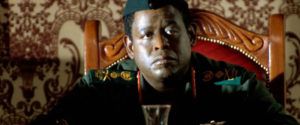 The Last King of Scotland
3.5 Stars
Director

Cast

Rated

R

Runtime

123 min.

Release Date

09/27/2006
The horrific-but-true story of Ugandan Prime Minister Idi Amin (whose reign over the first independent government of African began in 1971 with a military coup of Uganda's first Prime Minister), partnered with the film's pseudo-documentary camerawork, gives The Last King of Scotland a brimming authenticity. The story is told from the point of view of character Nicholas Garrigan, a recently graduated Scottish doctor who just had to get away from home. Garrigan is the white man in Africa, picking Uganda at random as somewhere wild to go and make a difference. The film plays out like Joseph Conrad's novella Heart of Darkness; Garrigan enters the unknowns of Africa and becomes enticed, entranced, and finally horrified by what he sees.
First settling at a small, private hospital, Garrigan (James McAvoy), unexpectedly meets the newly "appointed" Idi Amin (Forest Whitaker), inadvertently charms him, and then reluctantly takes a position as Amin's personal physician. Amin is shown as good-humored, he laughs with childlike immaturity, but also has bouts of anger and even paranoid schizophrenia. Completely unaware of Uganda's political situation, Garrigan doesn't judge Amin; he keeps giving the Prime Minister chances until it becomes impossible (bloodily) to do so. Everyone calls Garrigan "the white monkey" as he's become a slave to Amin; the horror of Amin's supremacy finally hits Garrigan, as he sees first hand the butchery of the Uganda's leader. By that time it's too late to go home.
Known for giving himself extravagant titles such as "His Excellency President for Life, Field Marshal Al Hadji Doctor Idi Amin, VC, DSO, MC, Lord of All the Beasts of the Earth and Fishes of the Sea, and Conqueror of the British Empire in Africa in General and Uganda in Particular" (that's a long one) and "King of Scotland", Amin was considered a madman. Rumors of cannibalism and mass killings made it back to the U.S. during his administration, and as the film tells us, Amin is now known to be responsible for over 300,000 deaths during his eight-year rule. Forest Whitaker never fails to show us his character capable of such horrors.
Whitaker, whose career thus far isn't widely known, gives a performance that gradually induces both Garrigan and the audience to sink in their chairs. We're charmed by Amin's power, his generosity to Garrigan, and then we realize we've been duped by an egomaniacal monster. This realization is downright scary and unnerving like something out of a great horror film. Whitaker got his big break in Martin Scorsese's The Color of Money, playing a pool shark who out-hustles the hustler, Paul Newman. Later roles in Clint Eastwood's Bird as Charlie Parker, The Crying Game, Ghost Dog: The Way of the Samurai, and Panic Room have proved Whitaker's versatility. Hopefully, this film thrusts Whitaker into the general public's eye. His performance here has already won several awards, and is sure to garner more.
The film also stars Gillian Anderson, who sort of disappeared after The X-Files went off the air, save this and a role in 2005's hilarious Tristram Shandy: A Cock and Bull Story. It's nice to see her on the screen again, doing something other than investigating government conspiracies. Here's hoping her feature film career continues. Kevin Macdonald, whose filmography consists of mostly documentaries, shoots the film in a realistic, breaking-news style. We're often watching from afar during outside scenes, focusing in from a distance. Scenes of violence, in particular, are comparable to graphic scenes on CNN—painfully real. Though the setting allows for the possibility of an epic visual scope, Macdonald personalizes it—as though TV cameras are catching the film's events, as though it's live.
Even if you're unaware of Unganda's maniacal Idi Amin, because of Garrigan's obliviousness to the political situation there, it's better if you go into the film without an extensive knowledge of the material beforehand. The film, though essentially about Amin, gives us Garrigan to relate to; we're on this trip with him into one of the most horrifying times in African political history. The "white man in Africa" idea is a little problematic in the way Blood Diamond was, but the fact that this is based on a true story smoothed over my angst. Macdonald's direction, Whitaker's standout performance (not to mention James McAvoy's surprising portrayal of the corrupted Garrigan), and most importantly the story are all real in that gets-under-your-skin way. Neither overly political, nor overly intellectual, The Last King of Scotland is a powerful, accessible biopic of one of history's recent madmen.