Director

Cast

Robert Downey Jr.

,

Robert Duvall

,

Vera Farmiga

,

Dax Shepard

,

Billy Bob Thornton

,

Vincent D'Onofrio

,

Balthazar Getty

Rated

R

Runtime

141 min.

Release Date

10/10/2014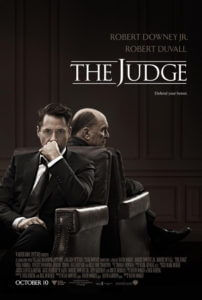 Director David Dobkin achieves his passion project with The Judge, an earnest courtroom feel-gooder saddled by predictable plotting and clichéd dramatic turns. After years of comedies, some hits (The Wedding Crashers), some misses (Fred Claus), Dobkin and co-scripter Nick Schenk came up with an antiquated story that was ultimately penned by Schenk and Bill Dubuque. Entering John Grisham territory with notes of Frank Capra, the overindulged, overlong result has been quarried from dozens of other sources and its degree of familiarity proves trying. Dobkin's father was an attorney, and so he instills a sense of personal sentimentality and dignity around the profession, which lends the film an old-fashioned idealism. Fortunately, Dobkin acquired a terrific cast to breathe life into his characters, making The Judge a generic crowd-pleaser.
Robert Downey Jr. plays big-city defense attorney Hank Palmer, whose trip to his small-town home of Carlinville, Indiana, for his mother's funeral is beyond a headache for him. There, amid the downhome charm, he finds painful reminders of his youth, including his estranged father, Judge Joseph Palmer (Robert Duvall), whom he resents and hasn't spoken to in years. His elder brother Glen (Vincent D'Onofrio) could have been a professional baseball player had Hank not wrapped a car around a tree in their teenage years. And Hank's younger, dim-witted brother Dale (Jeremy Strong) remains childlike, carrying an old Super 8 camera around with him at all times. Meanwhile, Hank's marriage is in shambles and headed for divorce, and he's determined to get custody of his daughter. Auspiciously, down at the local diner, Hank's ex-flame Sam (Vera Farmiga) wants to rekindle their youthful, true-love romance.
After the funeral, Hank preps to return home, but his father's sudden arrest for murder forces him to stay. A recently released criminal sentenced by Judge Palmer has been run down on a rainy night, and the victim's DNA has been found on the Judge's car. Though his father hired a hayseed local (Dax Shepard) for his defense, Hank insists on representing his father, and along the way, their father-son relationship heals. Though, the Judge continues to be a stubborn old meanie and Hank a smug hotshot. In the courtroom, Hank is pitted against a ball-busting judge (Ken Howard) and a slick-as-snot prosecutor (Billy Bob Thornton). And in the end, there's an artificial climax on the witness stand, where the usual lines of courtroom questioning break down, and the prosecutor apparently takes a nap, all so Hank and his father can work out their issues in a teary testimony that achieves an understanding between the two.
Without Downey, Jr. and Duvall putting their talents into the two central performances, The Judge might be completely despicable for its overt schmaltziness and over-stuffed screenplay. Dobkin introduces several subplots, any number of which feel superfluous, including a bit about Hank's possible illegitimate child with Sam; later, there's a tornado that threatens Carlinville at the height of a family row and stands as an overwrought visual metaphor for the scene. Elsewhere, the Dale character feels like a manipulative device engineered for an easy laugh or weepy cry. The only moments that contain an air of authenticity are those about the Judge's battle with cancer; Duvall commits to the ugly side effects of chemotherapy in a bathroom sequence that manages to be both heartbreaking and funny. In an uncharacteristically messy lensing job, Steven Spielberg's longtime collaborator Janusz Kaminski renders some scenes in an all-American sheen and others in a grainy filter, as though they were shot by Dale. Flashback sequences look believably vintage in their Super 8mm quality.
Steeped in human drama, The Judge takes obvious influence from Kramer vs. Kramer and Terms of Endearment, but without an ounce of originality or innovation applied to it. More recent examples of such fare include August: Osage County and This Is Where I Leave You, where reluctant family members return home for a funeral and, through noisy arguments and much dramatic grandstanding, realize why family is so important. The familiarity of the story hurts what is Dobkin's otherwise pleasantly sincere and straightforward direction, and a number of fine performances. Downey, Jr's usual verbal gymnastics routine gives way to some emotional revelations, while Duvall portrays a multi-layered character capable of extreme obstinacy and unexpected tenderness. Their performances, along with solid supporting work from Farmiga and Thornton, might be the only reason to once again endure a story you've seen countless times before.