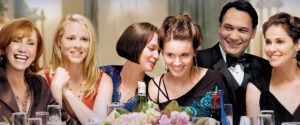 The Jane Austen Book Club
3.5 Stars
Director

Cast

Maria Bello

,

Emily Blunt

,

Kathy Baker

,

Amy Brenneman

,

Maggie Grace

,

Hugh Dancy

,

Kevin Zegers

,

Marc Blucas

,

Jimmy Smits

,

Lynn Redgrave

Rated

PG-13

Runtime

106 min.

Release Date

10/05/2007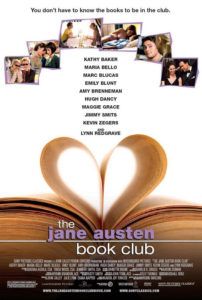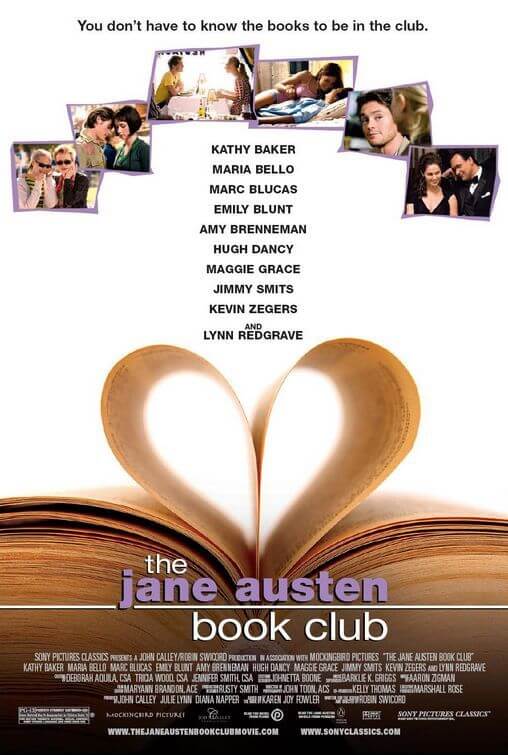 Sitting down to watch The Jane Austen Book Club, I felt a tad guilty, having only read three of the six novels by eighteenth-century English author Jane Austen's. From her books Pride and Prejudice, Sense and Sensibility, and Mansfield Park, I gathered a profound sense of irony, cultural behavior, and romantic indecision… herein resides the film's plot. The title's book club consists of five women and one man; they read Austen's novels over six months, one character and one month for each of Austen's novels. Each finds parallels to their own lives.
Jocelyn (Maria Bello) is a terminally single woman, a matchmaker who breeds dogs; we open onto her prize Rhodesian Ridgeback's funeral procession, to which all of her close friends are required to attend. It's clear to everyone but her that a single woman who breeds dogs for a living is in desperate need for a mate. Kathy Baker plays the six-time married Bernadette, a free-spirit who helps organize some kind of club to help their group of friends provide indirect support during Jocelyn's loss.
Bernadette finds another reason to meet with the group in friend Sylvia (Amy Brenneman), whose husband Daniel (Jimmy Smits) recently left her for another woman. Sylvia's daughter Allegra (Maggie Grace) has her own reasons for needing Austen-type group therapy; she's parachuting out of planes and pretending not to be heartbroken about her parents' divorce and her own affairs. Bernadette finds a fifth member in Prudie (Emily Blunt), a twenty-something French teacher whose unfulfilling marriage leads to her contemplating an affair with one of her students; her elevated participation in the club features opinions spoken as fact and in French aphorisms (that when spoken gather rolling eyes from the other members).
The sixth and final member Jocelyn meets somewhat randomly: a man named Grigg (Hugh Dancy) who she believes will help Sylvia forget her divorce, but Grigg has his eyes on Jocelyn. He agrees to the Jane Austen book club, showing up the first day with a single volume collection of Austen's works—one of those gargantuan collection books with ultra-thin pages and tiny print. He figured Austen's six novels were all sequels, best to have them together. Grigg is an outsider in their group, offering Jocelyn his own well-selected set of science fiction novels by authors like Ursula Le Guin and Philip K. Dick. Those of us unfamiliar with each and every Austen work will empathize with poor Grigg; he has a rather naïve-but-bright approach, showing up each month with his male perspective, all the while hoping to finally get Jocelyn out of her shell.
What did I miss by not reading the other three other novels (Emma, Persuasion, and Northanger Abbey)? If I were to ask Mark Twain, he might say nothing; he once suggested that an empty library is better than one populated with the works of Austen. If you ask me, there are few better romances. I suppose I missed much of how the book club's members reflected those novels, or acted as the director's ode to a particular Austen character. Even without a modernist, referential analysis, the film provides its own set of individuals, both Austen-esque and contemporarily germane. Austen's weight today should be doubtless, and this film proves that.
Based on the novel by Karen Joy Fowler, the film was adapted by writer and first-time feature-length director Robin Swicord. Swicord wrote screenplays for two other films centered on strong women characters, Little Women and Memoirs of a Geisha. For readers of Austen's works and those of you who are not, this movie will have effortless appeal. It offers a strong point-counterpoint discussion of Austen's fiction. We're given arguments to her modern day relevancy, even for those uninterested in classical literature. Specifically, we're shown how, from reading novels, we draw conclusions based on our subjective read; certainly each of the film's six characters read Austen through their own eyes.
If I've ever used the term "chick flick" in my reviews, I've been careful to put it in quotes, so as to point out its absurdity and sexism. It suggests that these films can only be enjoyed by females. By playing up the stereotype that men like violence and women enjoy love, the term ostracizes men, distancing them from the material before they ever take a step near the box office. I'd prefer to call them Romances, as it seems to be a requirement of the genre. Romance appeals to anyone with a heart; sex is irrelevant. The Jane Austen Book Club is a Romance of the highest degree.