Director

Cast

Logan Marshall-Green

,

Emayatzy Corinealdi

,

Michiel Huisman

,

Tammy Blanchard

,

John Carroll Lynch

,

Mike Doyle

Rated

R

Runtime

100 min.

Release Date

04/08/2016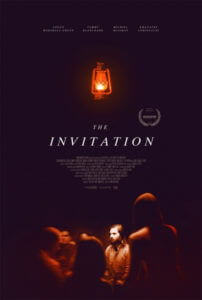 Have you ever reconnected with an old friend who seems far removed from who they used to be? Something in them has changed. They've found some new religious sect or have thoroughly embraced a self-help program. It's strange and upsetting to witness someone with whom you were once so familiar now show signs of a complete transformation you don't understand. Now imagine you're at a dinner party and the hosts are your old friends who've changed. Social decorum demands you behave politely, despite signs that something's not right with the whole situation. That's the basic setup of The Invitation, director Karyn Kusama's intensely slow-burning thriller that meticulously and effectively unsettles the audience.
Kusama started out with her indie smash Girlfight in 2000, but quickly descended into the lifeless, Hollywoodized productions Aeon Flux (2005) and Jennifer's Body (2009). She has now returned to her indie roots with The Invitation, which debuted at SXSW in 2015 and has received limited theatrical distribution, along with a VOD release, a year later. She's also received some stellar reviews for her fourth feature. Kusama's restrained, disquieting approach to the script by Phil Hay and Matt Manfredi (also producers) builds subtle backstories for a group of friends who meet for a dinner party after two years of not seeing each other. The gathering is part of something called "The Invitation", a movement about which a few of the characters know vague details. It's a pseudo-religion (aka cult) rooted in notions of excising your negative thoughts and, eventually, accepting that death is part of the natural order.
But before any discussion of "The Invitation" and its loose-logic theories, the story follows Will (Logan Marshall-Green, who could be Tom Hardy's brother) and his girlfriend Kira (Emayatzy Corinealdi, excellent) through the Hollywood hills to the stylish, gated home of David (Michiel Huisman) and Eden (Tammy Blanchard). We learn Will and Eden were once married and lived in this house together; after the death of their son, they were divorced. During this time, Eden and David ran away together to some kind of self-help spa in Mexico. Now, David and Eden seem almost too gracious and generous to their guests after their two-year absence. David remains tranquil and accepting, while Eden's eyes have a constant glassiness to them (whether they're tears of happiness at the reunion of friends or apprehension over what's to come, we cannot be sure). Many hugs and talk of "this is a safe place" are awkwardly welcomed, and the social discomfort is lubricated by large glasses of wine.
Several other guests, all of whom were friends with Will and Eden when they were together, are also in attendance. Claire (Marieh Delfino) seems uncomfortable with the entire situation; gay couple Tommy and Miguel (Mike Doyle and Jordi Vilasuso) embrace it with a sense of irony; the former party girl Gina (Michelle Krusiec) is more concerned about why her boyfriend hasn't shown up yet; and the chubby comic relief Ben (Jay Larson) is outspoken about the situation. This otherwise tight-knit group doesn't quite know what to make of David and Eden's other guests: like Sadie (Lindsay Burdge), their strung-out-looking houseguest who all but throws herself at the others; or Pruitt (John Carroll Lynch), whose towering calmness is chilling (even more so given Lynch's role in David Fincher's Zodiac).
Through the evening's moments of weirdness, some are subtle, and some are quite unnerving. Consider when David and Eden begin discussing "The Invitation" and show everyone a video from their Mexico sabbatical. The video shows a woman on her deathbed, and the movement's leader, played by Toby Huss, ushering her into the afterlife, surrounded by a group of followers who seem overjoyed the dying woman has moved on. Elsewhere, the elusive details of the dinner party create unbearable anxiety, especially for Will: David insists on keeping the front door locked; there's no cell phone service from within the house; Gwen's boyfriend still hasn't shown up; and when Claire wants to leave, the hosts invest a conspicuous amount of effort in keeping her there. Alas, if there's an ineffective strain in the entire film, it's the casting of Huss. Seinfeld fans will remember Huss as Elaine's former boyfriend, The Wiz ("Nobody beats him!"). Taking Huss seriously after that role is a challenge, but that's my own hang-up.
Cinematographer Bobby Shore keeps the lighting low and eerie, especially during scenes where Will explores the house and remembers moments with his late son. The winding creepiness continues until the third act, when the situation escalates and turns terrifying, and we finally learn whether their cult is more like Erhard Seminars Training (EST) or Jonestown. Although, you'll have to see the film to learn what happens. But it's well worth the wait. Kusama brilliantly builds tension from start to finish, to the point where viewers might shout at the screen, "Just get out of there!" The prologue where Will and Kira hit a coyote on the road is particularly jarring, setting the tone for the remainder of the film. Likewise, the last shot leaves viewers feeling haunted. The Invitation is best when it turns the cranks on an already uncomfortable social reunion, but the film doesn't shirk on the horrifying payoff either. Here's hoping Kusama resists Hollywood's calls and keeps making smaller, more intimate films like this one.