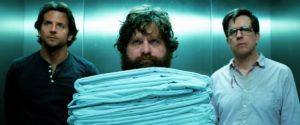 The Hangover Part III
1.5 Stars
Director

Cast

Bradley Cooper

,

Ed Helms

,

Zach Galifianakis

,

Ken Jeong

,

John Goodman

,

Justin Bartha

,

Melissa McCarthy

Rated

R

Runtime

100 min.

Release Date

05/24/2013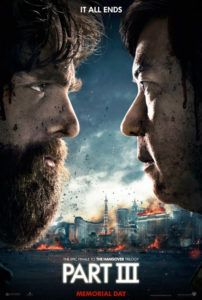 There's a scene in The Hangover Part III in which Phil, played by Bradley Cooper, watches Ken Jeong's Mr. Chow sing a karaoke version of Nine Inch Nails' "Hurt" in Tijuana. Phil turns to his friends, the nervy dentist Stu (Ed Helms) and the resident "wild and crazy guy" Alan (Zach Galifianakis), and asks, "What the fuck am I watching?" What an appropriate question for this dull sequel, the third and hopefully final entry in director Todd Phillips' popular series of shock-value comedies. In 2009, The Hangover made Cooper and Galifianakis famous and exposed audiences to no end of riotous debauchery. Two years later, The Hangover Part II proved to be as lazy as Hollywood sequels get. With the final chapter, the gang's all back for a movie whose superficial alterations in structure fail to distract us from the derivative plotting and the tired, by-the-numbers feel of everything onscreen.
Co-written by Phillips and Craig Mazin, the plotting seems more interested in exploring other genres and not the gross-out comedy niche the series has carved out for itself. Within the opening scenes, Phillips makes visual reference to The Shawshank Redemption, and later the plot segues into Ocean's Eleven territory. Indeed, the plot contains several crime genre elements:  kidnapping, car chases, breaking and entering, stealing gold bars, killer gangsters, and several shootings. Phillips stages these scenes well enough, I suppose, but audiences expecting a riotous comedy will be sorely disappointed. Throughout the movie, five or ten minutes might pass without more than a chuckle, as the scenario plays out like a crime movie with comic relief rather than a comedy with crime movie elements. The humor is mostly dark and contains almost no memorable laughs, and since the participants are decidedly sober throughout, their usual tomfoolery feels toned down.
In the wake of Alan unintentionally decapitating a giraffe, his fellow Wolfpackers—Phil, Stu, and Doug (Justin Bartha)—stage an intervention so manchild Alan will face up to his psychotic behavior, complete with a road trip to an Arizona treatment facility. Of course, their trip is interrupted, and the filmmakers once again find a reason to keep Bartha's character off-screen. Run off the road by a gang of masked goons, the Wolfpack is confronted by Marshall (John Goodman), a crime boss who kidnaps Doug as ransom. Marshall wants the remaining trio to find the criminal Mr. Chow and recover the millions in gold bars Chow stole from him, or else Doug dies. With only three days to find Chow, they locate him in (where else but) Tijuana, and their misadventures eventually land them back in Las Vegas. Along the way, Alan falls in love with a nutty pawn shop owner (Melissa McCarthy), while Heather Graham and Mike Epps make final appearances in the franchise (fortunately, there's no Mike Tyson cameo this time).
A prevailing sense of boredom overcomes the viewer at about the 15-minute mark and lingers on throughout the painfully long 100-minute runtime. The story revolves around Alan's relationship with Chow, and over the course of the movie, attempts to bring a failed sense of emotional significance to Alan's character. Behind that thick beard and a demented glint in his eye, Galifianakis, officially overexposed after The Campaign and The Hangover Part II, still manages to make us smile and wonder what's wrong with Alan. But there's too much icing on this cake. Not to mix metaphors, but here Galifianakis demonstrates why oddball supporting players are best left on the sidelines. Case in point: the ever-annoying Jeong, with his borderline-offensive Asian stereotype Mr. Chow, has long since overstayed his welcome. Nevertheless, the filmmakers give Jeong more screen time than Cooper and Helms. Alan and Chow are two characters meant to be taken in small doses. And I haven't even begun to gripe about the equally overexposed McCarthy, who's still riding her post-Bridesmaids so-wrong-it's-funny wave. After this movie, the audience, too, will be hungover from an overabundance of wacky comic relief characters.
Meanwhile, we're left remembering how, in the last year, Bradley Cooper has given us outstanding performances in both Silver Linings Playbook and The Place Beyond the Pines, and then we watch him go through the motions in The Hangover Part III and realize what a throwaway performance he's giving here. He's just as unengaged as we are, and who can blame him, with a script like this? Each of the movie's uninspired plot twists and character revelations fall flat in a way that leaves us uninterested and indifferent. And since the material veers away from the series' usual gross-out antics, the otherwise built-in audience will feel let down by the movie's curious deficiency of lewd content, gratuitous nudity, and humor involving drugs and raunchy sex. Even if the crime-centric plot attempts to bring class to the low-brow comic style of its predecessors, this second sequel has failed to either match the blueprint of its predecessors or distinguish itself as something pleasantly unique.