Director

Cast

Woody Harrelson

,

Cheryl Hines

,

David Cross

,

Chris Parnell

,

Richard Kind

,

Dennis Farina

,

Werner Herzog

,

Ray Romano

Rated

R

Runtime

104 min.

Release Date

03/21/2008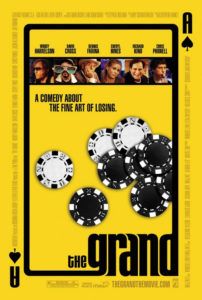 Shot in mockumentary style, The Grand feels like sketch comedy made angry love to celebrity poker, and then nine months later birthed an inane lovechild with a biting sense of humor. The movie treats cards with the same loving respect that Christopher Guest, an obvious influence here, lampooned dog shows with Best in Show or small town theater productions in Waiting for Guffman. What's more, the cast is populated with the star-studded rabble we've come to recognize from Bravo's once popular (but now overexposed) series of card sharp showdowns.
At the Golden Nugget casino in Las Vegas, poker players arrive from all over to participate in a competition of high stakes Texas hold 'em, with $10 million going to the winner. In true tournament movie fashion, only those six that wind up on the final table are showcased: One Eyed Jack Faro (Woody Harrelson) has tried every drug in the book, but makes a special trip from rehab to play and hopefully save his father's dying casino. Lainie Schwartzman (Cheryl Hines) arrives toting her unemployed, struck-by-lightning husband (Ray Romano) and several children, clearly confident that she's the family's breadwinner. Lainie's twin brother Larry (David Cross) seems to play only to finally win approval from their competition-obsessed father (Gabe Kaplan, from Welcome Back Kotter). Old-timey Vegas icon The Deuce (Dennis Farina) wishes Sin City were more like the early days, with a few more holes in the desert. Numbers nerd Harold Melvin (Chris Parnell) still lives with his mom (Estelle Harris), sips his "brain juice," and quotes Frank Herbert's Dune for inspiration. And the group's resident online poker player, Andy Andrews (Richard Kind), arrives from Dour, Wisconsin with no idea that in real life poker you shouldn't ask advice from your neighbor.
There's also an unexpected cameo from Werner Herzog (director of Rescue Dawn) playing "The German," a weirdo who must kill an animal every day to feel alive, but who loves his little white bunny-wabbit named Munchkin regardless. We're perpetually star-struck from all the names making brief appearances. Most of them are B-List talent or less, but the familiar faces include Michael McKean, Hank Azaria, Jason Alexander, Shannon Elizabeth, Brett Ratner, Mike Epps, and many others. Not the least of which is former Celebrity Poker Showdown host Phil Gordon, unhinged from television's censor restrictions to finally respond to the nonsensically stupid comments of his co-host Mike Werbe (Michael Karnow).
Writer-director Zak Penn, probably best known as the screenwriter behind X2: X-Men United and The Incredible Hulk, doesn't do much besides keep up with his cast of improv artists, making for a rapid comedy pace. Granted, Penn and co-writer Matt Bierman conceived the picture, but their script was a mere 30-pages—simply an extended treatment outlining the character types set for the picture. He left the rest to performers like Harrelson who does so much with that half-cocked smile, Hines' dry sarcasm, and Kind's exuberant expressions of dim-witted joy.
An Interesting Note: The final game between the six main contenders was not scripted with a particular winner in mind. Six players sat down, Penn filmed their interactions, and one of them walks away as The Winner based on their actual poker skills. I suppose there's some suspense involved knowing that anyone of them could've taken it all home, except that it's a movie, one without much point, and no one takes anything home when the credits roll.
The result of Penn's picture lacks what often comes as a surprise in Christopher Guest's pseudo-documentaries: a heart that lends the inconsequentialities of the ad-libbing significance. By the third act, when The Grand turns its spotlight onto the final table of the tournament, we realize the film has spent so much time cranking out joke after joke that it's forgotten to make us care. The finale becomes just another episode of Celebrity Poker Showdown, leaving us to base our favorite to win on which we prefer more: Curb Your Enthusiasm, Mr. Show, or White Men Can't Jump.