Director

Cast

Rated

R

Runtime

100 min.

Release Date

04/30/2010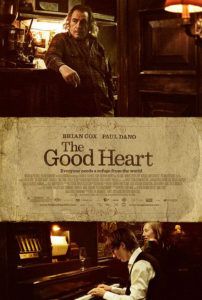 From the sheer pleasure of the performances, The Good Heart manages to be a simple yet endearing drama that further solidifies our admiration for its respectable actors, Brian Cox, and Paul Dano. Cox plays the champion of all curmudgeons as the crusty owner of a ramshackle neighborhood bar. Dano plays a kind but suicidal bum, who becomes the apprentice of the bar owner. Their relationship, predictably, offers up a profusion of life lessons for both involved, but somehow that all seems secondary to the acting.
Cox specializes in loud and boisterous roles, in everything from Adaptation as the fuming script seminar instructor, to the demanding Agamemnon in Troy, to the mutant-hating villain in X2: X-Men United. He was seemingly born to play Jacques, the foul-mouthed barkeep of The House of Oysters. Despite the name, his establishment serves no food. Jacques jealously defends his pathetic group of tavern regulars, who do nothing but drink, and the stability they provide. When "walk-ins" enter off the street, he shoos them away—like when an unwanted customer asks for a Bloody Mary and Jacques pours him a glass of vodka, squirts in ketchup, and finishes it with fresh ground pepper. In other words, Jacques has a crabby, strict routine, and deviations are not tolerated.
When Jacques lands in the hospital after his fifth heart attack, he meets an attempted suicide case, a young homeless man named Lucas (Dano). Humbled and appreciative of life after failing to kill himself, Lucas befriends his hospital roommate Jacques and meekly accepts when Jacques declares that Lucas should train to take over his bar. Following Jacques' firm set of beliefs about people being treated with cold, sometimes derisive respect, Lucas finds his giving nature isn't welcome. Still, his training progresses with only the occasional blunder, until he takes pity on a homeless girl, April (Isild Le Besco). Her inclusion into their rough-around-the-edges lot at The House of Oysters causes plenty of problems but also offers a few moments of enlightenment.
If Cox specializes in blasting loud, colorful insults throughout the picture, then Dano's specialty is certainly more subtle, the gradations more nuanced. His character walks about with his hands curled inward like an arthritis sufferer, but his malady is only social awkwardness. Dano doesn't quite display the range evident in his Little Miss Sunshine or There Will Be Blood performances, both examples where he goes from near-mute to evangelical expressiveness within a single (or dual) role. But he captures the sensitive simpleton of Lucas quite well, enough to make the unexpected yet overly sentimental ending work.
An Icelandic production—though nothing about it says "made in Iceland"—the film played at the Toronto Film Festival where it was purchased for U.S. distribution by Magnolia Pictures. You may only find the title playing in an arthouse theater, or On Demand, and frankly, the small screen is where it will succeed best. It's a quaint and dark and only mildly amusing film. The atmosphere is grim and smoky, moldy even, much like the dank bar where most of the runtime is consumed. Writer-director Dagur Kári (Noi the Albino and Dark Horse) makes his first English-language feature a modest one, though there are moments of greatness from Cox.
More than Dano, who is also very good here, Cox is the reason to seek The Good Heart out. He unloads a vicious tirade one moment and then reveals the delicate, worn face of someone tired of his old, cranky habits the next moment. When so often the actor can only be found in supporting roles, it's a treat for viewers to see him in a showcase for his talent. And given that virtually the only other person onscreen is Dano, an exceptional up-and-comer himself, audiences will have no problem losing themselves in this rather enjoyable little character study.