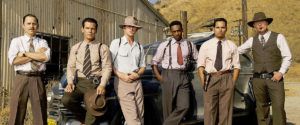 The Gangster Squad
2 Stars
Director

Cast

Josh Brolin

,

Sean Penn

,

Ryan Gosling

,

Emma Stone

,

Nick Nolte

,

Anthony Mackie

,

Robert Patrick

,

Michael Peña

Rated

R

Runtime

113 min.

Release Date

01/11/2013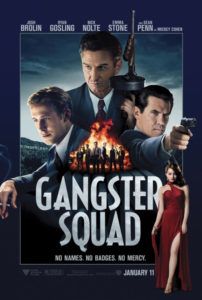 Gangster Squad boasts several components attributable to a superior crime picture: The top-notch cast includes big-name stars, like the popular Ryan Gosling and Emma Stone, heroic muscle from Josh Brolin, and, doing his best to earn award consideration, Sean Penn plays salacious crime boss Mickey Cohen like Al Pacino played Big Boy Caprice in Warren Beatty's living comic strip Dick Tracy. Technically, it's gorgeous—a booming 1940s Los Angeles setting supplies bloody Tommy gun shootouts, classic cars and car chases, swanky nightclubs, much smoking, dapper suits and fedoras, and plenty of sex appeal on all fronts. There's stylish direction by Zombieland helmer Rueben Fleischer, who steeps his film in his apparent love for the period and genre, complete with film references galore—specifically the works of Brian De Palma, the most evident influences being The Untouchables and Scarface. But all of these components mean nothing when they're splattered about the screen with as much subtlety as the blowback from a bullet to the head.
Less inspired filmmaking than pure, unadulterated homage, Fleischer and screenwriter Will Beall loosely based the material on Paul Lieberman's true crime book. But the film should also credit David Mamet's outstanding screenplay for The Untouchables, as they borrow story structure, character assignments, a stairway shootout, and still more from De Palma's 1987 masterwork. Sure, the backdrop has been changed from Prohibition-era Chicago to postwar Los Angeles, but so much is the same. Both films contain an unchallenged crime boss ruling a city drenched in vice, with an army of corrupt cops behind him. An incorruptible hero detective comes forth, tasked with assembling a team of clean cops from a diverse array of classes and races, and together they wage a war against crime so brutal that it blurs the lines between cop and crook. However standardized this basic setup may be, The Untouchables embraced it as an immaculate celebration of style and romanticism, the first of its kind to epitomize our nostalgia for the period; but it was also a smart piece of writing by Mamet, featured De Palma's bravado direction, and a number of great performances.
Fleischer and Beall's effort feels almost like fan fiction by comparison. After he single-handedly cleans out one of Cohen's illicit brothel operations, decorated former soldier Sgt. John O'Mara (Josh Brolin) is commissioned by the underdeveloped character Chief Parker (Nick Nolte) to take down Mickey Cohen. O'Mara is a fighter; that's all he knows. And so, his strategy is confronting Cohen head-on, whereas his cohorts, hand-picked with the help of his concerned wife (Mireille Enos, from AMC's The Killing), suggest a less straightforward approach. The Gangster Squad roll call: fellow veteran Jerry Wooter (Gosling), a smooth smoothy shaken out of apathy by a child's collateral death (also a nod to The Untouchables); anti-authoritarian Coleman Harris (Anthony Mackie); wire-tapper Conway Keeler (Giovanni Ribisi); cowboy gunner Max Kennard (Robert Patrick) and his tagalong Navidad Ramirez (Michael Pena). Not one of these performers is stretched in terms of range, while together, they're something like a dynamic superhero team (but The Avengers seems like Shakespeare in comparison).
Once the team assembles, there's banter and horseplay, which leaves some scenes feeling almost cartoonish, particularly a jailbreak sequence. Although our central protagonist would seem to be O'Mara, he's a one-dimensional character whose motivations border on conspicuous simplicity. Nothing except family and the law exist for him, and Brolin's performance never implies more. Wooter's arc, however, concerns more involving turns where he beds Cohen's "etiquette instructor" (Stone, Gosling's Crazy, Stupid, Love. costar); they fall in love, and inevitably he must protect her from Cohen's violent retribution. Gosling, adopting an airy, soft voice that sounds like the deranged hood in a Raoul Walsh crime picture, shows two dimensions at least. Stone does little, but she seems to enjoy strutting across club floors in glitzy period gowns. Penn's performance is sheer overacting, raving like a lunatic that "L.A. is my destiny!" with a glint of crazy in his eye, hence the Scarface homage. His Cohen is devoid of the charm that made Robert DeNiro's Al Capone such a fascinating movie villain.
On top of the synthetic quality of everything onscreen, Gangster Squad is an exceedingly violent picture. Within the first 10 minutes, we witness someone tied between two cars and torn in half when they take off in opposite directions; a woman is nearly raped; and several men are burned alive. This despite the film's delayed release, which, originally set to debut in September 2012, was postponed after the Aurora, Colorado theater shooting to edit around a movie theater massacre scene in the original version. Such a scene would have been white noise in this rather barbaric display of remorseless violence and macho logic. Indeed, rather than ending the story with how it really happened—with Cohen (like Capone) quietly convicted of tax evasion—the film offers a loud, very Hollywood solution: an epic shootout followed by O'Mara and Cohen facing off mano-a-mano, beating each other to a bloody pulp with their bare fists until there's a victor.
In one or two moments, when Gangster Squad questions the morality of the squad's Wild West tactics and how they're becoming just as bad as Cohen's goons, the film negates any such conversation by diverting to a scene of mindless violence. The experience is all about the tradition of gangster thrills in Hollywood, and such half-hearted attempts to suggest a conscience only diffuse its own purpose. There's nothing thoughtful or subtle about the film, despite these efforts. What a shame that such a talented cast of actors, not to mention the attractive costumes and gorgeous production design, go to waste on this all-too-familiar story—told with more style and visual panache in The Untouchables, then later satirized in Warren Beatty's Dick Tracy. The technical specs and eye candy may be impressive, if only diverting, but the result plays like sleepy afternoon escapism in the dullest way.