Director

Cast

Rated

PG

Runtime

98 min.

Release Date

07/12/2019
Secrets and lies have their own moral hierarchies. White lies exclude unimportant information in an effort to protect one's ego or avoid hurting someone's feeling. Serious lies falsify information to take advantage of someone. Keeping any form of lie a secret from only certain people escalates the gravity of the lie to a conspiratorial deception. And, depending on your ideological stance, there's some gray area between white lies, outright deceit, and modest information that should be kept hush-hush. Like language, some measure of cultural learning determines the position and potency of a lie. The Farewell, the second feature by Lulu Wang, is "based on an actual lie," which she first shared on "What You Don't Know," an episode of NPR's This American Life in 2016. Wang's grandmother was diagnosed with Stage IV lung cancer and, following the practice in Chinese culture, her family resolved not to tell her grandmother the truth. Fear, it is believed, is the thing that kills you, whereas ignorance is bliss, or at least not as intrusive as cancer.  
In the fictionalized version of Wang's story, Awkwafina plays Billi, a Chinese American who can't pay her rent and has just been rejected for a Guggenheim Fellowship. The opening scenes of The Farewell depict the down-on-her-luck Billi talking on the phone with her Nai Nai (Zhao Shuzhen), meaning "grandmother," who lives in China. Nai Nai says it's cold outside and asks if Billi is wearing a hat. Billi lies and says she is. Despite the occasional fib, Billi maintains a close relationship and talks to her grandma regularly. She soon learns from her parents, father Haiyan (Tzi Ma) and mother Jian (Diana Lin), who emigrated to America two decades ago, that Nai Nai only has a short while to live. For the first time, Billi learns about the Chinese practice of concealing the news from the terminally ill. Wang centers her attention on Billi, who negotiates the custom through resigned acceptance and barely concealed judgment, but mostly out of love for Nai Nai. 
To say goodbye to their matriarch, the family has rushed the wedding of Billi's cousin, the phased Hao Hao (Han Chen), whose Japanese fiancée Aiko (Aoi Mizuhara) doesn't speak Chinese, as a pretense for everyone getting together to see Nai Nai. It's a scenario that recalls Ang Lee's The Wedding Banquet (1993)—about a Taiwanese American man whose parents don't know he's gay, making his marriage to a Chinese woman to get her a United States green card all the more awkward—except the mortality of a family member leads to the subterfuge and gated emotions. In both films, the joyous occasion of the wedding is offset by the overarching lie, which is presented as a culture clash, source of humor, and aching irony. Through it all, Wang celebrates the family and its rich characters with a plethora of delicious-looking meals, emotional reservation, karaoke at various skill levels, and a compelling family dynamic. The Farewell is one of those films that drops you into the middle of a strange family, but then suddenly it feels like your own.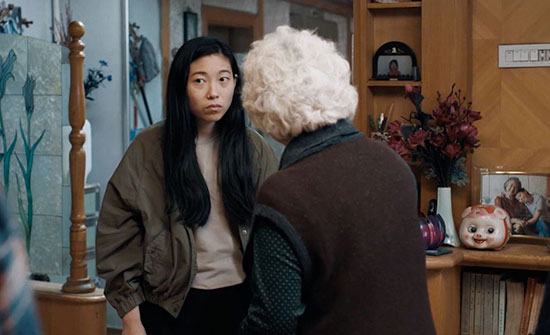 Awkwafina sets aside her almost typecast persona to play Billi, whose dour expression and shoulder-slumped posture seem like another person altogether next to her chatty characters in last year's Crazy Rich Asians and Ocean's 8. Before those, she made a name for herself as a YouTube rapper whose music videos for "My Vag" and "NYC Bitche$" propelled her into stardom. The radiating confidence and bawdiness of her earlier work present a staggering counterpoint to her presence here, which, as a Chinese American, is emblematic of the film's split position on its central lie. At first, Billi cannot look her Nai Nai in the eye, and only looks around the room at her family that has insisted on lying to her grandmother. But Nai Nai aptly describes her behavior as "noi noi ne ne." What does that mean? It's a sort of pouty mopiness that Nai Nai acts out in one of the film's funniest scenes, swaying her shoulders and sticking out her bottom lip to exaggerate her immature dissatisfaction. Zhao's performance steals the film, as she shines in the comically prolonged gravestone visit to her late husband, and she breaks hearts in her devastating goodbye to Billi.
The Farewell is a quintessential indie film, both in form and content. Wang and her DP Anna Franquesa Solano frame the proceedings with Wes Anderson-level symmetry; there are even slow-motion shots of its characters walking toward the camera à la Margot in The Royal Tenenbaums. Since premiering at this year's Sundance Film Festival, the film has captured the hearts of audiences and critics with its blend of cultural specificity wrapped up in universal themes. Every time Billi's parents argue "It's our duty to carry this emotional burden for her," our protagonist responds with her need for emotional preparation—an ongoing dialectic that avoids any dramatic shocks to the system. The indieness of the picture, from its distribution by mini-major A24 to its utter accessibility, may follow a familiar blueprint that was established by indie darlings in the mid-1990s, but such characteristics do not make the film any less effective—just of a type.  
The real story and its outcome, which Wang reveals in the end titles, undercut the otherwise tender and sobering conclusion of the film, to the extent that one might prefer not to know what happened to Wang's real grandmother—it raises questions about the story Wang has told and makes the film feel incomplete. Even so, The Farewell walks a fine line between Eastern and Western cultural systems that, similar to the work of the aforementioned Ang Lee, finds value in both and refuses to choose sides. Wang immerses the viewer in the emotional reality of the situation, as opposed to making the film into a pedantic debate about a cultural practice. Accepting the flaws and seeing the beauty of ignorance, The Farewell is heartwarming, capably made, exceptionally well-acted, and achingly sincere without ever resorting to sentimentality.