Director

Cast

Rated

PG-13

Runtime

89 min.

Release Date

05/11/2007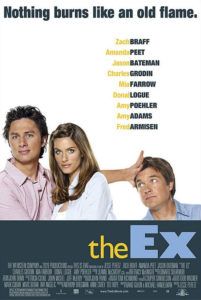 Following the example set by Meet the Parents, Jesse Peretz's new film The Ex is filled with painful-to-watch moments of extreme embarrassment. Zach Braff moves away from his lethargic dark comedies into what seems like a very special episode of Scrubs where Dr. John Dorian (now named Tom Reilly) gets married, takes a new job as an ad-man, and endlessly fights with his wife's ex-boyfriend. I say this because, Braff's character, save the occupational specifics, has essentially the same quirkily sarcastic and silly personality in both The Ex and his still-running doctor-comedy television series. Not that he isn't charming at times—just too familiar a character.
Tom and his wife Sofia (Amanda Peet) have a surprise coming, and it's not their soon-to-be-born baby. When the child is born, Sofia intends to become a full-time mom, while Tom's position as a chef at a posh New York restaurant should barely support them. The problem is that Tom can't keep his mouth shut. Cursed with the ability to sniff out phoniness, he can't accept his station, wherever it may be; meaning he's been fired from an endless list of jobs. Tom's history of employment proves fickle once again when he gets fired after a food fight with his boss.
With Sofia now at home, Tom decides to accept a job offer from Sofia's father (Charles Grodin). After moving to Ohio, Tom finds himself working as an associate with a new-age advertising firm. (Rule #1 of Movie Comedy: The protagonist must always work for an advertising firm.) Dress is business comfortable (whatever you feel comfortable wearing) and a "yes" ball (an imaginary ball) is tossed around the office throughout the day to inspire imaginative thinking. Tom's father-in-law is his new boss, and his "mentor" is Sofia's ex-boyfriend from high school, Chip.
The title character in The Ex represents the least funny part, unfortunately. Played by Jason Bateman (who I keep hoping will make it big; he's genuinely funny), Chip is confined to a wheelchair, as he's been paralyzed from the waist down since he was 5 years old. He doesn't mind using his disability to his advantage either, often underlining Tom's failures in comparison to his own success in life with a physical disadvantage. Playing off Tom's employment instability, Chip puppeteers disaster after disaster in an attempt to win Sofia's heart. This makes for many awkward-funny moments, usually involving the word "cripple," which is so politically incorrect in its usage that we feel guilty for laughing.
Everything Chip does is right; nothing Tom does is special by contrast. Tom is waved off as paranoid when he suggests that Chip is belittling him at work in an effort to get into his wife's pants. Predictable jealousy arises when Sofia confesses that she slept with Chip in high school. These situations become more convoluted as the film goes on, as we never really believe that Sofia will fall for Chip, but it's clear the film wants us to think so. The only conflict is whether people believe Chip or Tom, and why would a guy in a wheelchair lie?
The good news about The Ex is that there's talent abound. After 13 years, Charles Grodin returns to motion pictures; also in the realm of forgotten former stars, Mia Farrow shows up as Grodin's wife. The bad news is that Grodin resembles Boris Karloff in The Mummy and Mia Farrow is following up her appearance in the useless remake of The Omen with this background role. Both actors maintain reputations far exceeding their respective parts. Farrow especially. Her broad talent—best seen in Woody Allen's post-Keaton, pre-Johansson, mid-career material—goes to waste making fried chicken legs dance. I expect this type of material from Zach Braff; he's fairly new to movies. And right now Jason Bateman is just happy to be thought of as that guy from "Arrested Development" and not that guy from Teen Wolf Too. But I feel the whole cast is capable of more.
Watch out for what's now become the obligatory Paul Rudd cameo. I'm not sure what contract Rudd negotiated with Hollywood, but apparently, it involves having a five-minute cameo in every studio comedy ever made. Rudd wholly commits to his bit part as Zach Braff's boss in the restaurant food fight scene, but as 2003's The Shape of Things proved, it's time for him to move up to leading man. There's also wasted talent in meager supporting roles, namely Amy Poehler, who squanders her evident gift for comedy (established on Comedy Central's "Upright Citizens Brigade") not only every week on "SNL," but in her feature film career thus far. The talent, though plentiful, is done in by the film's otherwise run-of-the-mill script. Admittedly, The Ex generates laughs, but its half-life doesn't last beyond you leaving the theater.