Director

Cast

Ruby Barnhill

,

Mark Rylance

,

Jemaine Clement

,

Rebecca Hall

,

Bill Hader

,

Rafe Spall

,

Matt Frewer

,

Penelope Wilton

Rated

PG

Runtime

117 min.

Release Date

07/01/2016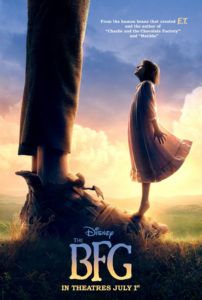 Steven Spielberg brings his audience into a world of spritely dreams and gentle giants in The BFG, his adaptation of Roald Dahl's 1982 novel. Children and former children (i.e. adults) familiar with Dahl's "Big Friendly Giant" will be delighted about the faithfulness of Spielberg's production to the source material, although it does not include many of the gristly details that often accompany Dahl's writing. After all, the author's stories like Charlie and the Chocolate Factory, The Witches, and Fantastic Mr. Fox have inspired great filmmakers to explore his unique balance of grand imagination and dark, often precarious humor. However, Spielberg creates an entirely wholesome, good-natured, and graceful cinematic storybook that will enthrall many. If there's any major flaw in the production, it's the decidedly ungraceful mixture of superb-looking performance-capture giants and live-action performers.
Spielberg first considered adapting Dahl's book around the same time he released Hook in 1991, an overwrought children's fantasy set in J.M. Barrie's Neverland realm of Peter Pan. At that point, the director had already broken box-office records and captivated millions with another family film, E.T.: The Extra-Terrestrial, released the same years as Dahl's book was published. But he didn't believe 1990s technology could convincingly bring the titular giant to life (Hook's star, Robin Williams, was originally Spielberg's first choice for The BFG). After mastering the integration of CGI characters into a live-action film in Jurassic Park (1993), and later delivering a wonderful (and grossly unappreciated) fully computer-animated picture with The Adventures of Tintin (2011)—on which his co-producer Peter Jackson introduced him to the WETA motion-capture team—Spielberg realized it was time.
In 2011, the director hired back E.T.'s screenwriter Melissa Mathison, who died last year, to write the script, and teamed with Walt Disney Studios for the first time to distribute. Everything seemed in place for another major Spielberg hit. The BFG even bears similarities to certain aspects of E.T., as both are about a child who has a rapport to a kindly, other-worldly figure with a gentle disposition, amazing abilities, and certain curiosity about the world. The central child is Sophie, played by adorable newcomer Ruby Barnhill, an orphan who spies a giant on the London streets one night during "the witching hour". Having been seen, "The BFG" (Mark Rylance), as he comes to be known, takes Sophie and carries her off to Giant Country.
Whether he just wants a friend or maybe a pet isn't really the point, since he and Sophie become close friends after a short time. She's none-too-worried about getting back to the orphanage any time soon either; and anyway, The BFG's occupation of capturing, mixing, and delivering dreams remains fascinating. Sophie's benevolent new friend isn't like most giants, though; he doesn't engage in "cannybullism" and eats only slimy veggies called "snozzcumbers" and the occasional "whizzpopper"-inducing fizzy drink called "frobscottle". Most of what The BFG says is in this manner of gibberish, "gobblefunk" way of speaking. "Words is oh such a twitch-tickling problem all me life," he admits in Rylance's warm, kindly voice, spoken from a generous smile, behind a large nose, even larger ears, scraggily hair, and a bit of scruff. But not all the giants are so kindly.
With names like Bloodbottler, Bonecruncher, and Meatdripper, the story's nine other giants stand about thrice as high as The BFG (they call him "runt"), and they're the polar opposite of his disposition—feeding on children (called "human beans") without a hint of regret. Unrecognizable but played by familiar actors like Jemaine Clement, Adam Godley, Jonathan Holmes, Ólafur Darri Ólafsson, and Bill Hader, the giants look impressive and behave less savage than in Dahl's book. There's lots of unspecific talk about cannibalism, and the majority of their physical comedy amounts to broad buffoonery. Perhaps this is why Rylance stands out so much. By comparison, his BFG has a genuinue smile and his motions are slow and could never be described as aggressive—once again reminding us of Spielberg's E.T. alien. He also looks like Rylance and the original illustrations of Dahl's character have been naturally spliced into an effective look.
For much of the film, the audience is treated to Sophie exploring The BFG's captivating world, until the third act where, to stop the other giants from eating more children, they enlist the help of the Queen (Penelope Wilton) and her two faithful aides (Rebecca Hall and Rafe Spall) at Buckingham Palace. Spielberg has never been so farcical, dishing up scenes of much whizzpopping from stuffy British servants, three royal corgis, and even the Queen herself. Loud, gaseous green farts have rarely been so funny. Through the course of the film, Spielberg's longtime cinematographer Janusz Kaminski composes some beautiful shots, but perhaps because of the blend and live-action/animation photography and the planning that involves, the result doesn't feel Spielbergian, nor does the imagery shimmer with Kaminski's urgent look from many of Kaminski-Spielberg's efforts in the last two decades.
Nevertheless, an early sequence where The BFG maneuvers around London at night and avoids being seen by hiding in the shadows, posing as a lamppost, and hiding behind his cape and cowl, are enchanting. This, along with the sequences involving wisping luminescent dreams, are among the only components of The BFG that bring such enchantment—largely because the presence of human actors seem out of place in an almost completely animated world. Very often, and very surprisingly, either Sophie or The BFG appears out of place in the other's world. The technology used to blend these real and artificial worlds is not seamless and occasionally proves distracting, especially since we're supposed to believe that two unfamiliar worlds have collided throughout the story. Spielberg would have done his audience a service by simply animating the entire film in motion-capture, like The Adventures of Tintin.
As a result, The BFG isn't as transportive, and won't have audiences believing in the unbelievable as E.T.: The Extra-Terrestrial did. It's certainly a pleasant, often funny, and good-looking experience—especially for children and adults who may be oblivious to or unconcerned about distracting visual inconsistencies in the presentation. That said, this film is a wonder compared to Hook. But it doesn't look or feel like superior Spielberg, or like Spielberg at all. Aside from some visual touches by Kaminski and a John Williams score, it seems more like an anonymous director hired by Disney, not Spielberg, helmed The BFG. And if this review seems hard on the film, it's only because Spielberg has done better and has proved capable of much more. For any other filmmaker, this film would be a splendid Dahl adaptation. For Spielberg, it's far less than a dream come true.