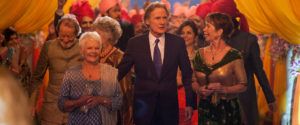 The Best Exotic Marigold Hotel
3.5 Stars
Director

Cast

Celia Imrie

,

Bill Nighy

,

Ronald Pickup

,

Maggie Smith

,

Tom Wilkinson

,

Dev Patel

,

Penelope Wilton

,

Judi Dench

Rated

PG-13

Runtime

118 min.

Release Date

05/04/2012
Countless movies try but ultimately fail to achieve the rare balance of charm and emotional substance found in The Best Exotic Marigold Hotel, a sweet and savory experience that makes you feel good without resorting to feel-good movie schmaltz. Based on Deborah Moggach's novel These Foolish Things, the screenplay by Ol Parker finds seven gray-haired English folk airing out their unventilated lives by traveling abroad. Juxtaposed against the flurry of color and frenzied crowds in Jaipur, India, an ensemble cast of British thespians instill compassion into characters that could have been played broad, but fortunately weren't. With a dream cast and gorgeous on-location shooting, director John Madden delivers his best, most effortlessly enjoyable film since Shakespeare in Love.
Introduced in an extended sequence before the opening titles, the central characters each find themselves drawn to advertisements selling affordable but luxurious spots in an Indian retirement home. Having never worked, recently widowed Evelyn (Judi Dench) finds herself ready to finally start living after a painful forty-year marriage and ardently sets out on her first adventure. Suffocating but loyal husband Douglas (Billy Nighy) and his stuffy wife Jean (Penelope Wilton) have nothing left for retirement after some bad investments, which she blames him for; they have no choice but to take advantage of outsourced retirement. Although they don't know each other, Madge (Celia Imrie) and Norman (Ronald Pickup) find their twentysomething libidos contained within aging bodies and believe India will bring them love. Muriel (Maggie Smith) needs a hip replaced, and cheaply; the former housekeeper must go to take advantage of India's comparably inexpensive medical options. Only the recently retired High Court Judge Graham (Tom Wilkinson) has been to India before; he returns to search for a long-lost love he knew as a young man.
They're all flown to India by Sonny Kapoor (Dev Patel), the enthusiastic and frantic-to-please manager of his family's hotel, which once belonged to his likewise entrepreneurial father. Some time ago a fantastical resort, now the ramshackle structure shows signs of its centuries-old age: not every room has a door, the faucets drip, birds and sand infest the rooms, and the phones have maybe never worked. As such, Sonny's domineering mother (Lillette Dubey) wants him to shut the hotel down and marry a respectable woman, but Sonny's dreams reside in his business vision and his modern-thus-inappropriate girlfriend, Sunaina (Tena Desae). When this first set of English residents arrive, he showers them with spicy food and lavish compliments and good-intentioned hospitality. They're initially appalled by the state of their lodgings, but many of them respond with open minds toward their new home, which has a certain alien appeal. Others take time to warm up to India's culture, while at least one of them never stops wanting to return to the perceived civilization of England.
Madden and Parker make the most of these characters through the performers, who deepen light narrative crinkles into full dramatic folds. Graham, a gay man who has repressed that part of himself for decades, returns to restore a friendship he was forced to abandon in his youth, and Wilkinson carries the role with consideration and warmth. Muriel's entrenched racism finds a tougher road to compassion, until she identifies with a lowly housekeeper; only an actress of Smith's talent could take such a stubborn woman and soften her so. Evelyn, accustomed only to being a loyal wife, rediscovers herself in India; Dench lends the character an incredible heart and gives the film its defining remarks in her blog entries, which serve as narration. Perhaps Evelyn's undue feeling of loyalty to her late husband appeals to Douglas, whose tolerance of Jean's increasing opposition to India comes to its sudden limit in a deftly acted confrontation, and that's why Evelyn and Douglas seem better suited for one another. Dench and Nighy haven't been this good since Notes on a Scandal, in which they starred together.
Everyone onscreen has three dimensions without the need for clumsy plastic glasses; that's the benefit of first-class British actors and polished writing. Even lesser roles, such as those of Madge and Norman, who seem like characters out of Calendar Girls or The Full Monty, have surprising weight behind their performances, and their stories don't play out in the way you might expect. Wilton's performance at first recalls her nervy mother from Shaun of the Dead, grows more stringent and unbearable as her surroundings wear on her, and yet is not left without dignity. As for Patel, he may have watched The Disorderly Orderly to prepare for his role; he's mastered a Jerry Lewis style of gangly physical comedy as he bounds about the screen, desperate to accommodate his guests. But the young Slumdog Millionaire star also renders his romantic breakthrough with joyful, tearful energy. In all, one couldn't hope for better actors in these roles.
That said, the most important character remains India. Its culture becomes a metaphor for everything happening onscreen. Madden's treatment of this gorgeous country explores a very different perspective, traditions, and optimism toward life. Cinematographer Ben Davis captures bustling market streets in bright colors and nonstop activity, while the lively score by Thomas Newman supplies the tempo. Moreover, Madden taps into India's modern identity; he emphasizes how the contemporary and antiquated have merged—this becomes a major theme in the film, not only for India but for our English travelers. How rewarding that the filmmakers haven't reduced this familiar scenario to another travelogue-esque lark, and instead decided to tell a story of rich characterizations and narrative symbolism. In spite of multiple story strains, Madden retains a novelistic structure and a breezy pace that makes two hours feel like barely ninety minutes.
Without question, certain demographics will immediately resist such a story. What could be less appealing to younger audiences, normally fed a steady diet of superhero movies, than a story about a bunch of old farts walking about India and falling in love? And Kipling-quoting Brits to boot! Just as well, as distributors at Fox Searchlight have marketed this as a delightful piece of counter-programming, and in turn, may have found the perfect antidote to the mind-numbing explosions and special FX associated with your average summer blockbuster. Catered to here are the retiree crowds who can relate; then again, it's impossible to imagine anyone with an open heart not finding something special in this film, be it from the multicolored scenery, the matchless ensemble of actors, or the surprising resonance of Parker's script. The Best Exotic Marigold Hotel puts a smile on your face that refuses to fade, in large part because it allows us to enjoy a feel-good movie without feeling an ounce of shame afterward.