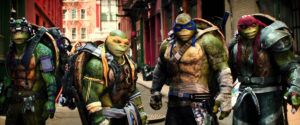 Teenage Mutant Ninja Turtles: Out of the Shadows
1 Star
Director

Cast

Megan Fox

,

Will Arnett

,

Noel Fisher

,

Pete Ploszek

,

Jeremy Howard

,

Alan Ritchson

,

Tyler Perry

,

Brad Garrett

,

Tony Shalhoub

Rated

PG-13

Runtime

113 min.

Release Date

06/03/2016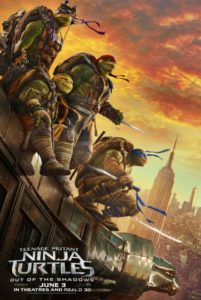 If you were worried Paramount Pictures and producer Michael Bay decided to rethink their approach after their critically abortive release of 2014's Teenage Mutant Ninja Turtles, fear not. Having earned almost half a billion at the worldwide box-office, the so-called live-action original seemed to confirm for everyone involved that a strategy of loudness and obnoxiousness paid off. Hence this sequel, called Teenage Mutant Ninja Turtles: Out of the Shadows, which proves every bit as aggravating and stupid as any sequel in Bay's neverending Transformers series. Despite the inclusion of villains popularized during the franchise's cartoon days, the annoying versions of these turtles-in-a-half-shell prove unfunny and gross, while the movie overall pummels the viewer's senses until we're left empty and emotionless, if not spiritually dead from the experience.
Visually incomprehensible thanks to over-edited action, shaky camerawork, and a hurricane of computerized special FX, Out of the Shadows is the worst kind of blockbuster sequel hokum. David Green (Earth to Echo) takes over directing duties, replacing the original's Jonathan Liebesman. This would seem like a smart idea (see Liebesman's Battle Los Angeles, or don't), except no matter the filmmaker, these movies are going to end up looking like another scattershot Bay production. As for the cast, Pete Ploszek takes over Leonardo motion-capture duties from the predecessor's Johnny Knoxville, while Michelangelo, Donatello, and Raphael are once again played by Noel Fisher, Jeremy Howard, and Alan Ritchson. Megan Fox appears as pouty-lipped reporter April O'Neil, and Will Arnett plays smarmy cameraman Verne. Brian Tee and Brittany Ishibashi take over the roles of Shredder and his right-hand ninja Karai, respectively.
Returning writers Josh Appelbaum and André Nemec incorporate several new villains, if for no other reason than to offer children more options at the toy store. To facilitate more villains, the plot is suspiciously similar to the invasion storyline closely related to The Avengers, although none of the antagonists have a shred of Loki's charm. Here, Shredder works with mad scientist Baxter Stockman (Tyler Perry, unsubtle as ever) to open a door to another dimension, known as Dimension X, unleashing a talking brain named Krang (Brad Garrett) set on planetary takeover—because that's what talking brains do. But before that can happen, Krang needs Shredder to gather parts of an inter-dimensional teleporter, and to provide help, the slobbery blob gives Shredder a formula to create mutant morons Bebop (Gary Anthony Williams) and Rocksteady (wrestler Stephen "Sheamus" Farrelly).
As it turns out, when a megalomaniacal brain-being tries to conquer your dimension, your friends come out of the shadows too: The turtles receive help from a suspended-cop-turned-smart-assed-vigilante Casey Jones (Stephen Amell) and, after some initial reservations, police chief Rebecca Vincent (Laura Linney, earning a nice paycheck, let's hope). There are so many secondary characters in Out of the Shadows, the Ninja Turtles end up being on the sidelines, without an arc of their own. Granted, they collectively express a wish to live "normal lives" and make their presence in New York public, but this is less a theme than a couple lines of dialogue. The rest of the dialogue consists of "Hey brah!" and "You got this?" followed by "Yeah, I got this."
The Ninja Turtles aren't engaging characters, in part because the motion-capture tech used to animate them will once again send chills down your spine, entering the Uncanny Valley of mutants, and in part because they're poorly written. But then, they don't have to be engaging to earn a profit, which is the sole reason for this movie to exist. Out of the Shadows just needs to function as a franchise-producing machine for children to buy action figures, and their parents to feel a level of nostalgia—which explains the indirect references to 1991's Teenage Mutant Ninja Turtles II: The Secret of the Ooze, and the presence of Vanilla Ice on the soundtrack. Elsewhere, we cannot help but wonder what anyone was thinking putting songs like The Hollies' "Long Cool Woman In A Black Dress" or Edwin Starr's "War" on the soundtrack—just one more example of this blockbuster sequel being an incoherent mess. Every bit as brainless and noisy as you would expect from a Michael Bay production, the $135 million budgeted movie mirrors a Bay product, in the same way every Steven Spielberg produced Amblin film from Gremlins to The Goonies looked like Spielberg himself had directed it. However, Out of the Shadows is less mean-spirited than a Bay-directed effort, and it doesn't look like a Mountain Dew commercial either. For that we must be thankful.