Director

Cast

Anna Kendrick

,

Craig Robinson

,

Lisa Kudrow

,

Wyatt Russell

,

Stephen Merchant

,

June Squibb

,

Tony Revolori

,

Margo Martindale

,

Amanda Crew

,

Marla Thayer

,

Thomas Cocquerel

Rated

PG-13

Runtime

86 min.

Release Date

03/03/2017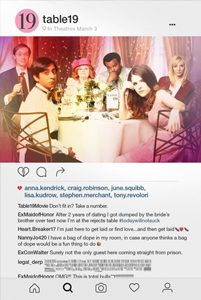 Table 19 proceeds on the notion that other people's weddings are miserable to attend, especially if you're relegated to a "losers table" far away from the bride and groom. The comedy, conceived by Mark and Jay Duplass (Jeff, Who Lives at Home), written and directed by Jeffrey Blitz (Rocket Science), takes place almost entirely at such a wedding. The film's characters consist of a bunch of strangers seated at the same table. Each one is a misfit with their own secrets and eccentricities, who, through the course of the story, learn about one another and become a close-knit group of friends. It's a film whose trajectory becomes frustratingly predictable, making the under-90-minute runtime seem longer than it is.
In her familiar girl-next-door mode, Anna Kendrick stars as Eloise, who was supposed to be the maid of honor for her best friend the bride, until her boyfriend Teddy (Wyatt Russell), the bride's brother, unceremoniously dumped her via text. But with Teddy's new girlfriend, Nikki (Amanda Crew), now serving as maid of honor, Eloise has been shunned to her titular seating assignment on the far end of the banquet hall, near the bathrooms. Fortunately, Eloise sees hope of either someone new, or at least making Teddy jealous, when a tall, dark and handsome fella named Huck (Thomas Cocquerel) shows an interest. Enter the obligatory scene where Eloise and Huck out-dance Teddy and Nikki, resulting in Teddy's frantic expressions of protectiveness and regret.
Along the way, Eloise's tablemates amount to rejects from Dinner for Schmucks. Tony Revolori (The Grand Budapest Hotel) plays a socially awkward, over-mothered teen determined to lose his virginity. June Squibb is the bride's former nanny, a well-meaning woman who smokes pot and wears a goofy hat. Lisa Kudrow and Craig Robinson play a long-married couple who remain in the throes of passive-aggressive marital discord. Stephen Merchant plays a distant cousin trying to hide the fact that he's just been released from prison for a white-collar crime. Though at first, this motley crew doesn't quite meld, eventually they become a pseudo-family in a forced, unbelievable way.
Blitz's treatment of the Duplass' story functions like an outdated "How to" guide to writing screenplays. Every character has a foreseeable conflict that must be resolved. For instance, because Merchant's character was ousted by his biological family for stealing, he gains acceptance into his new family at Table 19 through his predictably ironic use of the same crime (Eloise inadvertently destroys the wedding cake and somehow nobody witnesses this, thereby allowing Merchant to steal a wedding cake from another ceremony nearby and redeem himself). The other characters each resolve their conflicts in a successive fashion, like boxes that must be checked. But this is also a romantic comedy, wherein the details of Eloise and Teddy's breakup become expounded in a momentous scene and the two, inevitably, get back together. Kendrick and Russell lend their characters more depth than the script allows. As a result, they offer a moment or two of romanticism in an otherwise by-the-numbers comedy.
Starting like The Breakfast Club and ending like Jerry Maguire, Table 19 falls into normalcy, making poor use of its otherwise talented cast and their eccentric characters. Rather than embrace their outsider status, the film neither pokes fun at its characters nor completely takes their side as oddballs, so there's not much situational sympathy—not even created by the resident social villain represented by Nikki's superior "he's my man now" attitude. Of course, Blitz hits every note, quite lifelessly so, and everything we expect to happen does. It all lacks spontaneity and feeling, rushing toward its conclusion without savoring a single moment. Instead of feeling like a natural coming-together amid a group of authentic people, Table 19 feels artificial and anything but genuine.