Director

Cast

Tessa Thompson

,

Nnamdi Asomugha

,

Ryan Michelle Bathe

,

Regé-Jean Page

,

Aja Naomi King

,

Eva Longoria

,

Jemima Kirke

Rated

PG-13

Runtime

114 min.

Release Date

12/23/2020
In a quiet New York City neighborhood, two young lovers dance on an empty, rain-swept street. They embrace each other amid vintage 1950s cars and delicate music. The camera watches from a distance, capturing the textured images with an old-school appreciation for the whole, emotionally grandiose scene—as though widescreen was still a novelty, making close-ups more commonly associated with television feel gauche by comparison. The scene could've been filmed on the Metro-Goldwyn-Mayer backlot. Shot on 16mm film stock by cinematographer Declan Quinn to savor every visible piece of grain and dust, Sylvie's Love convincingly replicates a throwback aesthetic, but it's a Brechtian conceit given its predominantly Black cast of characters. Outside of a few Sidney Poitier pictures, people of color rarely took center stage in Golden Age cinema. Writer-director Eugene Ashe imagines a story set in the same time, place, and visualization of so-called women's pictures from the period, albeit with a decidedly modern approach to Black representation. And while it's tempting to dwell on the anachronistic idea driving the film, it's much easier to lose yourself in the romantic trappings.   
Sylvie's Love fills a representational gap in classical Hollywood filmmaking, similar to how Todd Haynes' Carol (2015) blended an old-fashioned style with a story about a queer female couple. The film takes a marginalized cultural group and imagines how yesterday's Hollywood would have told their story. But it never winks at the audience or comments on the approach, at least not within the text. Our extra-textual awareness that Hollywood rarely portrayed Black people as main characters remains enough to underline the twenty-first-century commentary. Ashe also rekindles the Hollywood romance, which proves rare today outside of the occasional exception like Brooklyn (2015). Studios are more interested in genre mashups, such as romantic comedy or romantic fantasy. In contrast, an earnest love story proves hard to find—they have gone the way of the dodo in today's cynical, terminally ironic society. Ashe's film embraces an almost Sirkian form of melodrama, with the central star-crossed lovers kept apart by issues of class and bad timing (until the final scene, of course).   
A luminous Tessa Thompson stars as Sylvie, the daughter of a Harlem record store owner father (Lance Reddick) and etiquette instructor mother (Erica Gimpel). When her father hires Robert (Nnamdi Asomugha), a struggling jazz saxophonist from Detroit, as part-time help, she finds herself drawn to his genuine personality and talent. However, quite inconveniently, Sylvie is engaged to Lacy (Alano Miller), a man of means from a well-respected doctor's family. She keeps reminding Robert, and herself, that she's spoken for, but their connection becomes palpable over a summer when Lacy is away. For starters, Sylvie and Robert both have big dreams: She's obsessed with television and hopes to become a producer someday; he's the secret weapon of a jazz quartet bound for a Paris tour, thanks to their new manager (Jemima Kirke, awkward and miscast). But if the montage of bike rides, hours in front of the TV, and picnics is any indication, romance is in the stars. Their love affair is cut short when Robert must leave for Paris, and Sylvie, secretly pregnant with his child, resolves to stay behind and keep the pregnancy a secret so he can fulfill his professional dreams.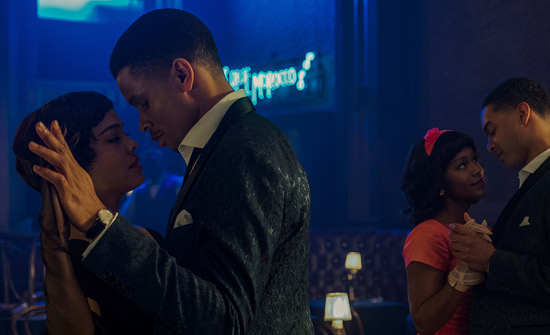 Five years pass, and Sylvie has married Lacy, who has quietly agreed to serve as a father to Robert's child. Sylvie has also landed herself a job producing a cooking show (hosted by Wendi McLendon-Covey, a delight)—a job Lacy tells her that she can keep "as long as it doesn't interfere with your responsibilities at home." Before long, Robert returns to town, unaware that he has a child. He happens upon Sylvie, who, back in his arms, begins to realize what true love and self-fulfillment feel like. The screenplay offers several third act hurdles, some of them necessary, others not so much. Lacy's controlling behavior and "I could have had any girl in Harlem" speech finally compel Sylvie to break it off. But when Robert's career takes a downswing, his stupid male pride prevents him from settling down with his new family. In due course, the film brings the couple together once and for all, they kiss, and the viewer swoons.  
Ashe's approach embraces Sirkian melodrama, complete with heightened emotions and idealized conceptions of romance and family—some of which are shattered for dramatic effect. Still, Ashe doesn't rely on plot machinations; he allows his characters to live and breathe. Thompson and Asomugha inhabit nuanced people with complex inner lives; they're not the open-book characters one usually finds in broad Hollywood romances. They have lofty dreams and aspirations, but reality often comes crashing in, preventing them from moving forward. It's all set to an excellent soundtrack, including The Drifters' "Fools Fall in Love" and The Esquires' "Why Must I Love You," among many other Doo-Wop tunes. And there isn't a frame in the picture that doesn't feel thoughtfully considered by Quinn, who shoots with an eye toward the period's lighting and color palette. Likewise, production designer Mayne Berke and costumer Phoenix Mellow transport the viewer to another era. 
Best of all, Sylvie's Love never feels like a contemporary filmmaker taking a postmodern jab at the past, even though that's under the surface. Rather, the film contains a constant thrust of nostalgia and romanticizes an outmoded filmmaking style, but it's also committed and respectful to its genre and characters. Sincere melodrama hardly exists in today's cinema, where sentimentality and passion have been replaced by sneering self-awareness. Ashe creates a film that feels appropriately melodic in its bursts of emotion and color, bringing to mind musicals by Jacques Demy or Robert Wise. But even though it's a convincing recreation of the past, Sylvie's Love becomes more than a progressive twist on a retro style. It offers something classical Hollywood failed to release. It's an act that acknowledges past mistakes and gives Black representation a chance to occupy a style that once rejected it.