Director

Cast

Matt Damon

,

Julianne Moore

,

Oscar Isaac

,

Glenn Fleshler

,

Alex Hassell

,

Marah Fairclough

,

Megan Ferguson

,

Noah Jupe

,

Michael D. Cohen

,

Jack Conley

Rated

R

Runtime

105 min.

Release Date

10/27/2017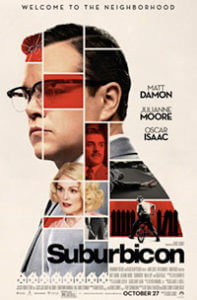 If it wasn't blatantly obvious from the title, director George Clooney's Suburbicon attempts to deconstruct the American suburb and the discriminatory, ideological underpinnings on which it was developed. Despite its lofty ambitions, excellent cast (Matt Damon, Julianne Moore, Oscar Isaac), and pristine looking production, the film fails to accomplish what might have been either: A) a stylish crime story in the noir tradition; B) a sly critique of Anytown, USA, circa 1950; or C) a commentary on how the American Dream was derived from a prototype of white privilege. By trying to do everything at once, Clooney trivializes an important and relevant social and historical commentary, which seems like an afterthought next to the primary drives of the plot. What might've been either an entertaining or alternatively germane film has been mismanaged by its director, whose priorities for Suburbicon were out of whack.
The screenplay, originally written by Joel and Ethan Coen several years ago, involves the caper hinted by the title (get it, "suburb" and "con"), where a seemingly Average Joe plots to kill his wife for the insurance money à la Double Indemnity (1944). However, the script is also credited to Clooney and his writing-producing partner Grant Heslov, who had long wanted to develop a project based on the real-life story of William and Daisy Myers—an African American couple terrorized by their white neighbors in Levittown, Pennsylvania, in 1957. Once the Coen brothers' script came along, Clooney and Heslov resolved not to give the Myers their due. Indeed, the Myers' story has been absorbed into the Coens' crime story, turning the Myers into a subplot that half-heartedly explores how the American suburb was founded on a racist archetype. Imagine combining the Coens' The Man Who Wasn't There (2001) with Mississippi Burning (1988) in an 80-20 split, and the resulting film's inattention to the racial injustice might seem troublesome.
Founded in 1947 and spanning several housing developments, Levittown housed thousands of white families in cookie-cutter units, as envisioned by the development's practitioner, William Levitt, who sought an all-white community until he was forced by the courts to integrate. (Levitt bears more than a few similarities to Donald Trump, given that his wealth was handed down by his father, and he's a textbook racist.) Levitt also earned notoriety from publications like Time for his pioneering innovations; he's considered the father of the 1950s American suburban ideal—a decidedly white world. And when the Myers family moved into Levitt's frightening model, they were subject to rocks flying through their windows, a cross burned on their lawn, and other terrifying acts of hate before the incidents eventually subsided. The Myers family was not deterred and remained in the neighborhood. Alas, the U.S. hasn't changed as much as we might like to think in the last 60 years—not if recent events in Charlottesville, Virginia (or Trump's refusal to appropriately condemn white supremacists) are any indication.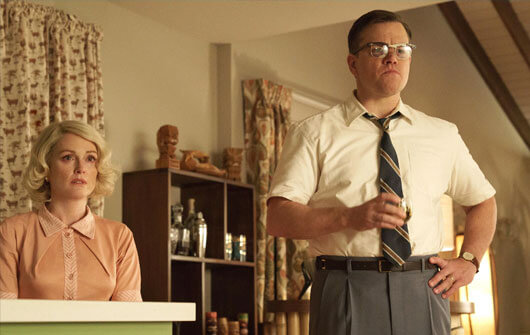 Given its background, Suburbicon should feel extremely relevant. Instead, it's a tonal blunder, not unlike Clooney's last directorial disappointment, The Monuments Men (2014), which tried to create a harmony between light humor and wartime action within a serious discussion about the preservation of art. The crime-centric plot follows Gardner Lodge (Damon), a mild-mannered husband and father who wakes up his son Nicky (Noah Jupe) one night, explaining "There are men in the house" with an eerie calm. They live in the film's version of Levittown, called "Suburbicon," a name that suggests a certain satiric self-awareness. To be sure, the film opens with a commercial-style prologue advertising a neighborhood defined by "diversity" through a series of happy, homogenized white faces. Regardless of such winks, the film's score by Alexandre Desplat sets a dour and ominous mood, signaled by a couple of seedy criminals (Glenn Flesher and Alex Hassell) who proceed to kill Gardner's wheelchair-bound wife (Moore). Fortunately for Gardner, the murder is all part of an elaborate scheme he hatched with his late wife's twin sister (also Moore) to collect on his wife's life insurance.
On the periphery, the renamed "Meyers" family (Karimah Westbrook and Leith M. Burke) moves in next door, and the citizens of "Suburbicon" rally in protest. But most of the plot focuses on Gardner as he tries to outsmart police, a wily insurance investigator (Isaac), and manage looming threats from his killer cohorts. Much of the story is told from Nicky's perspective, watching as his father lies, badly, to cover up his crimes. Periodically, the film cuts back to the Meyers' plight, complete with crowds of people protesting and clamoring outside their home. But the Meyers characters never feel like characters at all, more like symbols in a film that doesn't bother to take the requisite time to develop meaning through effective drama, only an obvious parallel: As Gardner demonstrates that, contrary to popular opinion, white families in the northern half of America are capable of cruel, inhuman behavior, his neighbors condemn the peaceful Meyers as "animals" for the color of their skin. It's an impossible-to-miss message and call for historical awareness.
Clooney's sixth feature as director contains several disparate moods, with a few awkward hints of the Coens' savvy pastiche style into the proceedings, but none of the humor promised by the misleading trailers. Suburbicon's confused manner is even more disappointing for its apparent potential—production designer James D. Bissell creates a sort of dreamy nightmare world complete with period-appropriate costumes and sets, while Robert Elswit shoots the material in gorgeous, Rockwellian colors and light. Damon, Moore, Jupe, and Isaac are all excellent, though their performances have been sunk by the uneven script and Clooney's inability to replicate the Coens' balance of several playful, sometimes contradictory modes at once. Clooney may have been able to handle a noir thriller or a real-life drama about the Myers' plight in Levittown, though he demonstrates with Suburbicon that doing both at once is beyond his talent as a director.