Director

Cast

Jake Gyllenhaal

,

Tatiana Maslany

,

Miranda Richardson

,

Clancy Brown

,

Lenny Clark

,

Carlos Sans

,

Danny McCarthy

Rated

R

Runtime

116 min.

Release Date

09/22/2017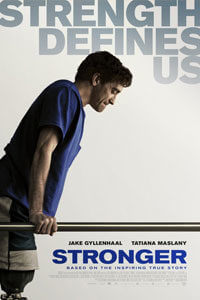 In the wake of Peter Berg's Patriots Day from last year, it's understandable to approach any film about the Boston Marathon bombing with suspicion. Several Hollywood "docubusters" about terrorist acts have resulted in films that use the audience's sympathies to manipulate feelings of inspiration—often achieved through the "based on a true story" label, regardless of their sketchy representations and questionable intentions. A refreshing antidote to such dubious films, Stronger is an inspirational real-life account of Jeff Bauman, the Costco deli worker who was cheering near the finish line for Erin Hurley, his on-and-off girlfriend, when one of the bombs went off on April 15, 2013. Based on Bauman's book of the same name, co-written by Bret Witter, the film foregoes much of the larger "Boston Strong" and American ideological context other, lesser films might dwell on, and instead it centers on the personal struggle that drives Bauman to redefine himself.
Jake Gyllenhaal plays Bauman, offering another profoundly physical performance on par with his gaunt appearance in Nightcrawler (2014) or his muscular physique in Southpaw (2015). Full of charm but lacking much of a future, the twentysomething Bauman lives with his mother (Miranda Richardson, outstanding), spends his time at the local bar drinking cheap beer, and pines after the Red Sox. Bauman and Hurley (Tatiana Maslany, another excellent performance in Stronger) have been together for years, often breaking up because he's a screwup and perpetually "never there" for important functions. In a grand gesture that will hopefully get them back together, Bauman plans to be there for Hurley on the Boston Marathon finish line. When Bauman wakes up in the hospital after the bombing, he discovers his legs have both been amputated above the knee. Hurley, meanwhile, feels overwhelming guilt.
All the backstory about the bombers and the media coverage of the manhunt to follow has been reduced to background conversation in Stronger. As Bauman becomes a media celebrity and the word "hero" is thrown about, his stereotypically loud and hard-drinking Bostonian family, while sympathetic, if dysfunctional, prefer to deal with the event as most Americans: they see it as another victorious demonstration of how terrorist acts only make America stronger. "Thank you for not letting the terrorists win," a random fan tells Bauman. But Bauman doesn't see it this way, and he certainly doesn't see himself as a hero for getting blown up. His legs are gone, and he fears he may never walk again. From his perspective, the terrorists won this battle. Only with Hurley's grounded help does Bauman realize all the despair and self-pity won't help him recover both physically and psychologically; neither will his mother's way of dealing with the trauma by transforming her son into a media star. Rekindling their romance, Hurley helps him through the toughest physical challenges—showering, using the bathroom, getting up and down stairs—until she becomes too much like his nurse. At this point, she delivers a decisive message: fight for yourself, or else.
Green's formal approach seems quite conventional next to his early Malickian tales of the Southern gothic, George Washington (2000) or Undertow (2004), or his later, more verbose work on Pineapple Express (2008) and The Sitter (2011). His style recedes but his craftsmanship, evidenced in his journeyman director status as of late, remains intact. Green's approach to Stronger relies on the steady, yet realistic framing by British cinematographer Sean Bobbitt (a frequent collaborator with Steve McQueen). The finest shot of the film requires skill and confidence to accomplish, and Bobbitt pulls it off splendidly. In the hospital, several days after the bombing, Bauman must endure unbearable pain as a doctor and nurse change his wound dressing for the first time. We see Bauman and Hurley in the ultra-close foreground, their eyes locked with one another. In the background, out of focus, sterile blue gloves unwrap the bandages and pull the sticky dressings from the spots where his legs used to be. In a single shot, Green captures all the visceral pain of the moment, but also the bond that forms between two people through such trauma. It's an incredible shot, and easily the highlight of the entire film.
Of course, the very concept of Stronger feels like Oscar bait, designed and specified to ensure a teary-eyed audience reaction, followed by feelings of inspiration and American pride. Though Bauman rebukes any notion of his heroism, he eventually cannot deny how people see him as a symbol for "Boston Strong" or their own losses in similar circumstances. And though he may not agree with their projections, he comes to understand them. Regardless of whether such patriotic sentiments feel somewhat superfluous to Bauman's basic human story, they do not negate the skill with which the film has been made and acted. The effectiveness of the drama relies on the actors who bring emotional reality to every scene. Gyllenhaal once again delivers an achingly real portrayal, but his scenes are enlivened by Maslany (best known from the TV series Orphan Black), who might be Stronger's real standout. All the while, Green delivers his most accessible film to date, and nearly every beat of the film works as intended, even if we can occasionally see our heartstrings being pulled.