Director

Cast

Asante Blackk

,

Luis Guzmán

,

Alex Hibbert

,

Melvin Gregg

,

Coral Peña

,

Cassandra Freeman

,

Hassan Johnson

Rated

R

Runtime

104 min.

Release Date

10/06/2023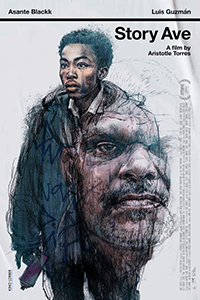 Japanese culture has a concept called wabi-sabi that sees beauty in imperfections, in the ephemeral nature of all things, and it assigns aesthetic value to that impermanence. When cracks appear on a sculpture or a youthful face develops wrinkles, these become details to appreciate rather than grim reminders of time or morality. It's the philosophy behind found object art and second-hand shops; it's the appreciation of how overcoming adversity builds character; it helps nurture an appreciation for the volatility of life. This is the underlying theme of Story Ave, the promising directorial debut of Aristotle Torres, whose screenplay, co-written with Bonsu Thompson, examines a rough patch in the life of a South Bronx teen named Kadir. Thanks to another assured performance by Asante Blackk, Kadir is an aspiring artist caught between two alternate paths. Although its Hollywood ending might seem to counteract its authentic portrait of a teen at a crossroads, its optimism also avoids becoming misery porn that delights in equating authenticity with downtrodden life lessons. 
Story Ave could be seen as a hopeful cousin to the urban youth genre of the 1990s, since Torres draws unabashedly from John Singleton's Boyz n the Hood (1991) and Spike Lee's Clockers (1995), among others. The narrative touches on gang violence, peer pressure, drugs, and street crime, while Kadir's future hangs in the balance. Adhering to the clichés of the genre, an experienced father figure gives the youthful protagonist sage advice, prompting his desire to change. But Torres adopts a more expressive aesthetic, with dream sequences that transport the viewer into a ponderous realm. In the first scenes, Kadir's feet lift from the ground, and he floats through his family's apartment, the site of a wake for his disabled younger brother, who died tragically and accidentally. Feeling that his mother (Cassandra Freeman) blames him for what happened—"You take everything from me!" she screams at him at the height of her grief—Kadir heads off with his friend Moe (Alex R. Hibbert) to join a neighborhood graffiti crew called OTL (Outside the Lines), run by Skemes (Melvin Gregg), whose name should offer a window into his character. 
Despite his skill as a tagger and his sketchbook teeming with evidence of his raw talent, Kadir is tasked with proving himself to Skemes. OTL members stay true to their roots through a combination of graffiti art and street crime, which prevents their work and culture from becoming a white commodity. When Kadir attempts to complete his initiation by robbing an MTA conductor at gunpoint on the fictional "Story Avenue" platform, the would-be victim Luis (Luis Guzmán) responds calmly: "Have a meal with me. I'll give you enough money to have a warm place to sleep tonight." Over Cuban sandwiches, Luis begins reframing Kadir's worldview to one that looks beyond his Brooklyn surroundings to a whole world of possibility. Rocked by loss, anger, and rejection, Kadir finds a space with Luis outside of his home life and doomed future with OTL. Luis gives him the encouragement and patience he needs to realize that if he applies himself, his art could lead to a promising, alternative way of life—a chance to attend Brooklyn's Pratt Institute.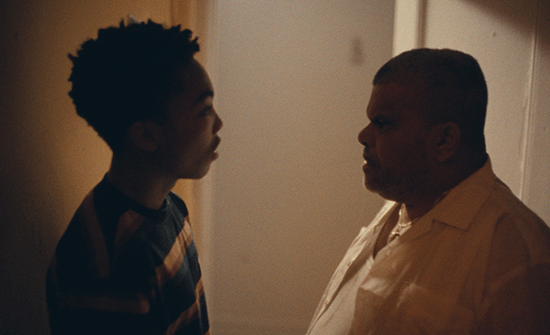 The lesson is similar to the one Blackk's character learns in this year's Landscape with Invisible Hand. In both films, the young star of TV's This Is Us plays an artist grappling with how personal expression cannot be forced or co-opted by outside influences. Whereas Kadir is quick to dismiss other local artists for having a thesis or showcasing their art in exhibitions that cater to rich white people ("You take pictures for rich folks so they can talk crack babies over lobster," he sharply tells a kind photographer), Kadir learns that the most passionate art has meaning behind it. Similarly, Torres tells a familiar story, but it's told with such passion that it's moving despite its familiar scenario. You know the drill: an aimless teen learns from a wise older person how to overcome his troubled past, giving the kid a much-needed break in life—a storyline seen in movies from The Karate Kid (1984) to Gran Torino (2008). 
Story Ave is an expansion of Torres' short film of the same name that also details the aftermath of a "robbery gone right." The feature version debuted at SXSW, earning the Best Cinematography prize for Eric Branco's evocative lensing, which always has subtle, symbolic intention. Shot initially so the margins look out of focus, the narrowed perspective reflects Kadir's tunnel vision about the trajectory of his life. When he finds a white wall to claim as his canvas to paint his brother, the frame feels open, the lenses wider, and the possibilities endless. Elsewhere, Torres and Branco create dream sequences, with Kadir remembering his brother's death in a bathtub. The blue nighttime light in these scenes fills the apartment while lava-colored water pours out from beneath the bathroom door in an image that burns into Kadir's mind. In Kadir's nightmares about both he and his brother drowning, Torres makes the familiar narrative territory poetic and refreshingly devoid of realism. 
Story Ave doesn't offer too many surprises, hitting the same dramatic beats as similar coming-of-age films about mentor-mentee relationships. If there are weak spots in the production, they reside in the formulaic way in which Torres arranges events and the occasionally pointed dialogue that not all of the supporting cast can overcome. Though the story unfolds as expected, it never feels like the sort of film that would abandon Kadir or confront the audience with, say, his death or some other bleak outcome. Predictable storytelling aside, the textured performances brought by the two leads resonate. Blackk and Guzmán are terrific, lending a naturalism to their roles that never feels like actors making choices, just people being themselves. Through them, the movie supplies a moving metaphor for how people change and grow, and sometimes, that's a messy but ultimately beautiful process.