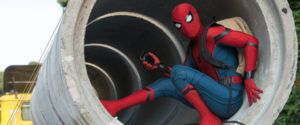 Spider-Man: Homecoming
3 Stars
Director

Cast

Tom Holland

,

Michael Keaton

,

Robert Downey Jr.

,

Marisa Tomei

,

Jon Favreau

,

Gwyneth Paltrow

,

Zendaya

,

Donald Glover

,

Jacob Batalon

,

Laura Harrier

,

Tony Revolori

,

Bokeem Woodbine

,

Angourie Rice

,

Logan Marshall-Green

,

Hannibal Buress

,

Martin Starr

Rated

PG-13

Runtime

133 min.

Release Date

07/07/2017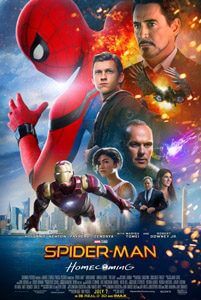 Over the past fifteen years, three actors have played Marvel's iconic superhero Spider-Man in six films, beginning with Tobey Maguire in Sam Raimi's trilogy, followed by two defunct reboots from director Marc Webb and starring Andrew Garfield. The latest edition, Spider-Man: Homecoming, stars relative newcomer Tom Holland, the 21-year-old performer from The Impossible (2012) and this year's The Lost City of Z, who made his first appearance as Spider-Man in Captain America: Civil War (2016). The apt, if obvious title denotes the return of the Spider-Man property from Sony, which held the exclusive film rights for years, to Marvel, where Stan Lee and Steve Ditko created him in 1962. Of course, Marvel Studios now dominates Hollywood with its ever-expanding Marvel Cinematic Universe. And while this development of superheroes played by multiple actors may seem excessive, signaling the commercialized nature of intellectual properties in Hollywood, it's nothing new. Let's not forget there have also been six Batmans and three Supermans (and that's just in feature films, not including the television iterations). Superheroes represent brand recognition for the film industry and equate to catnip for blockbuster-going audiences. The temptation to reintroduce young audiences to a famous character must be irresistible. Don't be surprised if, in another decade or so, there's yet another actor playing Spider-Man in place of Holland.
But for the time being, Spider-Man: Homecoming presents a joyous, sharp-witted, and teen-centric entry into the MCU. From the outset, fans will note the intentional lack of origin story details here. Everyone knows how Spider-Man became a super-powered wall-crawler; there's no need to rehash tales of a radioactive spider or a moral awakening courtesy of a dead Uncle Ben, so the film thankfully doesn't bother. Despite the production's team of six credited screenwriters, director John Watts delivers a surprisingly coherent narrative and character arc for Spider-Man's alter-ego, Peter Parker. The film opens with Peter as a high school sophomore and subject to the jibes of resident bully Flash Thompson (Tony Revolori). Alongside his best friend Ned (Jacob Batalon), Peter behaves like a normal kid—he takes part in extracurriculars and pines after an older girl, Liz (Laura Harrier). After school, he heads to the streets in costume, performing the duties of a "friendly neighborhood" web-slinger in Queens, using an internship at Stark Industries as a cover with his guardian, Aunt May (Maria Tomei, a character reduced to several "hottest aunt ever" remarks). But Peter wants to rush himself into the world-saving realm of The Avengers, while his mentor, Tony Stark (Robert Downey Jr.), keeps the young hero on a leash with the help of a new high-tech spider-suit and a bodyguard-turned-babysitter, Happy Hogan (Jon Favreau).
Peter's clumsiness and fallibility as Spider-Man are endearing. Much like other teens his age, he's still figuring out his body, his powers, and his limits. There's also an intense energy to Holland's performance that serves the character, recalling the brash forward momentum of the kids in Watts' grand theft auto thriller, Cop Car (2015)—the film that impressed Marvel enough to give Watts the director's chair. Regardless of Peter's occasional irresponsible heroism and frequent social ineptitude, the film nonetheless creates parallels between Peter and John Hughes' king of high school, Ferris Bueller, with several nods to the 1986 classic Ferris Bueller's Day Off littered throughout the picture. Whether Spider-Man's jaunt through a New York suburb recalls the running home scene from the end of that film (complete with familiar lines like "Smells good" and "Hi, ladies"), or Holland's befuddled laugh of disbelief that recalls, verbatim, a similar one made by the fresh-faced Matthew Broderick, Spider-Man: Homecoming pays homage to Hughes' formative teen comedies. But Hughes' influence on the film feels more referential and not as original as Kelly Fremon Craig's underseen The Edge of Seventeen from last year. But Watts and his team of screenwriters enliven the hilarious teen situations within the structure of a standard superhero yarn.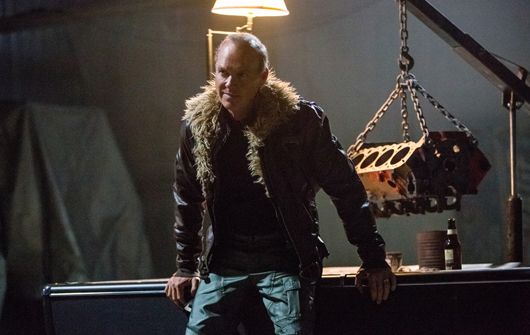 Fortunately, the villain of Spider-Man: Homecoming challenges the Raimi-era height of Spider-Man 2's Doctor Octopus, played by Alfred Molina. A blue-collar salvage boss hired to clean up after the alien invasion in The Avengers, Adrian Toomes (whose surname exemplifies the pun-tastic names of 1960s comic villains, like Ego the Living Planet or Edward Nygma) and his employees find themselves sacked after Stark's government-funded operation sweeps in to secure the alien tech. Embittered and desperate to provide for his family, Toomes steals some of the alien gear and, with the help of his resident tinkerer (Michael Chernus), develops a number of flashy, futuristic weapons and gizmos to sell on the black market. Eight years later, Toomes has amassed a network of buyers—not to mention an intimidating flying suit with wing-engines and a green-eyed mask—allowing power and money to corrupt his workingman's ethics. He becomes The Vulture. Meanwhile, any question about Keaton's bird-obsessed characters from Batman to Birdman remain suppressed by his chilling presence in several face-to-face encounters with our hero. And when Spider-Man catches wind of Vulture's plan, he tries to alert Iron Man, who refuses to take the young buck seriously; so Spidey resolves to stop Vulture himself.
And that's when Spider-Man: Homecoming becomes rather conventional, offering a few zippy and complex action sequences rendered with copious amounts of CGI. A scene atop a camouflaged airplane is particularly difficult to follow, while the film once again finds Spider-Man trying to hold together a massive structure with nothing more than webbing and his spider-strength. It's all shot in a standard, well-lit, somewhat generic Marvel mode by Ron Howard's longtime cinematographer Salvatore Totino, with bright colors and fast-paced scenes, and a rousing score by Michael Giacchino. Regardless of its six writers and a nearly $200 million price tag, the film is still capable of embarrassing missteps. Take the film's worst scene: Peter takes a long look in a reflective puddle and sees his mask imposed over his own face, and then he hears Stark's voice echoing in his mind ("If you're nothing without this suit, then you don't deserve to have it")—thus telegraphing the film's themes for those incapable of remembering dialogue from earlier in the film. It's a cheap, unintentionally funny and artificial moment in a film otherwise populated with near-constant intentional laughs (this is the funniest MCU film next to Ant-Man). Central to most of the humor is Holland's hyper and excited quality, paired alongside Batalon's nerdy, self-effacing, and enthusiastic techie-behind-the-hero role.
With enough fanboy teases, two post-credits scenes, and connective tissue to the MCU to fuel paragraphs of speculation and theories, Marvel enthusiasts may want to compare character names to those of not-so-famous Spider-Man characters from the comics as a hint of what's to come in the inevitable future sequels. Easter Eggs aside, this critic found the casting of comic actors more exciting. Consider the hilarious deadpan stand-up Hannibal Buress as the disenchanted gym teacher and detention supervisor; or Martin Starr, who takes a break from dour Satanism on HBO's Silicon Valley to play an enthusiastic academic decathlon coach. But Spider-Man: Homecoming does more than restore our enthusiasm for earthbound characters by reminding us that superheroes don't always need to save the planet, galaxy, or space-time continuum. It provides more than just a blissful, Hughes-referencing teen romp. And it does more than just add another throwaway episode into the expansive MCU. It has to. How else could the film so effectively quell our annoyance that it marks the sixth Spider-Man film from three separate franchises in under two decades? Sony and Marvel have accomplished a number of successes with this film, but its greatest achievement is making its audience feel that a restart of the Spider-Man brand was worthwhile.