Director

Cast

Daniel Craig

,

Christoph Waltz

,

Ralph Fiennes

,

Léa Seydoux

,

Ben Wishaw

,

Naomie Harris

,

Monica Bellucci

,

Dave Bautista

Rated

PG-13

Runtime

148 min.

Release Date

11/06/2015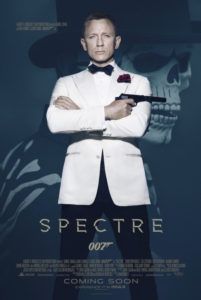 Spectre, the 24th entry in the James Bond franchise, has considerable shoes to fill after its brilliant predecessor, Skyfall. Celebrated by audiences and lauded by critics, that film was the highest-grossing ($1.1 billion worldwide) and arguably best entry in the entire 53-year franchise. This direct follow-up returns Skyfall's creative team behind the camera, including director Sam Mendes and screenwriters John Logan, Neal Purvis, and Robert Wade. In keeping with the moody tone of the franchise reboot in 2006 with Casino Royale, complete with a tragedy-ridden hero marked by personal loss, Spectre dwells on the iconic character's dark past and continues his futile search for peace, or revenge, or whatever comes first. Along with several nods back to the Sean Connery and Roger Moore days by placing the titular terrorist organization back at the center, the film uses nostalgia as adhesive, connecting us to Bond, and him to the often exaggerated, but nonetheless thrilling spy action.
Played by Daniel Craig in his fourth turn as 007, Spectre features Bond globetrotting from Mexico City to London, then off to Rome, Austria, and Tangiers. He captains all manner of transports including planes, trains, and automobiles, and a couple helicopters too. He beds sultry women and faces-off against sizeable bad guys, both categories portrayed by an impressive ensemble. As always, James Bond is about places, chases, and faces. Whereas Casino Royale and Skyfall repurposed these familiar Bond conventions into something innovative and fresh (while Quantum of Solace can be shrugged off altogether), Spectre feels more dependent on previous films—specifically in its use of "Spectre" and that organization's Dr. Evil supervillain Ernst Stavro Blofeld, who often appeared in earlier films only from the shoulders down, stroking his white cat. Donald Pleasance (You Only Live Twice, 1967), Telly Savalas (On Her Majesty's Secret Service, 1969), Charles Gray (Diamonds are Forever, 1971), and Max Von Sydow (Never Say Never Again, 1983) each played Blofeld in classic Bond titles.
The film opens with one of the most bravado sequences in any 007 chapter. In Mexico City, during the height of Day of the Dead festivities, a wowing tracking shot flows over crowds and settles on two men in masks. One of them is Bond, and we follow him into a bedroom with a willing female companion (Stephanie Sigman), until he steps out the window with a sniper rife in hand. It's a breathless shot, even if the filmmakers used computers to artificially piece it together. Before long, buildings are collapsing and helicopters are defying the laws of physics. This incredible opener is followed by a dull title sequence, always the silliest part of any Bond film; with a lackluster song by Sam Smith and laughable octopi-laden animations, it's the least enjoyable few minutes of the film. To be sure, just because Spectre is the longest (148 minutes) and most expensive (upwards of $250 million) Bond film to date doesn't mean it's the best. The story drags somewhat in the middle, while the visual presentation seems less dynamic than Skyfall.
Beautiful and varied by locale, the lensing in Skyfall came courtesy of cinematographer Roger Deakins, who did not lend his talent nor his insistence on 35mm cameras to the production this time around. Instead, Interstellar d.p. Hoyte van Hoytema shoots with digital cameras and renders the locales in flat, muted colors, from the equally rusty hues of Mexico City, Rome, and Tangiers, to the whitewashed brightness of Austria. But van Hoytema's camera movements follow the action with expert clarity even if the color palette is less lively. Mendes' assured direction, along with the nuanced character development by the writers, delivers a professional production and engaging story. That story follows Bond as he keeps a promise to the former M (Judi Dench). It was her final request that Bond track an Italian assassin, kill him, and attend his funeral in order to discover the nefarious company he kept. When Bond does this, he uses his masculine charms to get information from the assassin's not-so-heartbroken widow (Monica Bellucci), and then finds himself at a secret meeting of international terrorists.
In London, a seemingly unconnected storyline is unquestionably connected. The new M (Ralph Fiennes) faces a merger with MI5 and its figurehead, named C (Andrew Scott, Moriarty in the BBC's excellent Sherlock series). Determined to rid modern espionage of human spies, C wants to shut down the double-oh program. M, along with Moneypenny (Naomie Harris) and Q (Ben Whishaw), rally against the government takeover. Meanwhile, somewhere else on the planet, Bond evades the tough henchman (Dave Bautista) of "Spectre", a clandestine organization led by Christoph Waltz's mysterious and menacing figurehead Oberhauser. Fortunately, the new film never explains what "Spectre" means (Special Executive for Counter-intelligence, Terrorism, Revenge and Extortion—the clumsy acronym originated in Ian Fleming's books). However, the writers do engage in other hokey flourishes, especially in the climactic scenes back in London.
Spectre carries on in absorbing fashion, the story structure familiar to other James Bond fare. The screenplay does a poor job of convincing its audience that the three previous Craig-Bond films were all connected and lead to this, and that Spectre was orchestrating a series of international incidents in a personal jab against Bond. But when you're dealing with superspies and supervillains, a large capacity for suspension of disbelief is required. More troubling is how severe the film feels, with only one or two good quips from Bond. Granted, the Craig-Bond films have all committed to post-Batman Begins gravitas, but they each offered several moments of levity. There's also the series' enduring, questionable attitude toward women; here, even the sex scenes feel physically aggressive. Opposite Craig for most of the picture is French actress Léa Seydoux as Madeline Swann, the daughter of a former Spectre agent, who seems like a strong female character until she's putty in Bond's promiscuous hands.
Many of this review's quibbles come with the territory of any James Bond film: the misogyny, gaps in logic, outlandish plotting, how it finds any excuse to shift the action to a new exotic locale, and so forth—all elements Bond fans will overlook in exchange for the pure escapism and spectacle. Regardless of the predictability, Spectre is entertaining, and Craig's comments about being tired of the role notwithstanding, there's probably one more Craig-Bond title on the way (he's contractually obligated to it). Never mind the running time or overabundance of story; the film never bores, and the audience never loses interest. It simply isn't the wowing, visually illustrious film that its predecessor was. Perhaps it's unfair to judge Spectre against Skyfall, because any action film, Bond or otherwise, would seem underwhelming by comparison. But for all its conventionality and superb craftsmanship, this sequel should be placed somewhere in the middle of the franchise's rankings, diverting but nowhere near one of the best.