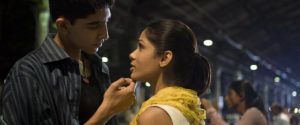 Slumdog Millionaire
4 Stars
Director

Cast

Rated

R

Runtime

120 min.

Release Date

11/12/2008
Danny Boyle has mastered the modern fairy tale. Eliminating fantasy from the equation and finding magic in the everyday, he's grounded the dreamy storybook experience with realistic settings and circumstances that don't diminish the fateful exhilaration and inherent wonder. And yet, he doesn't deny the existence of ugliness; rather, he frankly admits the world can be quite unpleasant, but, occasionally, miracles happen. Boyle's Slumdog Millionaire speaks universally to audiences by finding common ground between cultures, specifically viewers in two of cinema's largest markets: Western and Indian. We have Hollywood; they have Bollywood. And though they release about five times more films per year than we do, ours are more spinkled around the international marketplace. Where Boyle succeeds is purging the story of specific cultural concerns, wrapping up this gift-of-a-film with ribbons of fundamental human feeling that span the world over. The film drives us through the full gamut of emotions at a whirlwind pace, though never rushes or drives recklessly. No wonder it won the Audience Award at the Toronto Film Festival.
The setting is India, some years ago when the game show Who Wants to Be a Millionaire? was more popular than today. Intercut that show's razzle-dazzle with the harsh squalor of the Mumbai slum, and an immediately interesting dynamic presents itself. How does someone who grew up on the streets become a millionaire? The film poses the question and then reveals the answer by telling us the story of Jamal Malik (the older version played by Dev Patel), and how, though uneducated and forgotten by the world, he was fated to know the answers to the show's questions.
Before you have time to scoff at a plot based on an existing game show, first understand there's no Regis Philbin or Meredith Vieira, and the film's certainly no marketing scheme to return the program to primetime from its current afternoon timeslot. Instead, the usual fascination for watching the prize money add-up resigns itself for a more profound examination of Jamal's life, how the events therein astonishingly allow him to know the answers. Why, for example, does he know that Benjamin Franklin's face is on the one-hundred dollar bill, but doesn't know that Gandhi appears on the bill for one-hundred rupees? When he somehow knows the answer, the film traces back into Jamal's childhood or adolescence (the youngest and middle played by Ayush Mahesh Khedekar and Tanay Hemant Chheda, respectively), and shows us the incidents that buried seemingly inconsequential, albeit necessary pieces of information in his memory.
The first scenes show Jamal being tortured by police; after his first stretch in the "hot seat" they're ordered to determine if he cheated. The police inspector (Irfan Khan) believes Jamal's story, because the events the young man recalls are too frank, occasionally too awful to be lies. Surviving on the streets, Jamal and his brother meet an ideal beauty Latika, who as they age becomes a distant but predestined love interest. His story circles about his unexpected reunions with Latika over the years, a fanciful devotion that is never embraced until…
The Who Wants to be a Millionaire? device has a surprising effect without becoming cliché or commercial, because the traditional quiz show suspense is structured around Jamal's past, versus money. Certainly, we want Jamal to win the millions in rupees, but his reasons for being on the show are much more romantic. With each remembrance that recalls a correct answer, the audience gets another piece to the dramatic puzzle. We hold our breath upon each discovery, as tears of sadness and joy alternate, welling up every time flashy host Prem Kumar (Anil Kapoor) announces "Correct answer!"
Of Danny Boyle's voyages into modernized fairy tale territory, his 2004 picture Millions is the other film that comes to mind. About a nine-year-old boy (Alex Etel, from The Water Horse) who discovers a bag full of cash, the film is a testament to the good nature of humanity, in particular an uncorrupted child. He believes the money was a heavenly windfall, and therefore wants to do kind deeds with it. Considering similar themes, both films are about an unlikely recipient of good fortune and both exist within a realm where things have an enchanted way of working out.
Like all the films in Boyle's career, Slumdog Millionaire has incredible energy; it takes off from the outset and never slows for an instant. Lively editing and thumping music keep the flow surging with incredible power. The same could be said for his 1996 breakthrough Trainspotting and his charged zombie reinvention 28 Days Later. Indeed, Boyle's career is versed when it comes to genre exploration. He's also done Hitchcockian thriller (Shallow Grave) and science fiction (Sunshine). Each of his films contains clarity of purpose and visual force, even while dashing by at a breakneck pace. Slumdog Millionaire inhabits everything that the moviegoing experience is supposed to be. Easily one of the best films of the year, it earns Boyle another breakthrough. This time, his achievement is the ability to present a narrative that threatens to be overly common, but like Jamal, achieves something unexpected and uniquely magical in its triumph.