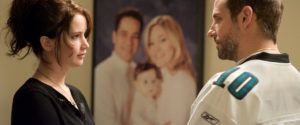 Silver Linings Playbook
4 Stars
Director

Cast

Bradley Cooper

,

Jennifer Lawrence

,

Robert De Niro

,

Julia Stiles

,

Chris Tucker

,

Shea Whigham

,

Jacki Weaver

Rated

R

Runtime

120 min.

Release Date

11/21/2012
Just finishing a plea-bargained eight-month stay at a mental institution, Pat is released into his parents' custody with the resounding philosophy that every situation offers a silver lining. This is an achingly optimistic worldview considering the character, played by Bradley Cooper in his finest performance yet, was institutionalized after he so rudely interrupted his wife Nikki cheating on him and reacted by beating the other man, a moment so traumatic that it forever ruined Stevie Wonder's "My Cherie Amour" for him. The song was playing in the background during the incident, and now it's a certain trigger for one of his bi-polar episodes. But the cuckolded Pat is determined to win Nikki back through healthy living. He's shed several pounds through a rigorous running program, and he's unwaveringly dedicated to proving to Nikki that he's all better and capable of being the kind of husband she needs. Now he just needs to find a way of communicating this to her without breaking the restraining order.
David O. Russell taps into another unlikely comic wellspring when he explores mental illness, obsessive compulsion, grief sex, event gambling, and dysfunctional families in Silver Linings Playbook. Celebrated for his off-kilter comedies like Flirting with Disaster and I Heart Huckabees, the Oscar-nominated director has explored more straightforward crowd-pleasing rousers too, such as Three Kings and The Fighter—both films that appease the masses, and yet remain wholly unique in their special ways. But Silver Linings Playbook, based on Matthew Quick's 2008 novel, feels like a combination of Russell's two pervading manners, complete with an impressive ensemble of actors, overlapping dialogue, pitch-perfect comic timing, explosive confrontations, frenetic pacing, and a finale driven by not one but two cheer-inducing competitions. In a way, this film has everything sophisticated adult audiences want in a mature dramedy, appealing to a broad-spectrum demographic without feeling like another humdrum mainstream release.
Living in his childhood home in a Philadelphia suburb with his parents, Pat Sr. (Robert De Niro) and Dolores (Jacki Weaver), the former high school teacher Pat Jr. spends his days jogging by the houses of his estranged wife's friends and the school where they both used to teach. His parents learn the first night that Pat isn't completely together, as he stays up reading books from Nikki's class syllabus and becomes enraged by Ernest Hemmingway's refusal to end A Farewell to Arms more cheerfully. Pat has no social filter; he blurts out whatever rude or insensitive notion pops into his head without delay.  He's invited to a dinner party one evening where he meets Tiffany (Jennifer Lawrence), who lacks social skills in another way entirely. A widow, Tiffany has used sex to quell her sorrow since the death of her cop husband, and she too spouts out blunt remarks to her uptight sister (Julia Stiles) and brother-in-law (John Ortiz). Just after the party, on the walk home, she could kiss Pat one instant and kill him the next. Although their mutual attraction is apparent to the viewer, Pat resists the temptation Tiffany represents in favor of repairing his marriage.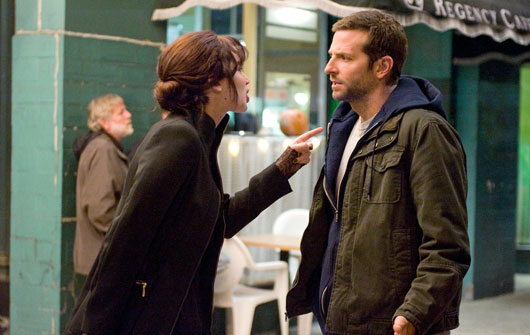 Pat's manic friendship with Tiffany becomes a thorny prospect, however, when she agrees to pass letters on to Nikki for Pat, but only if he agrees to help her with a dance competition in return, which requires training together day after day in close proximity. At the same time, Pat Sr. wants his son at home; he may be unlucky in life, but he's a rabbit foot in the living room during an Eagles game. Pat's highly superstitious and OCD father needs everything just right for Game Day. He's created a successful little bookie operation and has banked his cash to open a classic Philly Cheesesteak restaurant. But he loses a bundle on a high-risk game and resolves to bet everything on the outcome of Tiffany and Pat's dance competition. In what might normally be a creative downturn in the film's inspired screwball, dark-tinged, yet deeply emotional idiosyncrasies to this point, the conclusion teeters on the outcome of a concurrent football game and a local So You Think You Can Dance-esque tournament. Russell brings it all together in a whirlwind of cheering and tears that couldn't be held back if you tried.
As is often the case with Russell's films, Silver Linings Playbook has a look that supports its content. Tasanobu Takayanagi's cinematography captures the frenzied scenes of familial outbursts and live-wire confrontations with just as much dazzle as he does a final imposing pull-away, the camera movements as energized as the performers. Editors Jay Cassidy and Crispin Struthers assemble it with the same level of elated emotion in the cuts. Russell is a master at orchestrating scenes where multiple actors are speaking—more often arguing—at once, and at times these dramatic blowouts feel like chaos, except they're all carefully controlled by this notoriously precise filmmaker. True to form, the dialogue in Russell's script adaptation is sharp, witty, and multi-layered as his best efforts, best aligning with the neuroses-laden material of his first two comedies, Spanking the Monkey and Flirting with Disaster.
Also characteristic of a Russell film is that he brings out the best in his actors. Mark Wahlberg was never better than his performances in Three Kings, I Heart Huckabees, and The Fighter; Ben Stiller invented his "neurotic guy" persona on Flirting with Disaster; Christian Bale and Melissa Leo both earned Oscars for The Fighter. Likewise, Russell allows Cooper to explore a range the actor's broader fare hasn't allowed (the director even pokes fun at Cooper's appearance in horror schlock The Midnight Meat Train, visible on a marquee in the background), and Cooper's high-energy, feverish delivery never misses a beat. Lawrence quickly makes us forget she's become a pop-culture icon since her appearance in The Hunger Games, and reminds us she's capable of the depth shown in Winter's Bone; the gravity pulling Tiffany's emotional lows is supremely affecting. Most surprising is De Niro, who, after a string of half-hearted and unremarkable performances, proves he's still capable of engaging his audience. Chris Tucker also makes a rare appearance in a small, funny supporting role as Pat's hair-obsessed fellow inmate.
Fueled by unexpected dramatic turns and a gamut of oddball hang-ups that set the comic tone, Silver Linings Playbook marks another decisive triumph for David O. Russell, who's made both the funniest film and the most heartening romance in recent memory. Another writer-director could have played up the mushy sentimentality of the story to find an all-too-common crazy-people-in-love tale, but in Russell's hands, the material feels fresh and invigorated. What's more, he unloads a store of complex emotions put forth by talented actors in brilliantly screw-loose performances, making everything onscreen at once moving and entertaining. Silver Linings Playbook balances the line between conventional and unconventional in a grandly satisfying way that will please the average moviegoer afraid to go anywhere near the margins, but also involve cinephiles looking for a film that walks on the ledge ready to jump.