Director

Cast

Justin H. Min

,

Sherry Cola

,

Ally Maki

,

Debby Ryan

,

Tavi Gevinson

,

Sonoya Mizuno

,

Jacob Batalon

,

Timothy Simons

Rated

R

Runtime

92 min.

Release Date

08/04/2023
Randall Park's Shortcomings opens with a parody of Crazy Rich Asians (2018), replicating that film's first scene where a white hotel clerk looks down his nose at a wealthy woman because she's Asian, only to have her husband buy the hotel. Park pulls back to reveal a movie theater scene, with an all-Asian audience cheering in recognition and victory. Ben (Justin H. Min, from After Yang) thinks the movie is commercial tripe, but his girlfriend Miko (Ally Maki) later rationalizes: "I know it's a little glossy. But it's ours." The problem is, Ben is toxic—a no-filter jerk with an "inherently bad personality," whose cynicism ruins friendships and leaves him isolated. He's also our protagonist, for better or worse. Spending time with him can be unpleasant; like a Todd Solondz or Alexander Payne character, he doesn't endear the audience to him. After all, Ben would rather watch The 400 Blows (1959) on his Criterion Collection disc than make love to Miko. Calling him self-absorbed, sarcastic, manipulative, egomaniacal, yet entirely content in his misery might also be accurate. 
To be sure, Park isn't trying to win over the audience with Ben. What a strange choice of character for the director, who has made a career out of playing nice guys in Always Be My Maybe (2019), TV's Fresh Off the Boat (2015–2020), and Netflix's Blockbuster (2022). Making his directorial debut, Park does more than tap into representation as a starting point that leads to future strides with Asian audiences. Rather, Shortcomings feels like a reward—the kind of film that might not have been made if Crazy Rich Asians hadn't demonstrated there's an Asian American audience hoping to see themselves onscreen—even if the main character is kind of awful. However, this revelation isn't new. Wayne Wang's The Joy Luck Club (1993) proved this point 30 years ago, albeit without the considerable receipts of something like Shang-Chi and the Legend of the Ten Rings (2021). 
Shortcomings was based on the 2007 graphic novel by Adrian Tomine, so Crazy Rich Asians hadn't yet become either a bestselling book series or a blockbuster movie yet. Tomine adapts his script for the times, self-reflexively remarking on its role in the history of Asian representation by offering an indie alternative to studio productions. The film debuted at the Sundance Film Festival earlier this year, where Sony Pictures Classics picked it up for distribution. And sure enough, Park's direction has the feel of a dark Sundance-brand indie comedy from the early 2000s. He deploys pastel-colored chapter cards with blocky lettering, wades into punkish characters who have film-savvy conversations, and mines complex emotions and behaviors. Shortcomings would feel right at home in a marathon next to Ghost World (2001) and American Splendor (2003). As someone who experienced those films upon their release and enjoyed them, watching Shortcomings has a curiously nostalgic quality.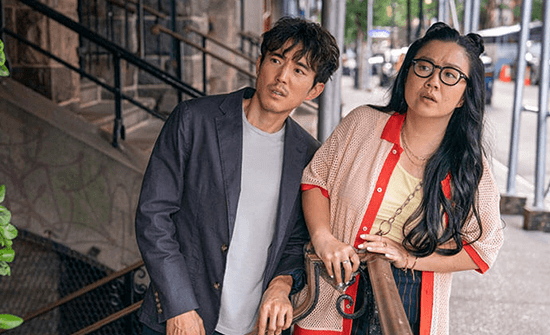 Set in Berkeley, the film is a walk-and-talk comedy that, despite its specific commentary about Asian representations, deals with universal themes. The story follows Ben, who finds himself alone after he and Miko decide to take a break while she accepts a three-month internship at an Asian film institute in New York. Lonely and alone, Ben is left with only his somewhat less acerbic best friend, Alice (Sherry Cola), a lesbian with commitment issues, which she's trying to change. With Miko gone, Ben pursues a fling with Autumn (Tavi Gevinson), his new box-office attendant at the movie theater he manages (where his employees played by Jacob Batalon and Scott Seiss offer plenty of comic relief). Autumn is an obvious choice for him, according to Alice and Miko, since he seems to have "a type"—blonde white women. Is this just a matter of attraction? Or has Ben been fed such an unhealthy dose of commercially manufactured definitions of beauty that he no longer sees Asians as attractive?  
Shortcomings not only unpacks deeply flawed characters, it questions societal boundaries concerning race and sexuality. In a subplot, Ben has a brief relationship with Sasha (Debby Ryan), a woman Alice describes as a "fencer" for not quite committing to well-defined sexuality. Later, Ben meets a clothing designer (Timothy Simons) whom he calls a "rice king" for his apparent Asian fetishism. But are these labels accurate, or simply the narrow-minded designations that outsiders give to others? Ben and Alice want people to be neat and tidy; however, they're both proof that people are messy, complicated, and not easily contained within broad stereotypes. Visually, Park considers these boundaries with cinematographer Santiago Gonzalez, blocking scenes that find Ben separated from others by rooms, glass borders, and walls—the unconscious distancing that allows him to disengage from the world and crassly judge it instead of dealing with its uneasy reality. 
Park challenges his audience to empathize with Ben, who's not irredeemable, though many viewers may struggle to identify with him. Fortunately, Ben isn't incapable of change, going so far as to attempt a grand romantic gesture in the finale. But Shortcomings doesn't play into mainstream sensibilities; even if the conclusion is hopeful, it refuses to confirm a happy ending for Ben—just a new chapter in his life. Directing a few superb performances, Park makes an impressive debut, and he turns Min into a leading man, whose range in this role alone speaks to his talent. Cola, who plays a similar best-friend role in the terrifically funny Joy Ride, is a welcome presence. However rich his characters and thorny his narrative, Park's Shortcomings won't be a major hit. But if it's a modest financial success that warrants many more like it, particularly a second feature from Park, then that's the best possible outcome.