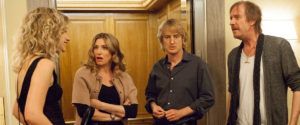 She's Funny That Way
2.5 Stars
Director

Cast

Imogen Poots

,

Owen Wilson

,

Jennifer Aniston

,

Will Forte

,

Rhys Ifans

,

Illeana Douglas

,

Kathryn Hahn

,

Cybill Shepherd

,

Richard Lewis

Rated

R

Runtime

93 min.

Release Date

08/21/2015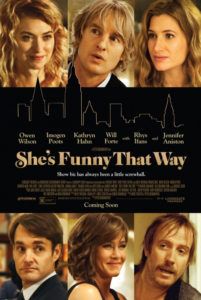 Admiring Peter Bogdanovich's throwback She's Funny That Way is much easier than actually enjoying it. He and co-writer Louise Stratten (his ex-wife) have a palpable love of screwball comedies from the 1930s and 1940s, and they've incorporated that affection into the film's characters and madcap situations. The result feels like Woody Allen paying homage to Ernst Lubitsch, except Allen's lesser days of the early 2000s (Hollywood Ending comes to mind). Equal measures of sexuality and show business satire combine into a farcical setup, but it's surprisingly devoid of laughs, even while being pleasant enough to hold our interest. Bogdanovich's earlier comedies What's Up, Doc? (1972) and Noises Off (1992) better imitate the classic screwball style he's trying to replicate here, and they also contained the requisite laughs.
With a framing device that occasionally feels like it's trying to clarify for the viewer what Bogdanovich is going for, the film follows a famous actress named Isabella (Imogen Poots) recalling to a cynical interviewer (Illeana Douglas) how she got her start. "Izzy" was a Brooklyn callgirl when she met Broadway theater director Arnold (Owen Wilson). After a romantic evening, Arnold gives her $30,000 and tells her to start afresh, leaving us to consider that his bankroll seems more suited to Hollywood than Broadway. When Izzy resolves to become and actress and audition for his latest play, entitled "A Grecian Evening", which also star Arnold's actress wife Delta (Kathryn Hahn), he can barely make eye contact. But everyone, including the playwright Joshua (Will Forte) and Delta's ex-lover and costar Seth (Rhys Ifans), likes Izzy for the part.
With Joshua falling for Izzy and Seth aware of Izzy's prior occupation, there's all sorts of fun Bogdanovich and Stratten could have had with this scenario. But they don't stop there. Joshua's acidic ex-girlfriend Jane (Jennifer Aniston) sees Izzy as a patient, as well as Izzy's former client Pendergast (Austin Pendleton), who's obsessed with Izzy. On the periphery are Joshua's estranged private-eye dad (George Morfogen) and Izzy's exceedingly loud parents (Richard Lewis and Cybill Shepherd). Each actor plays a one-note type, with Wilson, Ifans, and Hahn looking the most comfortable in their familiar, played-it-before roles. Poots, a young British actor affecting a thick Brooklyn accent, is best in her brief interview scenes in which she speaks about the overrated quality of reality and wistful pleasantness of Hollywood fantasy. Something about Poots' subtle expressions and the modulations in her voice reminds us how much we, too, love the escapist quality of the movies.
Originally written for the late John Ritter (he would have played Arnold) and shelved after his death in 2003, Bogdanovich revived the production along with producers Noah Baumbach and Wes Anderson. The film's preferred original title, "Squirrels to the Nuts", was more interesting and certainly had more connective tissue to the story. In Lubitsch's penultimate film Cluny Brown (1946), Charles Boyer tells Jennifer Jones, "Some people like to feed nuts to the squirrels, but if someone wants to feed squirrels to the nuts, who am I to say nuts to the squirrels?" It's the line used by Arnold on Izzy, and dozens of other callgirls, which inspired all of them to stop hooking and follow their dreams. It's also the film's best comic setup, as random women approach Arnold at inopportune times to thank him. Sadly, it's also the line he used on his wife, so when women draw his attention by calling out "Remember me? Nuts to the squirrels!" his wife knows just what it means. In moments like these, the film should be snappy and rife with laughs, but instead feel just mildly amusing.
She's Funny That Way is the first film Bogdanovich has directed since The Cat's Meow in 2001, and he's evidently out of form behind the camera. Cinéphiles will enjoy spotting both direct and indirect references and modernized takes on classic plot elements and tropes, as well as a number of cameos, including Tatum O'Neal, Michael Shannon, and Quentin Tarantino. But somehow the whole production feels at once inspired by the appeal of classic film (Bogdanovich is a famous film historian, authoring several books and appearing regularly on Turner Classic Movies), yet uninspired in its execution. Wouldn't the story have been better served as a Hollywood-set farce instead of Broadway? After all, the film's characters never quote famous plays, only famous movies. Fortunately, occasionally muddled though it may be, She's Funny That Way has an appealing cast and blithe spirit, even if the experience is somehow frustrating because we can see that Bogdanovich is oh-so-close to a very good film.