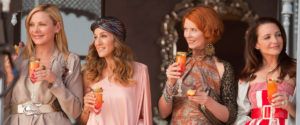 Sex and the City 2
1 Star
Director

Cast

Sarah Jessica Parker

,

Kim Cattrall

,

Cynthia Nixon

,

Kristin Davis

,

Chris Noth

,

Liza Minnelli

,

Miley Cyrus

,

Tim Gunn

,

Ron White

,

Omid Djalili

,

Penélope Cruz

,

Alice Eve

Rated

R

Runtime

146 min.

Release Date

05/28/2010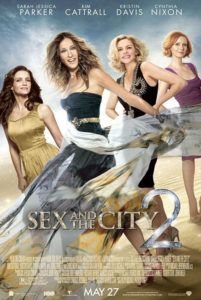 In the overlong sequel Sex and the City 2, the characters from Darren Star's hit HBO show return for another go-round on the big screen. Die-hard fans will attribute the generally awful reviews to the majority of critics being male, or those same critics not being devoted viewers of the program. But why should we have to bend to accommodate a movie? Shouldn't the movie accommodate its audience with the material, no matter their background? Decidedly not, since the sequel, on its opening weekend, made more than $50 million and no doubt earned a profit. Clearly, the devoted fans are enough to make even writer-director Michael Patrick King's dud a hit. That's why they call these "fan movies" and why those who aren't previously invested in the material should stay away.
Picking up two years after the original Sex and the City movie, we find the married life of Carrie Bradshaw (Sarah Jessica Parker) to her creepily sedate Mr. Big (Chris Noth) needing some work. She still wants to be a party girl, on the town every night at restaurants and Hollywood functions, while he wants to spend his free time only with her, watching black-and-white movies at home on their expensive furniture. She wants to talk, but Mr. Big, as always, has very little to say. Meanwhile, Carrie's latest book, a caricature of marriage vows, earns some nasty reviews. Then Mr. Big asks if she wants to spend two days a week apart from each other to help resolve their marital issues.
The friends have their own troubles: Charlotte York (Kristin Davis) is going slowly mad parenting her two young children, even with the help of a nanny. But it's the rather busty Irish nanny, who they've dubbed Erin-go-braless (Alice Eve), that's attracting the gazes of Charlotte's husband (Evan Handler) and causing Charlotte's worry. Miranda Hobbes (Cynthia Nixon) isn't getting the respect she deserves in her position as a high-powered attorney because her boss is a chauvinist. And Samantha Jones (Kim Cattrall), ever the sex freak, fills her time with menopause-reversing remedies learned from a Suzanne Somers self-help book.
All this leads to a frivolous mid-film interlude where the ladies enjoy an all-expenses-paid week in Abu Dhabi, courtesy of a sheik who wants Samantha to promote his posh new hotel. In their $22,000-a-night hotel room, they're each given their own personal butlers, their own cars (despite traveling everywhere as a foursome), and no end to extravagant foods and clothing. But, being who they are, they hardly respect local customs in terms of covering their cleavage, which later gets Samantha into some trouble with the locals. Also, Carrie unexpectedly bumps into her old flame, Aidan Shaw (John Corbett), and finds herself tempted. Somehow, this is all in an attempt to prove that our quartet is representative of the liberated modern woman. King's script even takes some fantastic turns when the ladies convince an entire Middle East nightclub to sing along in their karaoke rendition of "I Am Woman" by Helen Reddy. The awful, eye-rollingly stupid moment almost seems like a parody of itself, but then it's topped when Carrie and Co. learn that the women of Abu Dhabi all secretly wear the Louis Vuitton spring line underneath their burkas (yes, seriously).
The movie opens with the Connecticut-legal gay wedding of characters Anthony (Mario Cantone) and Stanford (Willie Garson), an over-the-top event complete with Liza Minnelli performing the ceremony and white swans in faux indoor rivers. Our foursome doesn't hesitate to deliver a plethora of homophobic remarks throughout, just like they don't hesitate to shake a finger at Middle Eastern cultures. As always, the Sex and the City girls demonstrate that they're a self-involved bunch unwilling to accept anyone or any group that doesn't meet their "in" requirements. Be it fashion, style, or social position, Carrie, Samantha, Miranda, and Charlotte remain a superficial bunch that has grown increasingly unlikeable over the years because they refuse to change.
King allows these women no room for growth, even within a two-and-a-half-hour movie. They all end up just as they were, ever obsessed with surfaces and labels, which is disappointing. Shouldn't they eventually be able to put aside their youthful desires and move on? Or even grow wiser from their experience? That Carrie is unwilling to change causes the conflict in this sequel's story, but it's never resolved to any satisfying degree. Disaster is averted (with a diamond, no less), but the characters learn nothing from their troubles. Seemingly forever, Carrie and the gang will prance around New York City in classy couture, fanatically discussing style and wearing absurd outfits. However, there's a point when that begins to be pathetic, when aged fashion mongers clinging on to some long-gone piece of their youth becomes pitiable and sad. That point might be defined as Sex and the City 2.