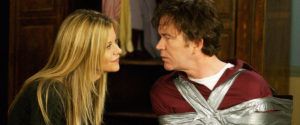 Serious Moonlight
3 Stars
Director

Cast

Rated

R

Runtime

84 min.

Release Date

12/04/2009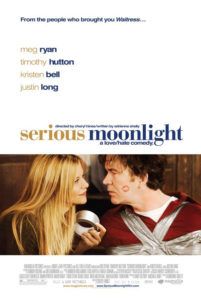 Sold with the tagline "a love/hate comedy," Serious Moonlight is a smart and mature farce that considers the potential for healing and reconciliation in a long-standing but troubled relationship. It's the last piece from Adrienne Shelly, the writer-director who was murdered in 2006 just before completing work on her last project, Waitress. But the tone of Shelly's work and her penchant for strong, independent women is kept alive in this charmer, which also happens to mark the return of the sparkling Meg Ryan to her most delightful role in more than a decade.
Ryan joins forces once more with her French Kiss costar Timothy Hutton. And once again, Hutton's husband character is cheating on Ryan the wife, only this time she's more proactive about the split. Instead of running off with a Frenchman, she holds her philandering husband hostage, claiming she'll keep him secured via duct tape until he loves her again. Louise is like that, a no-nonsense attorney who maintains complete control of her life. Her husband is more passive. So when she enters their vacation home a day too early and finds Ian sprinkling rose petals on the floor for another woman, she doesn't intend to take it lying down.
A broken pot on Ian's head later, and he's tied up and screaming that Louise is a lunatic and that she's going to jail. In fact, he gets rather cruel about it, calling her names and such. But Louise remains determined to change his mind. When his mistress, Sarah (Kristen Bell), shows up, Louise lies and sends the twentysomething away, assuring the home-wrecker that Ian will meet her for their planned rendezvous on the plane to Paris the next day—that for now, the separating husband and wife have some details to work out. Sarah leaves, and Louise, in her attempt to force Stockholm Syndrome, resumes trying to remind Ian why they got married to begin with. Debates and memories ensue, all of it seemingly futile against the stubbornness of Ian's apparent lost love for his wife.
Although the setting is confined to the span of two or three rooms, the characters and their back-and-forth exchanges are interesting enough to make up for the lacking changes in scenery. Things pick up considerably when their house is robbed by a slacker lawnboy (Justin Long), leaving them both duct-taped and forced to settle their differences. Of course, the robbery is a cliché device, reminiscent of that episode of your favorite television show where the characters are locked in a stalled elevator and forced to work out their problems. But for the purposes of this film, it works just fine. We're more concerned about the actors, after all. Ryan remains her effervescent self when she's trying to feed homemade cookies to her bound husband, who's re-taped to the toilet to avoid any risky trips to the bathroom. Hutton, meanwhile, does a surprising job of turning Ian from an unlikable adulterer into a sympathetic character.
Serious Moonlight is dedicated to the late Shelly, whose talent is clear in the lively and amusing dialogue of the film. Her costar from Waitress, Cheryl Hines, took over directing duties on this project and does Shelly's script justice. Hines coveys the kind of uncertainty and desperation required to keep a marriage alive, infusing the right amount of humor to make the viewing a light but enjoyable time. Nothing about the story is particularly original, but it's well written and pleasant despite its reliance on formula. And through it, though Ryan doesn't quiet reclaim her status as America's Sweetheart, she comes pretty damn close.