Director

Cast

Rated

R

Runtime

109 min.

Release Date

03/27/2015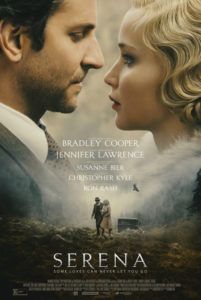 An empty period piece devoid of its intended romance, tension, or melodrama, Serena is a long-delayed release from director Susanne Bier. The Danish helmer followed In a Better World (2010), her Oscar-win for Best Foreign Language Film, with this adaptation of Ron Rash's 2008 bestseller of the same name. Originally gestating with Darren Aronofsky behind the camera and Angelina Jolie in front of it, Bier took over and, with an Academy Award statue behind her, wrangled star Jennifer Lawrence as the titular character. Lawrence brought on her Silver Linings Playbook costar Bradley Cooper, and the amount of talent on the project should have resulted in a fine drama. But as the outcome plods on and fails to resonate, slowly the viewer realizes that, somehow, all of this talent accomplished only a monumental dud.
Set in 1929 in the Smoky Mountains, the film follows Boston-born lumber baron George Pemberton (Cooper), who isn't above bribing officials and cooking his books to make his business work. After he first sets eyes on Serena Shaw (Lawrence), a wild-eyed blonde, complete with a mysterious past shrouded in tales of a tragic fire, the first thing he says to her is, "We should be married." Cut to the newlyweds George and Serena Pemberton returning to the timber site, where George's closeted and duplicitous partner Buchanan (David Dencik) doesn't much care for Serena. She is, after all, a strong-minded and intelligent woman in a man's world. But her father also had a lumber business, and, after she schools Buchanan on a few tricks of the trade, she earns the workers' respect. Not Buchanan's, though.
When Buchanan threatens the Pemberton legacy by aligning with the local anti-lumber sheriff (Toby Jones), Serena defends her husband's legacy most jealously and convinces him to commit murder. Things get worse when Serena loses her unborn baby in an absurd series of events: While very pregnant, she draws the eyes of George's clairvoyant, introverted mountain man (yes, you actually just read "clairvoyant, introverted mountain man") named Galloway, played by Rhys Ifans. Galloway sees his own wildness in Serena, and while watching her, he doesn't notice his hand is in the way of an axe. Serena saves him and the stress of the scene causes a miscarriage. But in the process, she earns herself a loyal life-debt subject, which she'll need because more outsiders begin to challenge Serena and George. Soon enough, George realizes he's married to a basket case, and things come to a grim conclusion.
Achingly humorless and slow-moving, the film proceeds at a dull pace, fading in and out of random, meaningless sex scenes between the two leads as a transitional device. Nothing these characters do makes much sense; their characters remain almost a complete mystery, at least in the sense that we cannot relate to them on any level. In one scene, George murders to preserve his company and marriage; in the next, he draws a line and develops a conscience. Meanwhile, the audience is never allowed inside Serena's head and never truly understands her, beyond her willingness to kill for what she wants. The themes remind us of Cold Mountain and Winter's Bone, and like those films, this tale of virulent love should be full of passion and high melodrama. Nevertheless, it carries on in a tedious way, and not a single emotion registers as familiar.
Lawrence and Cooper shot Serena between their appearances in David O. Russell's Silver Linings Playbook and American Hustle, but the film lingered in post-production and remained long-delayed for months, supposedly because Bier struggled to find the right edit and secure a U.S. distributor. The planned theatrical release is limited, though it debuted a month earlier on VOD—a surprising turn for a film with two major stars attached. Despite Morton Soborg's gorgeous cinematography in Czech forests and Richard Bridgland's earthy production design, Bier's production feels generic. If it wasn't for Lawrence and Cooper, the material would feel like a made-for-TV movie. That the British cast (Ifans, Jones, Sean Harris, etc.) muddles their way through iffy Southern-American accents doesn't help. Lawrence and Cooper seem to be asleep in their roles, as disinterested as we are. Overall, this film is a mess from start to finish, no matter the talent involved.