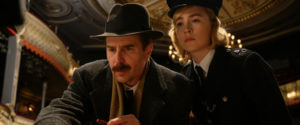 See How They Run
2.5 Stars
Director

Cast

Sam Rockwell

,

Saoirse Ronan

,

Adrien Brody

,

Ruth Wilson

,

Reece Shearsmith

,

Harris Dickinson

,

David Oyelowo

Rated

PG-13

Runtime

98 min.

Release Date

09/15/2022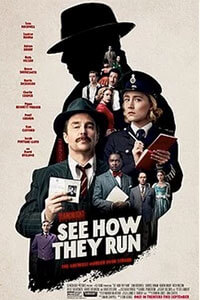 Art imitates art in See How They Run, a whodunit that simultaneously winks at its antecedents, the audience, and itself. From director Tom George and screenwriter Mark Chappell, both British TV veterans, this daffy Agatha Christie fare goes meta within the first few minutes and ends by breaking the Fourth Wall—twice. The nursery rhyme title nods to Christie's still-running The Mousetrap, a staple in London's West End. After the play's 100th performance in 1953, a (fictional) murder sets into motion a whodunit in the Christie tradition: terrific actors play a colorful cast of characters, and everyone's a suspect; an eccentric detective and his plucky sidekick take the case; a red herring or two set the investigation off course; and the climax ends with everyone together for a rousing denouement. But a straightforward approach may have been preferable to See How They Run's tediously self-aware treatment, which is too busy with ironic post-modernism to ensnare the viewer in its characters or murder mystery.  
In a noirish touch, Leo Köpernick (Adrien Brody), a blacklisted Hollywood director now living in London, explains the whodunit formula to the audience in voiceover. Everything he outlines comes to pass. Hired by producer John Woolf (Reece Shearsmith) to helm a film adaptation of The Mousetrap, Leo has ruffled feathers with his reckless drinking and salacious behavior. Everyone from his screenwriter Mervyn Cocker-Norris (David Oyelowo), to the play's producer Petula Spencer (Ruth Wilson), to the theater's usher Dennis (Charlie Cooper) has a beef with Leo. The suspects also include Woolf, given that Leo learned he was cheating on his wife (Sian Clifford) with his assistant (Pippa Bennett-Warner). So when Leo ends up dead—his head smashed, tongue removed, and his body propped on the theater stage, all less bloody than it sounds—it's no surprise, not even to Leo. After all, Leo tells us it's always the least likable character who winds up dead in Christie's stories. 
Enter Constable Stalker (Saoirse Ronan), a novice police officer assigned to the boozy Inspector Stoppard (Sam Rockwell) to learn the trade. Stalker's inexperience and enthusiasm don't quite balance out the perpetually drunk and late Stoppard, and the two never find their dynamic in buddy cop mode. Rather, Stalker remains suspicious of her new supervisor, first because of his soused state, then because he fits a profile. But both actors have individual moments to shine. Ronan, charming as always, does well with her character's jump-to-conclusions innocence, including her affinity for bad puns and earnest fandom of The Mousetrap's cast—among them, Harris Dickinson plays a hilariously proper Richard Attenborough. But Rockwell feels miscast here, delivering a mumbly British accent that goes for subtlety when most other performances on the screen are projected to the back row.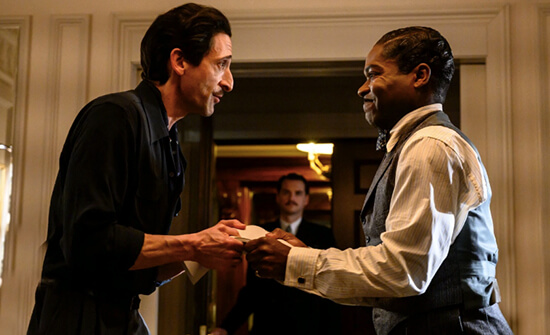 Maybe the characters and situations fail to compel because George submerges the viewer in See How They Run's flashy visuals, which distract from the story—even while being incredibly beautiful and stunningly executed. The aesthetic looks like Wes Anderson directing one of Kenneth Branagh's Poirot adaptations (Murder on the Darjeeling Limited, perhaps? Or maybe Death in the Grand Budapest Hotel?). The production is saturated with split screens, lavish set design and costuming, tableau-like symmetrical compositions, glimmering lighting, wide-angle lenses, and cameras that move parallel with the setting. If someone told you that Anderson secretly directed the film, you would have to believe them. Like an Anderson film, one must appreciate the time and attention that went into crafting every facet; but like Anderson's most recent film (last year's The French Dispatch), George offers more twee style than substance. Doubtlessly, George hoped to capture a broad, stagelike mise-en-scène, as though his film takes place in a theater, complete with larger-than-life performances and framing that actively reminds viewers they're watching from the audience's perspective—pointedly, the audience of The Mousetrap. 
See How They Run reaches for a satirical pitch somewhere between Neil Simon's Murder by Death (1976), Deathtrap (1982), or even Clue (1985). But the meta-ness of Chappell's script—overly reliant on knowing remarks on the genre and self-referentiality in place of wit or cleverness—doesn't help endear us to the characters or involve us in the whodunit. For instance, when Oyelowo's character decries flashbacks, it sets up a joke when the film cuts to one. The filmmakers attempt to pull off a magic trick by making the viewer aware of the whodunit recipe and openly acknowledging its conventions, even while it embraces them. But its winking quirks don't make the film smarter than the material; they only mine elements of the diegetic play and repurpose them for the screen story, creating the occasional chuckle-worthy setup and payoff. Elsewhere, the film breaks from any whodunit pattern whatsoever for a hallucination sequence set at a phantom bar, like the one in The Shining (1980), except set in the wintry outdoors. It's a stunner of a scene, but it feels out of place here. 
See How They Run is sort of baffling, actually. For much of the 98-minute runtime, it's difficult to identify why it's not working. The cast is excellent. The extraordinary cinematography by Jamie D. Ramsay makes every scene pop with vibrant colors and impressive texture, so much so that the viewer may find themselves lost in the pretty everything onscreen. All the while, we wait for it to bloom, but it never does. The tonal inconsistencies don't present a fun imbalance that rewards the viewer for trying to keep up; instead, it's frustrating because few of these talented performers have time to stand out, and the scenario amounts to little. The meta approach doesn't add much beyond everyone involved acknowledging that they're aware of the tropes. It's certainly not a bad experience, but it's so close to being better that audiences may wish for more, especially from the relationship between Ronan and Rockwell's characters. With this cast and evident talent behind the camera, it's strange that See How They Run didn't strive to be more than a self-reflexive take on an otherwise typical Christie whodunit.