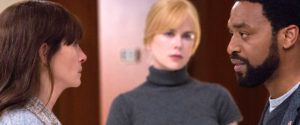 Secret in Their Eyes
2 Stars
Director

Cast

Rated

R

Runtime

111 min.

Release Date

11/20/2015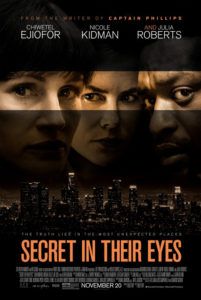 A balancing act between crime and punishment, morality and justice, overarching politics and personal tragedy, Secret in Their Eyes has much to consider. Based on Juan Jose Campanella's 2009 thriller El Secreto de Sus Ojos, winner of the Oscar for Best Foreign Film, the remake by writer-director Billy Ray loses something in translation. The original concerned a murder case set against the jumble of Argentina's terrorism-ridden Dirty War, which lasted from around 1974 to 1983. The remake moves the action to Los Angles in the aftermath of 9/11, when authorities believed sleeper cells in L.A. were planning attacks. But aside from a few alterations in plot specifics and setting, as well as English-language actors and dialogue, the new version follows the original's trajectory quite closely, if less elegantly.
This is an unnecessary update, not unlike the Spike Lee remake Oldboy, made only for viewers unwilling to watch a film with subtitles. El Secreto de Sus Ojos was a fine, if overrated film, hardly needing the Hollywood remake treatment. The talented screenwriter of Captain Phillips and State of Play updates the material with a pointedly American perspective—meaning, his characters are less subtle, his twists feel more melodramatic, and overall, the picture feels like more of a cliché on U.S. soil. However, his first mistake was adopting the original's back-and-forth structure; his second was repeating vast, implausible leaps in logic that only the most far-fetched thrillers would attempt. Such standard movie-ism were a novelty in the Argentinean period piece; they're all-too-common in a Hollywood thriller.
When the daughter of anti-terrorism investigator Jess Cobb (Julia Roberts, looking rough and stripped down) ends up dead near a Mosque her team is surveilling, the lead FBI investigator Ray Kasten (Chiwetel Ejiofor) takes his friend's death to heart. Ray sets aside all legal boundaries and channels to find the killer, while his boss (Alfred Molina) and new colleague, deputy district attorney Claire Sloan (Nicole Kidman), urge him to let the murder investigators do their job. Meanwhile, the film cross-cuts between these events just after the murder and events some 13 years later. By then, Ray has left the bureau and works in the private sector, Claire is now DA, and Jess is head DA investigator. Even though Jess has moved on, Ray has never given up searching for the killer and, as we learn piece by piece, he has reason to be obsessed over the case.
If there's an emotional theme in Secret in Their Eyes, it's obsession. Ray finds himself burdened with the case, unable to think about anything else, except perhaps Claire, for whom he carries a torch. Their would-be office romance might be the only authentic element of the film, whereas Roberts overacts (even more than in August: Osage County) in several scenes. Granted, a number of chases have an authentic feel, as Ray and his partner (Dean Norris) don't pretend to be supercops. But these elements hardly make up for the plot's overreaching absurdity. To be sure, Ray maintains the twist ending of the original (which will remain unspoiled in this review)—it would be Shyamalan-worthy, if only it had a supernatural element. It's the kind of ending that makes everything before seem pointless, and the viewer left feeling like they've been played in the worst way.
What starts as a drama about obsession turns into a bitter revenge story that feels less significant than what it could have been. Rather than allow his audience to deal with the twist through traditional falling action, the writer-director ends Secret in Their Eyes somewhat abruptly and doesn't deal with the consequences. It's an unsatisfying conclusion to a film that has a strong cast and the potential to earn comparisons to Prisoners in several ways. Alas, the remake, however watchable and solidly made it may be, doesn't explore its themes thoroughly. Notions about the dangers of living in the past give way to general moral ambiguity—otherwise confronting ideas that have no more oomph than a television procedural or commonplace policier here. Add to this the emotionally exploitative uses of 9/11, and you have yet another pointless Hollywood remake when the original would suffice.