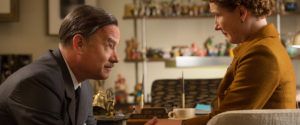 Saving Mr. Banks
2.5 Stars
Director

Cast

Emma Thompson

,

Tom Hanks

,

Colin Farrell

,

Ruth Wilson

,

Paul Giamatti

,

Jason Schwartzman

,

Bradley Whitford

Rated

PG-13

Runtime

125 min.

Release Date

12/20/2013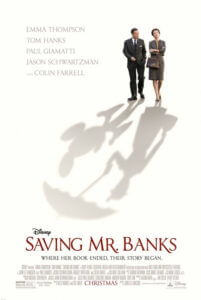 If we're to believe Saving Mr. Banks, Walt Disney's indelible charm melted the frigid resolve of Mary Poppins author P.L. Travers, who, for twenty years, before the motion picture adaptation was eventually produced in 1964, resisted Disney's attempts to secure the film rights to her book. We're also meant to believe Travers secretly spooned with a large Mickey Mouse stuffed toy during her discovery visit to Hollywood, and that when she saw the finished film at the Los Angeles premiere, she was so overcome with emotion that she wept. None of this is true. Walt Disney Pictures produced Saving Mr. Banks undoubtedly to commemorate the 50-year anniversary of Mary Poppins' release, not to mention the newly restored Blu-ray (coincidentally, or not, in stores December 10, just a few weeks before the opening of Saving Mr. Banks). Winston Churchill said it best, "History will be kind to me for I intend to write it." Walt Disney Pictures seems to be saying the same thing with this sobbing heap of corporate self-promotion, which also happens to be an effective tearjerker.
Directed by John Lee Hancock, the wizard of schmaltz behind The Blind Side, the screenplay by Kelly Marcel and Sue Smith not only takes liberties with the story of Mary Poppins' road to the screen but rewrites that story. Point in fact, Walt Disney and P.L. Travers didn't like each other. The film represents this, at first anyway, quite well. Travers, played with lovable cantankerousness and strict English manners by Emma Thompson, insists on being called "Mrs. Travers". Disney, played with joyful humanity by Tom Hanks, keeps his workers on a first-name basis and demands to be called "Walt". It seems like an odd couple match made in heaven. When Travers visits Hollywood to review the script for Mary Poppins with screenwriter Don DaGradi (Bradley Whitford), and Robert (B.J. Novak) and Richard Sherman (Jason Schwartzman), who wrote the music and lyrics to the film, she refuses to grant the rights to Disney until every detail is approved in the audio-recorded pre-production phase. "I love Mary Poppins," he tells her. "You've got to share her with me." No matter. She's adamantly opposed to musical numbers or animation in the film.
Of course, we already know who wins this battle of wills. But that's only half the story; the film also spends a lot of time in flashbacks to Travers' childhood. Born in Australia as Helen Goff, she got her pen name from her father Travers Goff (Colin Farrell), the basis for the book's Mr. Banks. An imaginative man but a drunk, the premature death of her banker father in the early 1900s-set storyline is interlaced with the 1960s production development scenes, providing a thin biopic tale about the author and making of her iconic story. In these flashbacks, Saving Mr. Banks is at least successful in portraying the inspiration for Mary Poppins, with Travers' reluctant mother (Ruth Wilson) struggling to hold her family together, until a no-nonsense aunt (Rachel Griffiths) arrives at their Aussie farmhouse to save the day. However, Travers' real-life story isn't all flying nannies and cartoon magic, or even a happy ending. After all, the author's early life was filled with enough trauma to inspire a classic case of artistic expulsion and escape in her books. And it takes some time before the folks at Disney realize that the Mary Poppins character isn't there to save the children. Hence the title.
To be sure, the real story of Disney and Travers didn't end all warm and fuzzy. Travers accepted Disney's terms because, as a depressive introvert who refused to write more books and drained her Mary Poppins royalties, she desperately needed the money. Moreover, to put it mildly, she didn't care for the finished film and despised the animated dancing penguin sequence. Saving Mr. Banks wants us to believe Disney broke through Travers' hard exterior by relaying his own daddy issues to her in a moving scene. The film goes on to suggest she loved (and fell into a bawling spell over) Disney's production, and everyone went on to live happily ever after. In fact, Travers blocked Disney from adapting any of her book sequels to film and specifically demanded that the brothers Sherman not write additional songs for the stage production.
Had a studio other than Walt Disney Pictures released Saving Mr. Banks, the story might have concerned itself with Walt Disney's almost villainous, Machiavellian skill in corrupting Travers' artistic vision of deep personal meaning into one of his sugar-coated family pictures. As Travers shouts about an early script draft, "Where's the gravitas?!" Certainly, there are emotional moments in the film as Travers remembers her saddening childhood, but they're crafted with transparent, manipulative pretense. A most conflicting aspect of the film is that, even if the story has been reshaped to suit the studio's aims, the performances couldn't be better. Thompson (who played a magical governess herself in the British Nanny McFee series) is craggy and charming at once. Hanks, as one might expect, perfectly embodies the childlike charm of Walt Disney. Farrell and Wilson are likewise great. So is Paul Giamatti as the character Ralph, the Disney chauffer tasked with driving Travers about; like Disney, his character's basic humanity melts away Travers' single-mindedness.
In traditional Disney fashion, something true has been transformed into a heartwarming, overly saccharine commercial. Just this year, my wife and I visited Disneyland and, through moments of levity and magic, experienced first-hand the staggering degree of commercialism saturated into every fiber of that place's construction. Some people eat it up; others grow tired of rides that employ repetitive animatronics to reproduce scenes from classic Disney animations. How you judge Saving Mr. Banks is no different than how you feel about Disneyland. Do you submit to the pageant of emotions and wonder on display in Hanks and Thompson's fine performances, therein overlooking the garish shamelessness of this two-hour public relations experience? Or do you censure the film for its manipulative and self-serving revisionist history? The film historian and critic left Saving Mr. Banks feeling frustrated and sad for Travers' legacy, but another part of me was drying my eyes over how goddamned effective it was. As with almost everything Disney, there's a complex relationship of equal parts guilt and delight to consider with Saving Mr. Banks.