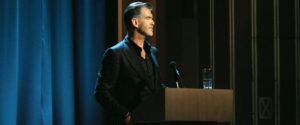 Salvation Boulevard
1.5 Stars
Director

Cast

Greg Kinnear

,

Pierce Brosnan

,

Jennifer Connelly

,

Marisa Tomei

,

Ciarán Hinds

,

Ed Harris

,

Isabelle Fuhrman

Rated

R

Runtime

96 min.

Release Date

07/15/2011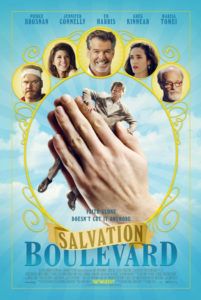 Purchased at Sundance by IFC, who hoped to find this year's Little Miss Sunshine, George Ratliff's Salvation Boulevard mishandles religious farce by straddling the line between obvious satire and borderline surreal lampoonery. This is a comedy that never quite finds its comedic voice. What begins as a promising setup with an incredible cast slowly disintegrates over ninety minutes as the plot, based on the novel by Larry Beinhart, branches off into countless directions that never converge in the finish. Too many characters and too broad a sense of humor result in too few laughs to recommend, no matter how promising the cast involved or the intended religious critique.
Unfortunately, instead of pointing out some true-to-life religious hypocrisy, the film concocts an absurdist scandal that doesn't begin to approach any realistic or fundamental problems with the church. Evangelical pastor Dan Day (Pierce Brosnan, in full-on game show host mode) of the Church of the Third Millennium accidentally shoots an atheist intellectual (Ed Harris) during a friendly private debate, and then attempts to pin the shooting on the only witness, the reformed Grateful Dead disciple Carl Vandermeer (Greg Kinnear). Carl's fanatical wife (Jennifer Connelly) never doubts that her meek husband could be a killer, but hippie security guard Honey Foster (Marisa Tomei, bringing verve to her few scenes) knows a fellow Deadhead could never have killed a man. Day's scheme grows more escalated as he learns the atheist survived the shooting, and the devoted church cameraman (Jim Gaffigan) sets out to murder Carl in the name of God.
Kinnear spends most of the movie captive or running around in handcuffs, always eluding his pursuers through sheer dumb luck, and never moves beyond a passive role in his own fate. Connelly is good in her manic scenes of religious zealotry, while her character's military man father, played by Ciaran Hinds, seems caricatured for a Southern-fried officer, even though the story takes place in Michigan. Likewise, Brosnan's character teeter-totters between British and Bible-belt under-dweller, even if his performance is fun. Isabelle Fuhrman, having displayed some impressive acting chops in Orphan, plays the Vandermeers' teen daughter, who begins to question the scientific validity of her mother's oddball views. But, typical of several characters here, the seed planted early in the film is half-heartedly fulfilled by the ending's succinct title-style epilogue, which tells us where each character ends up instead of showing us.
Rather than making valid arguments about religious hypocrisy, the film employs ridiculously condescending behavior to make religious followers look like dimwitted sheep who follow nothing but their imaginations. Late at night, Day catches a scene from Ridley Scott's Legend on television—a scene featuring Tim Curry's massive red-skinned, black-horned demon—and then an "unknown" caller rings his cell, and so Day begins to suspect Satan is calling him. Is Day completely delusional, or just naïve and misguided? The film never clarifies. The one exception to the film's lack of insight remains an observation made by a peeping kidnapper: "When you follow a preacher, eventually you're going to get something amazing." But this brief insight into the flawed humanity of religious figures scarcely compensates for the overall disjointed message.
Assigning an ensemble of quality actors to one-note characters seems a familiar mistake for IFC's growing list of humdrum indie comedies from Sundance. Earlier this year, we saw a similar result with Peep World. Both that film and Salvation Boulevard may be mildly amusing at times but never reach a level of fulfillment that demands you should pay for it, neither in limited theatrical engagements nor through any video-on-demand options. Ratliff, who not only directed the creepy horror great Joshua but the documentary Hell House, the latter about a haunted Christian attraction in Texas, has had significantly more powerful and cohesive works, making this effort a major disappointment.