Director

Cast

Rated

R

Runtime

94 min.

Release Date

04/27/2012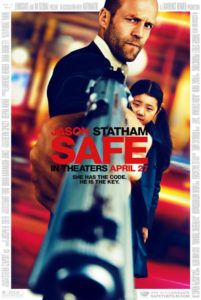 Only by comparison, because our expectations have been lowered by Jason Statham's seemingly never-ending series of bad action movies, does Safe seem pretty good. Written and directed by Boaz Yakin (Remember the Titans), this actioner provides a second-rate version of The Professional, complete with a cute little girl for an emotional counterbalance to the central assassin-with-a-heart-of-gold. That modicum of sentiment is the only thing standing between this movie and Statham's usual brand of mindless chaos, as seen in Crank or Death Race. Also watchable for its breakneck pacing and effective location shooting in New York City and Pennsylvania, the movie supplies a high body count, some exciting car chases, plenty of tough-guy-speak, and genuinely wowing hand-to-hand combat courtesy of Statham. Action junkies should be pleased.
The protagonist by no means a stretch, Statham plays ass-kicking extraordinaire Luke Wright, a cage-fighter who botches a fight fixed by the Russian mafia. In retaliation, his wife is slaughtered, and he's told that anyone he befriends will meet the same fate. Forced to live a life of solitude, Luke becomes a vagrant to avoid hurting anyone by association. At the same time, we meet the 12-year-old Mei (Catherine Chan), a math whiz taken from her dying mother in China to supply a Triad gang in New York with off-the-books accounting, courtesy of her computer-like memory. At a secret meeting between the Russian and Triad gangs, Mei must remember a secret code for who-knows-what purpose. But a squad of corrupt cops bursts in, and Mei escapes, eventually into Luke's protective hands.
Within this trio of rival opponents, characterizations remain thin but are represented by strong actors: James Hong heads the Triads, Sandor Tecsy the Russian mob, Robert John Burke the NYPD, and also Chris Sarandon plays the crooked mayor. They're all after Mei, whose memory serves as the MacGuffin (not unlike Mr. Memory in Hitchcock's The 39 Steps). Fortunately, Yakin takes his time establishing the various parties and their motivations, if only to allocate the remaining runtime to shootouts and fisticuffs. Determined to shield Mei from everyone, Luke takes the offensive, and gradually we learn how his past is much more complex than just cage-fighting. This unsurprising revelation (Has Statham ever played a character who doesn't have some kind of specialized training in the art of death?) leads to a head-to-head climax against his martial arts equal, but the outcome is unexpected and darkly comic.
His bald head and omnipresent stubble intact, Statham quips here and there but remains mostly his dry, gruff-voiced self we've come to appreciate in material like The Transporter. As lousy as Statham's output tends to be, he's a charismatic actor one wishes would choose better projects. Early on, Statham squeezes out a genuine tear and, for an actor so often reduced to a killing machine, the moment comes as an emotional revelation—both for the character and the audience. A real tear! It's almost inconceivable. On the flip side, Mei, being the heart of the movie, hasn't been developed enough to rival Natalie Portman's turn in The Professional. But Chan is sweet and innocent, and it's enough that we don't want bad guys to harm her character.
It's difficult to defend or make sense of Yakin's past writing—he wrote action fodder like Prince of Persia and the Dolph Lundgren version of The Punisher, but also indie gems like Fresh and the Holocaust drama Death in Love. He's a writer-director capable of strong storytelling, yet he often works under a blanket of clichés. With Safe, the clichés have been formatted and rearranged to divert our attention from the sometimes sloppy action movie logic. Better still, cut at rapid speeds, Stefan Czapsky's photography doesn't lose the audience with industry-standard Shaky cam and instead manages an effective and exciting pace. Rather than some loosely sewn script helmed by an inexperienced music video director (as most action movies are nowadays), Yakin delivers sufficient cohesion to raise Safe above your usual shoot-em-up, and remind audiences why they wish Jason Statham would make better movies.