Director

Cast

Rated

R

Runtime

121 min.

Release Date

05/31/2019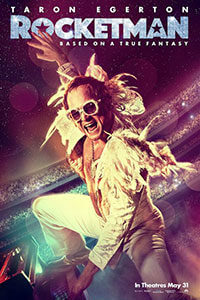 A stagey musical and playful tribute to Elton John, Rocketman avoids the dramatic structure of a traditional biopic that features real-life events in strict chronological order. At first glance, the film bears some similarity to last year's Bohemian Rhapsody; it follows another wildly successful British rock star from the 1970s who responds to being misunderstood with substance abuse and prima donna antics. But director Dexter Fletcher, who shot a sizeable portion of that Freddie Mercury showpiece when Bryan Singer was indisposed, goes for something considerably more daring and unconventional here, even if the themes explored in the screenplay by Fletcher and Billy Elliot scribe Lee Hall embrace clichés abound. Rocketman has an MGM song-and-dance quality at times; at others, it feels like a Broadway musical shot for cinema. The characters burst into song at random, using John's hits to remind viewers what a fantastic songsmith he was. And perhaps because the real Elton John and his husband David Furnish executive produced Rocketman, the film feels just as outlandish and over-the-top as one of John's more lavish stage performances.  
Just like Bohemian Rhapsody, the film rests on a central performance, while everything else is competent but secondary. Welsh actor Taron Egerton, best known as Eggsy from the Kingsman series, is convincing as Elton John—he can act and croon, evidenced by his voice work in the 2016 American Idol-esque animated film, Sing. Egerton disappears into the role, performing many of John's celebrated hits with his own voice, a detail that invites the viewer to connect with his performance. Whereas Rami Malek lip-synced his way to an Oscar, Egerton puts forth more effort in a role that requires higher-highs and lower-lows. The actor brings John's manic alcoholism, desperate need for parental approval, and costumed stage performances to life with an expressiveness befitting a marriage between Bob Fosse and a classical Hollywood musical, including synchronized dancing and costumes, which might seem impossibly flashy if they weren't based on the rock star's actual stage getups and bedazzled eyewear.
Of course, before he was Elton John, he was Reginald Dwight, born in 1947 to the drab suburbs of London, and these unloving roots remained a persistent source of pain throughout his life. His ever-disapproving father Stanley (Steven Mackintosh) and sneering mother Sheila (Bryce Dallas Howard) deny the talents of their young boy (Matthew Illesley at about five, Kit Connor as a teen) out of sheer disinterest, whereas grandma Ivy (Gemma Jones) encourages Reggie to develop his skills. Reggie is, after all, a musical prodigy capable of playing complex compositions he just heard with exact clarity. As he grows from classical music to rock 'n' roll, however, he changes his name, adopts Elvis Presley hair, and plays backup piano for a touring soul group. Before long, he meets lyricist Bernie Taupin (Jamie Bell, excellent) and signs a contract with smarmy record company exec Dick James (Stephen Graham); his career takes off not in the UK but in Los Angeles at the Troubadour. Soon enough, John signs a monumental deal with the duplicitous John Reid (Richard Madden), his lover (and also Mercury's manager) who betrays him; and as he becomes a millionaire superstar, he numbs his loneliness with sex, drugs, and alcohol.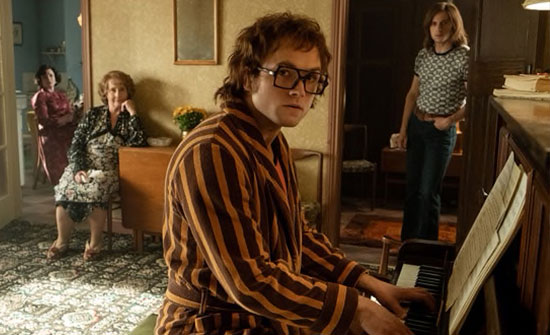 But these are just the broad strokes of Elton John's life; Rocketman dances around them using the framing device of a rehab clinic group therapy session—which John enters in the first scene clad in an orange, befeathered devil costume and heart-shaped glasses. The film's confessional structure allows for several on-the-nose observations about himself and his lyrics, such as when he asks of his father, "When are you going to hug me?" Another scene shows John on the phone with his mother, who tells him he will "never be properly loved" because of his homosexuality. If the film overemphasizes John's feelings of being an unloved child, its use of songs set to vivid imagery outshines the mediocre Behind the Music melodrama. Note how the titular hit plays against John's attempt at suicide in a pool, and then he sees his younger, innocent self playing the piano at the bottom. Other imagery is less symbolic: A kaleidoscopic sequence set to his cover of "Pinball Wizard" circles around John at a piano, the performer's costume changing (via CGI edits) with each revolution.
After most of the fantastically entertaining musical numbers (the best is the gravity-free "Crocodile Rock" performance at the Troubadour), the screenplay wraps things up with a dramatic resolution fit for community theater. During the circular AA meeting, John makes peace with his family members and friends who appear out of nowhere, magically stepping into the room to utter their final thoughts before John moves on with his life. The scene vaguely recalls that dreadful episode of Family Ties from 1987 called "A, My Name is Alex," where Michael J. Fox's character wrestles with selfhood when faced with the prospect of his mortality. To be sure, rather than a full biopic, Rocketman stops around 1983, the year of John's comeback with "I'm Still Standing," and it largely ignores his later work on The Lion King or more than a decade of Las Vegas shows. Then again, the theme of the film isn't about memorializing John's entire life; it's about the rocker overcoming substance abuse and finally feeling the love he deserves.
Fletcher seems to have learned from the mistakes of Bohemian Rhapsody, from its lip-synching to its conventional dramatic structure. Rocketman is a much better (and R-rated) film that doesn't shy away from its subject's sexuality nor the debauched lows of his alcoholism. The music has been adapted for the film, performed in new, creative covers that serve the screen story, and not with earlier studio-recorded tracks. And even though the film doesn't resist following the musician biopic template, tired since it was lampooned in Walk Hard: The Dewey Cox Story (2007), the lively dance numbers and musical unreality of it all proves delightful. Somewhere between its standard dramaturgy and the outlandish music video quality resides Egerton, whose performance single-handedly carries the experience through its unevenness to give it a kind of consistency around his force of gravity. The committed performance is something special—a sensitive and frenzied role that reminds us just how fascinating Elton John and his music remains. Of course, in the end, Rocketman leaves us wanting to revisit the star's entire catalog, and that should be the case with any good musical biopic.