Director

Cast

Julianne Hough

,

Diego Boneta

,

Russell Brand

,

Paul Giamatti

,

Catherine Zeta-Jones

,

Malin Åkerman

,

Mary J. Blige

,

Alec Baldwin

,

Tom Cruise

Rated

PG-13

Runtime

125 min.

Release Date

06/15/2012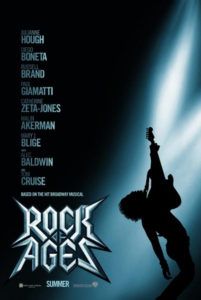 1980s excess was defined in large part by the decade's most popular (but not necessarily hardest) rockers: Pat Benatar, Bon Jovi, Def Leppard, Foreigner, Journey, Poison, REO Speedwagon, Styx, Whitesnake, and countless other big hair bands from that era. Their very mainstream music takes center stage in Rock of Ages, a movie based on the Broadway musical of the same name. Taking a cue from the success of Mamma Mia!, the stage-to-screen adaptation builds a story around songs from these musicians, and, like that film, the storytelling is not its strongest suit. Neither is the singing, save for an incredible performance by Tom Cruise; we're basically watching actors sing karaoke versions of songs that do not "rock" in the traditional, rebellious sense. Here they sound tapered and ripe for American Idol. Despite ho-hum characters and too many musical numbers strung together, this admirable production, loaded with some hilarious performances and flashily elaborate sets, amounts to an intentionally cheesy riff that may become something of a nostalgic cult classic for Generation Me viewers.
The film takes place in 1987, mostly around the Sunset Strip's The Bourbon Room, a famous rock 'n' roll hotspot then and now. Manager Dennis Dupree (Alec Baldwin) has bills to pay and faces a fervent group of stuffy right-wingers determined to shut down his club. The Mayor (Bryan Cranston) and his sexually repressed wife (Catherine Zeta-Jones) want to absolve their city streets of sex and drugs, the presence of which they blame on the music peddled in Dupree's club and legendary rocker Stacee Jaxx (Cruise), the dazed and confused frontman of fictional group Arsenal. Jaxx, followed by his wonderfully "oily" manager (Paul Giamatti), plans a farewell show on Dupree's stage before the launch of his solo career, but not before a nosy Rollingstone reporter (Malin Akerman) asks him some existential questions that make him think twice. Meanwhile, sparks fly between a just-in-from-Oklahoma waitress Sherrie (Julianne Hough) and busboy Drew (Diego Boneta), the former obsessed with Jaxx, the latter determined to become the next Jaxx (despite looking like a boy-band wannabe, which he inevitably becomes). Their story consumes much of the screen time, though both look like rejects from a televised talent contest and act like they're auditioning for TV's Glee.
Speaking of which, director Adam Shankman's experience in musicals ranges from several episodes of Glee to the recent Hairspray, and his presence behind the camera allows for busily visualized, sometimes awkwardly balanced musical numbers staged for intentional camp value. They're loaded with PG-13 level sexuality, bright colors, gyrating hips, towering bangs, leather pants, crotch ornamentation, and glittery lights, all dripping with no end of flippant humor courtesy of Shankman's "weren't the '80s crazy" approach. Take a climactic duel of songs between the rock-supporters singing Starship's "We Built This City" and the conservatives bellowing Twisted Sister's "We're Not Gonna Take It" or the endearing ballads sung by Baldwin and his shabby assistant (Russell Brand), which include REO Speedwagon's "Can't Fight This Feeling" and Joan Jett's "I Love Rock and Roll." Each presentation is rife with winks, so much so that viewers will certainly have trouble identifying with these characters as more than mere humorous types. Moreover, the number of songs—stacked upon each other one after another—barely allows for any kind of natural plot to occur. Yet, the funniest and most memorable moments actually occur between songs.
Then again, the aforementioned camp quality does much to make up for the film's utterly predictable narrative, thanks in great part to the top celebrities singing their hearts out. Some, Cruise, for example, astonish with their otherwise unlikely vocal skills, whereas others are meant to sound less-than-polished for humor's sake. Certainly, seeing Cruise don eyeshadow, body tattoos, a cowboy hat, and walk about like a drug-fried rock god works on its own level. Almost like a comic version of his Frank T.J. Mackey from Magnolia, he's amazing in the role and steals the movie, and one even wishes Rock of Ages was instead Stacee Jaxx's story alone. Cruise commits to the role with a believable stage presence, snake-like body movements echoing electric sex, and delivers his multiple songs better than anyone else featured. Baldwin, Brand, Zeta-Jones, Giamatti, and Akerman also supply a star-power novelty in their appearances onscreen, but no one's having as much fun as Cruise. Lesser-known actors like Hough and Boneta fade into the backdrop, although clearly, today's youth culture is supposed to identify with their American Idol-esque desire to break into the music biz. But they're all overshadowed and out-sung by Cruise, whose presence, unfortunately, amounts to only half the film. The other half, one can't help but feel indifferent about.
Of the musicals like this one that write characters and a narrative around their songs, only Woody Allen's Everyone Says I Love You (1996) retains relatable emotions and characters worth caring about. Here's where Rock of Ages fails and thus sacrifices a large section of the audience as a result. It's a film that manages to be as excessive and bloated as its subject, but it fails to push its limits in a way that would have made it more enjoyable. An R-rated version, something more akin to The Rocky Horror Picture Show, may have tapped into the true nature of the beast a bit more. But ultimately, these are Top 40 songs performed for a mainstream audience—much too "safe" to imbue the true spirit of rock 'n' roll. But you're not supposed to overthink it; we're just supposed to sit back and watch attractive people singing songs from yesteryear and enjoy the show, careless, drawn to the colorful and memory-inducing time warp. On those terms, some viewers will find Rock of Ages to be a blast, and that's understandable—it's a fun musical experience, like a two-hour trip to MTV circa 1987, or a big-budget "Remember the '80s" celebration—especially for those who grew up during this decade. But the best musicals are those with songs that develop naturally within a story instead of obligatorily filling every moment with yet another song. This is not one of them.