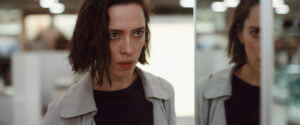 Reader's Choice
Reviews commissioned and selected by Patrons
Director

Cast

Rated

Unrated

Runtime

104 min.

Release Date

07/29/2022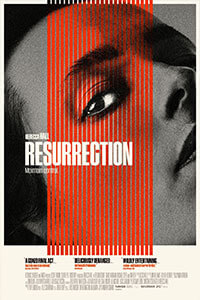 In Resurrection, Rebecca Hall gives the kind of performance that washes away all traces of disbelief. This twisted, Gothic tale sometimes strains credulity, especially after the credits roll and questions arise. But in the throes of its portrait of psychological collapse, Hall renders it sublime. Similar to last year's The Night House, the actor's frantic pharmaceutical executive, Margaret, grapples with trauma and loss, making the viewer question what's real and what's in her mind. Somewhere along the way, they overlap. But Hall's performance makes that line indistinguishable, partly because writer-director Andrew Semans has conceived a fractured character. When, mid-film, Hall delivers a speech that illuminates questions about Margaret's past, we don't think about the expositional tactic or even how Semans holds the unbroken shot for a whopping seven minutes. Hall submerges the viewer in her character's subjectivity so that all else fades away. Nothing else exists at that moment, no matter how many questions arise later. Although Resurrection isn't a movie that will click with mainstream audiences, it's powerful evidence that Hall might be one of the finest actors working today. 
At first glance, Margaret is a powerful woman in command of her life. She's first seen at the office, giving relationship advice to Gwyn (Angela Wong Carbone), an intern with a boyfriend who teases her. "Sadists never understand why other people don't enjoy their sadism as much as they do," Margaret warns, suggesting the character's severity by leaping to "sadist" as opposed to just "asshole." A single mother of the 17-year-old Abbie (Grace Kaufman), Margaret maintains a casual sex relationship with a married co-worker, Peter (Michael Esper). She seems strong, independent, and in control; even her austere office and living spaces have the gray, clean lines of someone who has complete authority over every aspect of her life. But, gradually, it becomes evident that the flat, orderly world she inhabits is a desperately maintained veneer that finally shatters, leading to a bloody conclusion that might carry the film over into the horror genre. 
Resurrection is the second feature from Semans, following Nancy, Please (2012), and his screenplay made The Black List in 2019. His tone brings to mind Roman Polanski's The Tenant (1976), where minor details and peculiarities compile at such a measured pace that you can hardly pinpoint the precise moment that everything went insane. Cracks appear around when Abbie finds a human tooth in her wallet, recalling a scene from Polanski's film when a tooth is found in a strange hole in the wall. Other details compile: Margaret begins to draw for the first time in 22 years; Abbie confronts her mother with the reality that she's going off to college; and Margaret sees someone she recognizes at a conference—a man named David (Tim Roth), whose appearance causes her manufactured exterior to melt into a panicky mess. It's worth considering whether one or two of these events ever really happened and whether Margaret has an extreme case of premature empty nest syndrome that causes her to relive past trauma.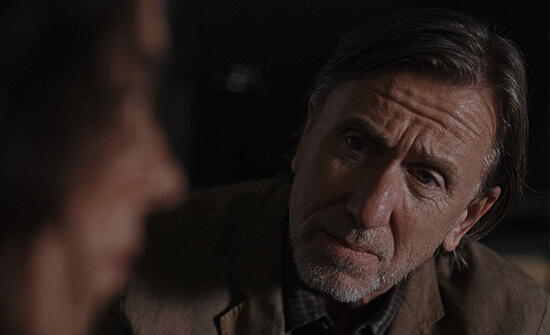 The details about Margaret's past emerge in the aforementioned speech, which reframes the character as a victim of cultish brainwashing and brings every aspect of her life into question. More than two decades earlier, David, twenty years her senior, seduced the teenage Margaret and then proceeded to reeducate her in a textbook manner—by breaking her down through punishing tests called "kindnesses" and then showering her with praise. This disturbing form of manipulation not only shapes Margaret as a survivor but makes her occasionally erratic behavior and terror understandable. Even her hallucinatory dream of a charred baby seems only logical after she reveals that David killed their infant child and claimed to have eaten the baby. But he says it's alive, "in my belly," and he taunts her with the child's pleas. Roth, it must be said, is chilling as David. His delivery of David's flat, matter-of-fact way of gaslighting Margaret with the grotesque possibility of their dead child in his belly, which protrudes like it might be true, is haunting. 
The film's second half, where David reenters Margaret's life and threatens to harm Abbie unless she resumes her "kindnesses"—for instance, walking barefoot to work—reveals the lasting power abusers have over their victims. But Semans hasn't made a film that fits squarely into a #MeToo or brainwashing commentary; instead, the focus becomes Margaret's psychological state. Her refusal to speak about her trauma to either Abbie or Peter escalates her protective behavior, demanding that her daughter send hourly texts saying she's safe. While Margaret attempts to gain control of the situation, she becomes ever more unhinged and frightens those close to her. A lesser performer might not have been so convincing in the role. However, Hall's unraveled character and Roth's grimily sadistic one present sharp contrasts to the bright, clear light used by cinematographer Wyatt Garfield, whose compositions have an eerie simplicity and luminous sheen. 
Resurrection debuted at this year's Sundance Film Festival, where IFC picked it up for distribution, regardless of the mixed response. Some feel the film loses its grip at a certain point when the situation descends into full-fledged body horror. But Hall's performance makes even the most outlandish flourishes—namely the final images—nuanced. In the end, this tale of an abuser's cruel hold over his victim, a mother's identity-shaping need to protect her child, and a mind utterly broken by guilt and terror, leaves the viewer with questions of the most intriguing kind. Mainly, we cannot help but ponder when the mental break happened and what caused it. The most visually disturbing moment in the film might be the apparent indicator. But like Polanski's work from Repulsion (1965) onward, Semans weaves loaded details into the fabric of his thriller, creating a paranoid experience entrenched in a tragically disturbed mind that may have been broken from minute one. 
(Note: This review was originally suggested on and posted to Patreon on August 12, 2022.)