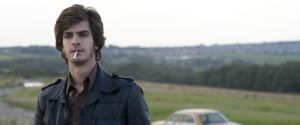 Red Riding: 1974
3.5 Stars
Director

Cast

Mark Addy

,

Sean Bean

,

Jim Carter

,

Warren Clarke

,

Paddy Considine

,

Shaun Dooley

,

Gerard Kearns

,

Andrew Garfield

,

Rebecca Hall

,

Sean Harris

,

Eddie Marsan

,

David Morrissey

,

Peter Mullan

,

Maxine Peake

,

Lesley Sharp

,

Robert Sheehan

,

Laura Carter

,

Danny Mays

Rated

Unrated

Runtime

104 min.

Release Date

02/05/2010
Red Riding began as a quartet of novels by author David Peace, published one per year between 1999 and 2002. Peace's texts use real crimes to set their backdrops but instill dramatized characters and scenarios that delve into an expansive narrative about corruption. Their adaptations into three feature-length episodes for Britain's Channel 4 were filmed consecutively, written for the screen by Tony Grisoni, and each film was helmed by a separate director. They originally aired in March 2009 after earning considerable praise, and because of the accolades, they've been imported into the U.S. by IFC as a "roadshow" release, viewed in one sitting with two intermissions.
The first in the trilogy, Red Riding: 1974, is the sole film of the three that works as a stand-alone feature. Though it sets up characters who play essential roles in the later two films, whose arcs are initiated but incomplete by the end of this film, on its own it feels like the most complete of the trilogy. Even still, this trilogy doesn't rely on just characters to propel the story, but rather an atmosphere of mystery and suspicion that follows us until the finale of the last film. But because this first entry works so well as a self-contained motion picture, it's all the more effective at investing its viewers in the second and third films.
If there's one theme sewn through the three films, it's that old adage which says "absolute power corrupts absolutely." The story begins with the pretense of a serial killer investigation, but as that unfolds, it gradually reveals a plot rooted in themes of police corruption. The ensuing story proves more uncompromising than most movies with that subject, particularly because of the way the film plays out and ends. Suffice it to say that the horrible people scheming in this first film (despite the small victory for the protagonist in the last scenes) remain corrupt and crooked and amoral until the last. This is not a story about a lone idealist who cuts out a small town's morally decayed heart. This is a story about trying to cut down absolute power, and at best removing a finger or two before being destroyed.
The Yorkshire Post assigns an idealistic rookie journalist, Eddie Dunford (Andrew Garfield, from The Imaginarium of Doctor Parnassus), to cover a story about a child murdered in West Yorkshire, northern England. The story concerns a serial killer who kidnaps, tortures, rapes, and then murders little girls. The latest victim was found with "4LUV" carved into her flesh and swan wings sloppily sewn onto her back. The police, led by Detective Superintendent Maurice Jobson (David Morrissey), have little to go on, and Eddie has even less. In the meantime, Eddie's friend Barry (Anthony Flanagan) has been looking into the killings on his own, and he's uncovered some startling secrets about top officials from all sects of political and municipal, and business power in Yorkshire. When Barry suspiciously dies in a freak accident, Eddie picks up where Barry left off. But local magnate and land developer John Dawson (Sean Bean) doesn't like Eddie poking his nose about.
Summing up the complex plot proves difficult, as every other scene seems to step in a new direction or reveal a new piece of the puzzle. This isn't the kind of film that you walk away from for a moment. Because chances are, while you're buying yourself a snack or visiting the restroom, you've probably missed a crucial detail—if not for this film, then for one of the succeeding entries in the trilogy. Watch attentively. The dialogue is spare and doesn't spell out what's going on; the audience must connect the dots themselves. Furthermore, the particularly thick, almost impenetrable English accents will make viewing a chore for those not well-versed in British inflections or slang. But the payoff is rewarding for those willing to work their way through this involved scenario.
Julian Jarrold, the director of Red Riding: 1974, previously helmed Becoming Jane, Brideshead Revisited, and Kinky Boots, but those pictures feel nothing like the spare, unforgiving tone and visual style of this film. Shot in 16mm film stock (the second in the trilogy was shot with 35mm; the last with a digital Red One camera), Jarrold's film captures a rainy, ever-overcast town wrought with seedy characters and ghastly secrets. His gray presentation makes the awful events and grim display of human corruption within the film entirely believable for this world. On its own, the film works wonderfully as a piece about corruption overtaking a naïve idealist, but its emotional impact draws us in, compelling the audience to return now that the stage is set.