Director

Cast

Guy Pearce

,

Robert Carlyle

,

Jeffrey Jones

,

Jeremy Davies

,

Neal McDonough

,

David Arquette

,

John Spencer

Rated

R

Runtime

100 min.

Release Date

03/19/1999
Antonia Bird's Ravenous stands on the line between horror and comedy. Upon close inspection, it contains elements of each without ever becoming the commercially attractive prospect that horror-comedies have become in recent years (i.e., Shaun of the Dead, The Cabin in the Woods). This observation sounds like a criticism, but it is, in fact, a compliment. Twentieth Century Fox released the film in 1999 after a troubled production. Though it received punishing reviews, it has since become a cult favorite. Its grisly thrills and gory humor achieve a curious mix—curious even for the now-popular subgenre. And though the proceedings involve a story of nineteenth-century cannibalism in the Sierra Nevada Mountains, the film's narrative echoes its hard road to the screen. Behind the blood and grotesque sense of humor, there's an allegory for an independent filmmaker against the chew-you-up-and-spit-you-out Hollywood system of commercial entertainment. Indeed, here's a film in which the Powers That Be quickly abandon all morality and adopt the practice of eating human flesh because of its restorative benefits. By contrast, the sole outsider in the picture remains the morally beleaguered opposition. As a result, Ravenous is not only an entertaining, funny, intense, and capably made film, but through its behind-the-scenes story, it has an unlikely way of becoming a familiar tale of how art imitates life.
When his unit is overrun, and he faces death in the Mexican-American War, Second Lt. Boyd (Guy Pearce, fresh off L.A. Confidential) of the Texas army plays dead out of fear. Enemy soldiers gather his body with the dead and cart him into a Mexican base. Inside, the blood of corpses runs into his mouth. Curiously invigorated, Boyd suddenly has the strength to push the bodies off his own and single-handedly take the enemy stronghold. Though his "heroism" earns Boyd a promotion to Captain, his commanding officer (John Spencer) recognizes the circumstances and Boyd's cowardice. As punishment, Boyd must report to Fort Spencer, a home for rejected and exiled soldiers in the Sierra Nevadas. Boyd doesn't bother complaining; he knows his cowardly behavior was disgraceful, but it's not as deplorable as his taste for blood, for which he feels infinitely more shame. Once at Fort Spencer, Boyd joins a band of outcasts: drunkard doctor Major Knox (Stephen Spinella), nervy religious oddball Private Toffler (Jeremy Davies), ignoramus Pvt. Cleaves (David Arquette), aggressive militarist Pvt. Reich (Neal McDonough)—all overseen by the casual liberalism of Colonel Hart (Jeffrey Jones).
One evening, a drifter calling himself Colqhoun (Robert Carlyle) stumbles into Fort Spencer from the mountains. He tells them all a horrifying story about his wagon train to the Pacific. His party's military escort, named Col. Ives, misled the party, and upon becoming stranded during the winter, quickly resorted to cannibalism. Ives became obsessed with consuming human flesh, eating "vigorously" and without restraint—imbued with a demonic spirit Native Americans call "Wendigo." Colqhoun says he escaped Ives' murderous need to fulfill his hunger, but others were left behind. At this, Colonel Hart calls for a rescue party, and after a long journey, they arrive at the caves where Colqhoun's party supposedly holed up during the winter. Inside they do not find Ives; instead, they discover the butchered bodies of Colqhoun's entire party. By then, it's too late; Colqhoun, who is Ives (and played with maddened eyes by Carlyle), kills the whole rescue party save for Boyd, who only escapes by leaping from a ledge. And once again, Boyd is forced to consume human flesh to regain strength and stop Colqhoun.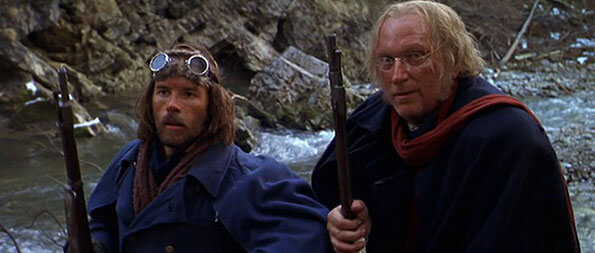 Developed under Fox 2000, Ravenous would quickly become a rocky production for those involved, including original director Milcho Manchevski, executive producer Laura Ziskin, the cast and crew, and soon, replacement director Bird. Indie filmmaker Manchevski, whose Before the Rain won an Oscar and whose Arrested Development music video "Tennessee" earned much praise in its day, was set to begin shooting on location in Mexico and the Tatra Mountains in Slovakia. Before shooting ever began, Manchevski made outrageous demands. According to reports, he called for the studio to rent him a luxury car and pay for his parking tickets, which they refused. Then, just a week before filming started, Manchevski submitted alternate storyboards and demanded constant rewrites from scripter Ted Griffin, all of it requiring additional weeks of shooting. When the studio compromised, Manchevski refused to sign off on the budget or meet with his production staff about their concerns. Worse, the first three weeks' worth of footage was considered abysmal by the studio; it wasn't long before studio head Ziskin flew to the location with a replacement director (Home Alone 3's helmer Raja Gosnell), which incited a strike amongst the cast and crew.
Amid the cast was Carlyle, whose popularity had soared since Trainspotting and The Full Monty, making him a bankable star. The actor suggested that Bird take over directing duties after working with her on both Priest and Face (friends, eventually Bird and Carlyle would own the production company together, 4Way Pictures Ltd.). And after ten days of negotiations with the studio, Bird arrived on the set at Barrandov Studios in Prague and found the minuscule facilities indefensible. She called the working conditions "horrible" and defended Manchievski, suggesting he couldn't be solely to blame. The production under Bird's helm wrapped with a budget of $12 million, but the studio continued to tamper with the final cut in post-production, adding what Bird called "superfluous" expository bookend narration and silly quotes at the beginning. "There's this disease of thinking your audience is stupid," she told an interviewer, "and they're not." Bird's outlook, both her views on Hollywood and, by extension, her critique of the Manifest Destiny-driven American consumer culture, would work its way into the film's themes and subtext in unsubtle but no less welcomed ways.
To be sure, it's easy to imagine Bird identifying with Boyd after he gets back to Fort Spencer, facing a monster bent on consumption. In the second half of the film, Boyd finds that no one who met Colqhoun is left alive, and the remaining staff suspects him of murdering the others. In the meantime, a new senior officer is assigned to Fort Spencer—none other than Colqhoun, calling himself Col. Ives and donning command duds. Of course, no one believes Boyd's story in the face of a respectable colonel. In due time, Ives explains his plan to transform Fort Spencer into a center for cannibalism, a station where unsuspecting travelers seeking journalist John O'Sullivan's notion of Manifest Destiny will meet their demise at Colqhoun's hands. He gives Boyd the option of joining him and inflicts a massive wound that will require Boyd to consume human flesh to survive. In this scenario, Colqhoun might represent Hollywood with Bird as Boyd. Here, Hollywood offers Bird the opportunity to eat or die. It's a gamble Bird took, just as Boyd did, but in the end, Boyd only eats so he can kill Colqhoun. Bird finished Ravenous, made a great little film, but never worked in Hollywood again.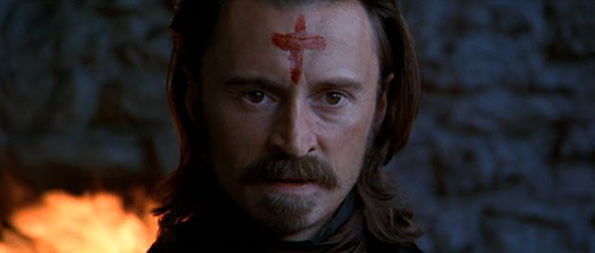 When it hit theaters in late March of 1999, the $12 million production saw returns just north of $2 million, and its box-office death was solidified by the debut of The Matrix just two weeks later. Ravenous received a majority of indifferent and scathing appraisals from critics. Entertainment Weekly's Lisa Schwarzbaum claimed the film "announces 'artsy gore on the way' before every scene of eviscerated human" and, by way of pun, resolved it to be an "indigestible drama." Edward Guthmann of the San Francisco Chronicle warned readers, "Hold your nose. The first candidate for worst movie of the year, a tale of cannibalism." About the film's metaphors, whether they pertained to Hollywood or simply the all-consuming American way of life, Janet Maslin of The New York Times argued: "With metaphors like that, the film doesn't need enemies." Among the few defenders to speak out for Ravenous was Roger Ebert, who astutely observed that it's "the kind of movie where you savor the texture of the filmmaking, even when the story strays into shapeless gore." But even today, after years of reassessment and cult fandom, the film maintains a RottenTomatoes score of only 40%. Ebert at least gave Bird credit where it's due; she delivers a fine production with grungy costumes, ragged characters, and deep red blood—all captured by cinematographer Anthony B. Richmond (who shot Don't Look Now and The Man Who Fell to Earth for Nicholas Roeg).
Most critics couldn't reconcile the film's tonal shifts, which vary from the stark gravity of Boyd's presence under Pearce's humorless performance to the comic asides with the rest of the cast, namely the goofy outcasts of Fort Spencer—funny more in their pointed idiosyncrasies than actual moments of comic relief. Equally alternating between grim thriller and good-humored silliness is the original music by Michael Nyman (The Cook, the Thief, His Wife & Her Lover) and Gorillaz alum Damon Albarn, which must be one of the great, unique scores of the late 1990s. As two British composers compiling post-modern music for an anti-American and anti-Hollywood-themed picture, their score brims with rusty banjo twangs in the traveling theme and hootin' irony during one chase sequence. Throughout, it uses period-unspecific instruments (flutes, mouth harps, accordions, strings galore, electronic sounds, and chanting). And while the composers have grim fun with the score, and the cast playfully delivers their oddball performances in several scenes, Ravenous maintains a level of dread underneath and works on multiple levels—as the best horror-comedies often do. But, as suggested in the opening of this appreciation, Ravenous doesn't lend itself to genre assignment easily.
Fascinating is how Ravenous occupies various genres throughout and yet never completely gives in to any one of them—it's a ride in that sense. Bird often made films that were difficult to categorize, such as her mental illness romance Mad Love (1995), which the film's producers recut into a bipolar-infused rom-com. Ravenous contains elements that Bird wanted removed and remained unsatisfied with the final cut; she hoped to recut the picture for European audiences one day. Having died of cancer in 2013, she never got the chance. But the few slight commercial inclusions hardly spoil the suspense or humor of the film. Quite the opposite—they enhance the subtext to not only the apparent American critique embedded in the narrative's outward themes but also a grim metaphor for Hollywood in the tumultuous behind-the-scenes story. Bird remarked, "LA is the most cannibalistic society I've ever spent time in," and her perspective is realized both on and off the screen here. Nevertheless, what made it to the screen is filled with a curious, fascinating, and undeniably appealing blend of fright and knowing irony. Sometimes the worst movies are indefinable in this way; in cases like Ravenous, it's the sign of a true original.