Director

Cast

Brittany Snow

,

Scott Porter

,

Jessica Stroup

,

Dana Davis

,

Collins Pennie

,

Kelly Blatz

,

James Ransone

,

Brianne Davis

,

Kellan Lutz

,

Mary Mara

,

Ming-Na Wen

,

Johnathon Schaech

,

Idris Elba

Rated

PG-13

Runtime

88 min.

Release Date

04/11/2008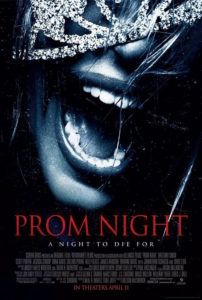 Prom Night spends 87 minutes of its 88-minute running time building to its climax, which feels substandard beyond the laziness of your normal horror remake. Based on a 1980 slasher, the movie won't even satisfy viewers looking for cheap thrills and buckets of blood. The rating was reduced to PG-13, leaving the blood on the cutting room floor (until the inevitable Unrated DVD hits stores). But at least teens will rush out for a big opening weekend, after which, this prom queen will be dumped and forgotten.
The story centers on high-school senior Donna (Brittany Snow). She lives with her aunt and uncle, barely coping because three years ago an obsessed teacher named Richard Fenton (Johnathon Schaech) murdered her family. Finally getting over the tragedy, Donna and her two spunky friends, Lisa (Dana Davis) and Claire (Jessica Stroup), prepare for the night of their lives: Prom Night (cue music: dun-dun-dunnnnn). Along with her boyfriend Bobby (Scott Porter), Donna and the trio of couples arrive at Bridgeport High's big night via limousine, greeted with, I kid you not, red carpets and a twenty-person crowd cheering behind velvet ropes. Are all the members of the graduating class celebrities?
Meanwhile, at police headquarters, Detective Nash (James Ransone) gets a call that Fenton escaped from maximum security prison three days ago. He could be anywhere. Hanging up the phone before getting an explanation as to why no one was informed about Fenton's escape for three days, Nash posts plain-clothes officers around the luxurious hotel where Donna's prom proceeds happily. No one wants to tell Donna that the man who killed her entire family, and probably plans on killing her, is out of prison and likely in the area. Why? Because it's her senior prom! No doubt they regret that decision when the body count begins to grow.
Circling between their suite and the hip dance floor, Donna and her group split up, making them perfect one-by-one targets for Fenton. Meanwhile, we're subject to endless conversations about prospective prom kings and queens, who's a bitch and who's not, whether or not college will change them, and other assorted teen drama. Luckily Fenton arrives to break up the monotony. Populated by twentysomethings, some of them approaching their thirties; the cast looks entirely too old to be playing teenage dress-up. Take a look at Bobby's hairline, and you'll be wondering why Donna isn't calling him "Mister."
The original film was a post-Halloween slasher with Jamie Lee Curtis trying to retain her crown as the Scream Queen. Leslie Neilson curiously appeared as the principal. Worth viewing for the camp potential, the original spawned three sequels you've probably never seen (Hello Mary Lou: Prom Night II from 1987 is one of the most out-there movies you'll ever see). Hollywood must really be desperate for fresh horror ideas. With all the remakes of both foreign and domestic pictures—this one formerly a D-grade franchise—we'll no doubt see more remakes of movies that should've never been made in the first place. Michael Bay, for example, is producing a total re-launch of the Friday the 13th series, just as he did with The Texas Chainsaw Massacre.
The director of this film, Nelson McCormick, has The Stepfather on the way later this year, another remake based on the 1987 shocker with Terry O'Quinn as a psychotic parent. For his next project, I propose a redo of Final Exam, the 1981 thriller about a killer who strikes on Finals Day (the cheesy tagline was "Some pass the test…God Help The Rest!!!" I say why change it?). Produced under the company Original Film (along with Newmarket Films), you have to laugh at the company's title, considering this flick is a remake. There's nothing "original" about it. The roster of titles by this company remains exclusive to Vin Diesel action yarn and B-grade horror movies. Prom Night, crowned queen of the latter, arrives perfectly suited to be ignored by teens looking for a night of in-theater socializing.