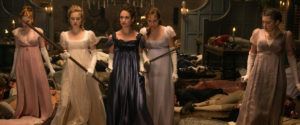 Pride and Prejudice and Zombies
1.5 Stars
Director

Cast

Lily James

,

Lena Headey

,

Sam Riley

,

Douglas Booth

,

Matt Smith

,

Jack Huston

,

Charles Dance

,

Aisling Loftus

,

Emma Greenwell

Rated

PG-13

Runtime

108 min.

Release Date

02/05/2016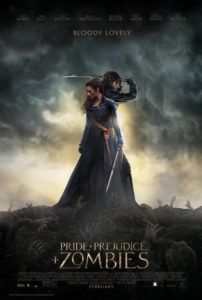 An adaptation of Seth Grahame-Smith's über-meta Pride and Prejudice and Zombies would have been welcomed in the immediate years after its release in 2009. Quirk Books' idea was simple: Take advantage of public domain laws pertaining to classic literature; add a schlocky spin to a classic text and draw readers more interested in genres than Jane Austen; mass-produce, and then reap the benefits. Grahame-Smith's oddball concept book was a best-seller, and was later followed by Ben H. Winters' similar parody novels Sense and Sensibility and Sea Monsters and Android Karenina. Each of these mashups proved one-note in their application of new material on the old, even if they credited their original authors as contributors. The novelty of the phenomenon quickly ran its course and fizzled out a few years ago.
In the seven rotations around the Sun since Grahame-Smith's book hit shelves, viewers have been subject to the devastatingly stupid movie of his 2010 book Abraham Lincoln: Vampire Hunter, proving that some ideas belong in print, or perhaps the SyFy Channel. Hollywood has been trying to adapt Pride and Prejudice and Zombies since earlier this decade when, most prestigiously, actor Natalie Portman and director David O. Russell were attached. Over the course of numerous personnel shifts, eventually writer-director Burr Steers (Igby Goes Down, 17 Again) assumed control. The resulting movie features an attractive cast and exploits our culture's current obsession with zombies, but it lacks the winking charm hinted upon with its title.
As you might expect, the movie is a tonal mess, perhaps intentionally so. One moment the characters are waltzing at a ball or debating the merits of marriage (much of it composed of Ms. Austen's original dialogue), and the next they're unleashing hell on a horde of undead flesh-eaters. Of course, at the center of the story resides Elizabeth Bennet (Lily James, from Cinderella), the most headstrong of the Bennet sisters (a gaggle of "hotties" including Bella Heathcote, Ellie Bamber, Millie Brady, and Suki Waterhouse). Each trained in Chinese martial arts at Shaolin Temple—which is a sign of their lesser upbringing, because the most affluent martial arts are considered Japanese in the film's world—the zombie-slaying sisters vie for various beaus amid England's zombie apocalypse.
Torn between the seemingly chivalrous Mr. Wickham (Jack Huston) and the smug Mr. Darcy (Sam Riley), Elizabeth has nonetheless been raised by her father (Charles Dance, whose fellow Game of Thrones alum, Lena Headey, stars as Lady Catherine de Bourgh) to be independent. Though, marriage may be Elizabeth's best defense against becoming an unmarried and homeless hag. Matt Smith plays a cartoonish version of Parson Collins, the Bennets' cousin and suitor to Elizabeth, or really anyone who'll have him. Alongside the romance plotline, the undead (which are referred to as "zombies") have curious traits—they talk, set traps, and feed on a steady diet of brains, pig or otherwise. Mr. Wickham is sympathetic to them, positing himself as a sort of antichrist figure alongside four mysterious zombie-horsemen in top hats, whose hellish origins are never satisfyingly explained.
Potentially entertaining scenes are structured around a volley of martial artistry and cheekily romantic banter, where characters engage zombies whilst also verbally jousting. Armed with swords and an arsenal of large knives (which don't run out of bullets), the Bennett sisters engage their rotting enemies without much consequence or effort, with several sequences shown in slow-mo for effect. The action quickly becomes repetitive as someone is faced with a snarling zombie, freezes in fear, and then is saved at the last moment by a convenient gunshot or axe-throw from offscreen (this same scenario occurs about four times in the movie). Remi Adefarasin's cinematography doesn't flow as elegantly as the dialogue, so the slicing and dicing seems needless next to the romantic throughline of the story. Aside from Wickham's absurd zombie takeover scheme, the undead are a perfunctory addition that seems present only to satisfy zombie fans. It's no more consequential or less a pointless gimmick than, say, a 3D presentation.
Though zombie violence seems to be the sole reason for Pride and Prejudice and Zombies to exist, many of the decapitations and bowel-spilling grotesqueries occur offscreen. Moreover, much of the PG-13 level bloodshed is tamer than what you might see on AMC's The Walking Dead. Steers knows that the roots of his movie reside in Austen's original text. However, by not fully embracing the concept to its bloodily over-the-top potential, Steers disappoints the small niche audience that might have enjoyed this effort. As is, it's difficult to imagine anyone being very enthusiastic about the final product. At the very least, it might inspire someone to read Austen's original book, or seek out one of the fine, non-zombie-infected film adaptations.