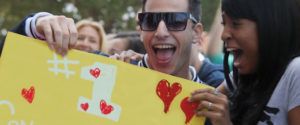 Popstar: Never Stop Never Stopping
2.5 Stars
Director

Cast

Andy Samberg

,

Imogen Poots

,

Bill Hader

,

Maya Rudolph

,

Martin Sheen

,

Will Forte

,

Joan Cusack

,

Will Arnett

,

Jimmy Fallon

Rated

R

Runtime

86 min.

Release Date

06/03/2016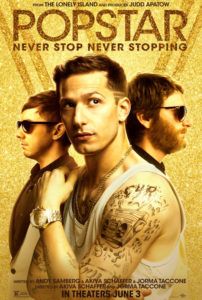 Popstar: Never Stop Never Stopping contains inspired and often hilarious jabs at today's pop music industry, but it's not a well-rounded movie, and certainly not this generation's This Is Spinal Tap, as so many critics have suggested. In their comedy trio's first feature, The Lonely Island creates a mockumentary with unmistakable roots in Rob Reiner's 1984 landmark (which featured Christopher Guest's troupe of improv regulars as nitwitted heavy metal band members). Here, The Lonely Island's members Akiva Schaffer, Jorma Taccone, and Andy Samberg share creative duties—Schaffer and Taccone direct, all three contributed to the script, and each have roles in the movie—although, Samberg takes center stage as a vain suburban dimwit who somehow became a superstar.
The Lonely Island itself is less known than their output on Saturday Night Live a decade ago, where they popularized SNL Digital Short samplings "Dick in a Box" and "Lazy Sunday". Now imagine offscreen documentary filmmakers followed the musicians of those spoofy music videos, and the footage resembles something like a VH1 Behind the Music segment. Except, the segment carries on way too long and finally overstays its welcome, like most SNL sketches tend to do. Indeed, Popstar runs just 86 minutes but manages to feel repetitive and predictable. There's about an hour of worthwhile material; the rest feels like filler. And while the movie boasts plenty of laughs, it also proves The Lonely Island is best in small doses.
Popstar is presented, ungainly, like a documentary-in-the-making; however, in a missed opportunity for another layer, the documentarians are never shown, just heard asking questions offscreen. The doc's subject: Samberg's Conner, the former lead rapper of a Beastie Boys-esque trio known as Style Boyz, a group famous for their crude rhymes and tough front. Conner has since split from the group, whose members Lawrence (Akiva Schaffer) and Owen (Jorma Taccone) have become a farmer and Conner's touring DJ, respectively. Newly christened Conner4Real and fronting more than Vanilla Ice, this image-obsessed narcissist now sings songs like "Humble", in which he praises himself for his modesty. Funny asides about Conner's corporate tie-in deal with an appliance company, or his personal-life-turned-gossip-fodder reported on a TMZ-like tabloid, prove disposable and random. The best moments involve Conner4Real's songs, harkening back to those SNL digital shorts.
Chris Rock, another SNL alum, tried something similar to Popstar back in 1993 with CB4, where Rock played a suburban youth who idolizes gangsta rappers and sets out to become the most artificially hardcore of them all. CB4 borrowed from This Is Spinal Tap as well, and proved quite funny and satirical of the gangsta rap scene. In trying to emulate Reiner's film, The Lonely Island boys create a lot of stupid humor around their stupid characters; whereas This Is Spinal Tap poked fun at its stupid characters with smart humor. The wittiest scene in Popstar involves a fan pressing his penis against Conner's limo, and Conner proceeds to autograph it—the male counterpart to signing a woman's breasts. Or maybe it was the sequence where Conner demands the cameras be shut off during a dramatic interaction; as the audio alone remains on, we hear Conner battle a giant bee with a flame thrower.
This is the difference between what This Is Spinal Tap does and what Popstar does: the former wants to make you laugh, while the latter wants to shake the laughs out of you with shock value and over-the-top absurdity. The filmmakers have also gathered an impressive roster of celebrity cameos to keep our attention: Michael Bolton, Mariah Carey, Simon Cowell, Bill Hader, Maya Rudolph, Ringo Starr, Questlove, Usher, and Pharrell Williams, among others. More substantial appearances are made by Tim Meadows, playing Conner4Real's manager; Sarah Silverman as a publicist; Justin Timberlake as a personal chef; and Adam Levine, in both hologram and human form. The movie also regurgitates its jokes to dull effect: After Seal (yes, Seal) finds himself at the mercy of "party wolves", he appears on the cover of US Weekly missing an eye, and finally, one of the wolves makes an annoyingly nonsensical last-minute appearance before the end credits.
There's a certain sweetness involved in the story, chronicling how Conner reunites with Owen and Lawrence to get Style Boyz back together. But the characters are so comically overblown that the emotional subplot fails to connect. The majority of Popstar relies on a single-joke premise, with a few memorably funny songs littered throughout. Downloading the soundtrack might be a better use of your time than seeing the movie. For me, the test of a great comedy is its rewatchability. If you tracked it, I probably laughed more during Popstar than my first viewing of This Is Spinal Tap. But if I watched them both again, only This Is Spinal Tap would make me laugh just as much if not more. The laughs in Popstar remain so one-note and insignificant, they'll work only the first time, but it's worth watching for that one-time experience.