Director

Cast

Rated

PG-13

Runtime

93 min.

Release Date

05/22/2015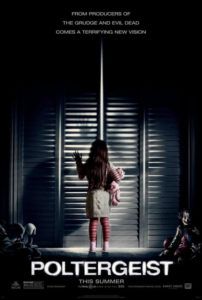 In 1982, The Texas Chainsaw Massacre director Tobe Hooper teamed with writer-producer Steven Spielberg, and together they delivered a benchmark of supernatural horror. Recent fare like Insidious and The Conjuring have borrowed liberally from the original Poltergeist, but none of them can match what Hooper and Spielberg achieved, and with a PG rating no less. Two rather abysmal sequels followed in 1986 and 1988, but they're happily forgotten on the strength of the preliminary chapter. While Hooper received directorial credit on the screen, Spielberg's creative influence can be felt in every frame of that film, ensuring its place as a timeless classic. And what does Hollywood do with timeless classics? It converts them into mediocre remakes.
Wholly unnecessary, yet inevitable given Hollywood's penchant for regurgitating everything from the 1980s, the new Poltergeist offers a few jump scares and some twists on the material, but doesn't live up to the 1982 version. They rarely do. Produced by Sam Raimi's Ghost House Pictures and written by David Lindsay-Abaire (Rise of the Guardians, Oz the Great and Powerful), director Gil Kenan's movie allows him to set aside his child-friendly efforts with Monster House and City of Ember, and try something aimed at the late-night teenager crowd. The PG-13 rating should draw adolescents unfamiliar with the original, as well as older viewers curious to see how the fondly remembered fright film has been muddled.
To be fair, the result isn't all that bad, even if the new story doesn't make sense from the get-go. Paterfamilias Eric Bowen (Sam Rockwell) has recently been laid off, and his wife Amy (Rosemarie DeWitt), a struggling writer-turned-homemaker, doesn't work either. Somehow, without jobs or prospects, they secure financing to buy a new four-bedroom house in a middle-class neighborhood. Trailing behind the parents are their unenthusiastic children: moody teen-speak daughter Kendra (Saxon Sharbino), perpetual scaredy-cat Griffin (Kyle Catlett), and ever-pleasant 6-year-old Madison (Kennedi Clements). Within moments of moving in, lights start flickering, Madison talks to people who aren't there, and objects move on their own. This critic would have moved out as soon as Griffin discovered the crawlspace in his room, filled with a collection of toy clowns.
The remake remains devoted to the original's plot elements but also incorporates a few modern devices, so we know it takes place in the twenty-first century. Smartphones, tablets, and radio-controlled drones each play a small role in the proceedings, and either get possessed by supernatural beings or give us a peak into the nether-world of ghosts. But then, the remake also uses the original's devices: a haunted tree, snowy TV sets, a particularly nasty closet, and a neighborhood built on a former cemetery—all repeated ideas from the original. Once again, the family's youngest daughter is drawn into the closet by a mob of ghosts, disgruntled because someone moved their headstones but not their bodies from the cemetery site. Yet again, the little girl speaks to them through the television. And once again, the family calls on scholarly paranormal researchers (headed by Jane Adams), who then call upon a professional medium (Jared Harris, standing in for Zelda Rubenstein) to rescue their daughter from the other side.
Rockwell's goofy, stressed-out dad steals the show and makes it watchable for the first half, whereas Harris' pseudo-celebrity ghost chaser lends some personality and humor to the final confrontation. But because of his celebrity status, when he starts shouting commands at the ghosts, it feels more phony than authoritative; nevertheless, it works. The children and DeWitt have less to do, even less now than in the original, and the paranormal researchers just seem like filler. Shaving 20 minutes off the runtime of the 1982 version, the remake moves faster but has far less character development, leaving the experience hollow and disposable. Modern CGI effects give the remake's ghosts a cartoony look, whereas the original boasted practical effects that somehow made them more convincing. Otherwise, the tech credits all prove serviceable. The main problem here is the filmmakers haven't done anything significantly new with the material, so there are few surprises worth noting—unless you count how this remake isn't terrible, just pointless.