Director

Cast

Rated

PG-13

Runtime

103 min.

Release Date

04/28/2022
This film was screened at the 42nd Minneapolis St. Paul International Film Festival. For the full lineup of films available between April 13-27, check out the schedule here. The film arrives in theaters everywhere on April 28, 2023.  
Within the first minutes of Polite Society, it's evident that writer-director Nida Manzoor resolved to put everything into her feature debut. Every ounce of energy and inspiration ends up on the screen, resulting in an ambitious undertaking that might register as stylistically extravagant for some. Others, like myself, will embrace the playful excess. A blend of coming-of-age comedy, martial arts battles, fertility horror, and sisterly bonding, the film might seem overstuffed with tonal and plot shifts, each indicated by a new chapter with yellow titles bursting onto the screen. But Manzoor's audaciousness proves both thrilling and endearing, given her concentration on charming and complex female characters. Manzoor comes to film from television, having created the British sitcom We Are Lady Parts for Channel 4, about a punk band comprised of Muslim women. Polite Society takes place in a similar cultural backdrop, centered in the British-Pakistani culture of arranged marriages and social obligations, drawing from equal parts Jane Austen, Quentin Tarantino, and Edgar Wright. Even if she deploys a familiar brand of postmodernism, Manzoor's voice remains unique. 
The story centers on two sisters in the Khan family, Ria (Priya Kansara) and Lena (Ritu Arya). The former's overactive imagination and desire to become a martial arts stuntwoman dominate her life. She spends every waking moment training and making YouTube videos to showcase her aptitude for martial arts, announcing her catchphrase: "I am the Fury!" But Ria's enthusiasm and youth give her tunnel vision, and all else is secondary, especially the cultural expectations put upon women in the British-Pakistani culture. But Ria's older sister Lena flounders. Having dropped out of art school, she's encouraged by her parents (Jeff Mirza, Shobu Kapoor) to consider a courtship from Salim (Akshay Khanna), a pediatric geneticist whose wealthy, manipulative high society mother, Raheela (Nimra Bucha), could be a Bond villain. At least, that's how Ria sees her. Disappointed, Ria asks her sister, "So you're doing a Jane Austen then?" But no amount of shaming will convince Lena to pursue her dream of becoming an artist, and her conceding to an arranged marriage and domesticity is tantamount to death in Ria's heightened worldview. 
At times, it's worth questioning how much of Polite Society takes place inside Ria's head, and whether the film has projected her imagination onto the scream. Manzoor steeps the film in Ria's zany imagination, splashing sound FX, shifting aspect ratios, and titles onscreen as though her life were a kung-fu movie. Otherwise ordinary confrontations at home or school become elaborate showdowns out of Kill Bill. "Khan vs. Khan" slams onto the frame like a fighting video game, announcing a bloody and brutal face-off between sisters, where heads are smashed, doors are pummeled, and Ria fails to deliver her flying reverse spin-kick. Have they really beaten each other so violently? Or is this in Ria's imagination? However, despite sisterly fights, Kansara and Arya have chemistry to spare; both performers are bound for stardom. But everyone in the film appears to be on the same idiosyncratic wavelength, suggesting Manzoor's masterful control of tone throughout.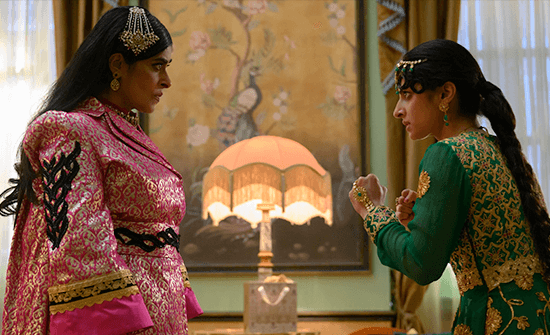 When Lena starts dating and later becomes engaged to Salim, Ria enlists her schoolmates Alba (Ella Bruccoleri) and Clara (Seraphina Beh) to help stop the coupling, believing something evil is afoot. She doesn't trust Salim, prompting an elaborate heist at his gym, requiring the girls to wear riotously bad false mustaches, enter the men's locker room, and copy the hard drive from Salim's laptop to search for secrets. But all they find is his spotless track record, making Ria's continued distrust of the situation cringey, especially after she's caught in a particularly embarrassing attempt to discredit him. Is Ria being overprotective and jealous of her sister? Is she just a brat? Or is there really something off about Salim, who has creepy-funny mama's boy tendencies? The answers come when Ria tries to reconcile with Raheela, and she finds herself in a nightmare scenario, subjected to a torturous leg waxing—the equivalent of 007 getting tied down for the laser treatment in Goldfinger (1964). The stakes become apparent, if not insidious, requiring more drastic action.   
Cinematographer Ashley Connor captures the colorful world of ornate mansions, proper social gatherings, and expensive wedding ceremonies—all of which become the backdrop of kung-fu bouts inflected with wuxia-style fighting. Editor Robbie Morrison delivers nimble cutting, which proves essential to the film's comic timing, and borrows a few tricks from Edgar Wright's aesthetics and visual maneuvering. The result is a near-constant barrage of laughs and thrills, and it's downright exhilarating. It's also beautiful. In the wedding finale, Ria must perform a traditional dance—part Lollywood musical number and part veiled threat—to stunning effect. Beyond the formal execution, Manzoor's cast flawlessly inhabits the subversive and manic tenor. But most resonant is the theme of tradition over individualism that often emerges in stories of generational conflicts. Even though Manzoor surrounds the theme with goofy humor, martial arts, and surreal situations, she questions how traditions sometimes require women to conform in ways that leave them powerless, personally unfulfilled, and even reduced to breeding stock.
Manzoor's penchant for staging deliriously entertaining fight sequences, accented by perfectly timed comedy, makes Polite Society a postmodern gem. And while it would be too easy to point out the allusions to other films in Polite Society, Manzoor, like Tarantino and Wright, transcends her references with an original voice. If there have been films about sisterhood, jealous siblings, ill-advised marriages, scampish teens, and kung-fu, there's never been one quite like this. Here's a film about a distinct culture that, while supplying an uproariously fun time, manages to comment on women having control of their bodies and futures in a terrifically accessible and unpreachy way. It's also a crowd-pleaser. Although it debuted at Sundance earlier this year, I caught a screening at the Minneapolis St. Paul International Film Festival, and the reaction was wildly enthusiastic. With her first film, Manzoor announces herself as a major talent and someone whose next film can't come soon enough.