Director

Cast

Rated

R

Runtime

88 min.

Release Date

05/14/2010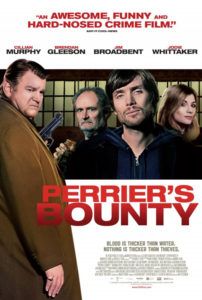 Assembled from scraps of this and that, the Irish flick Perrier's Bounty comes from the post-Tarantino school of crime comedies. Imported by IFC in hopes of becoming the next UK-based hit of this genre, like In Bruges, or Sexy Beast before it, the film contains plenty of violence set to isn't-crime-fun music straight out of Get Shorty. Most directors have given up trying to replicate Tarantino's adept understanding of how the hilarious and the violent can marry under the right circumstances, but UK filmmakers have apparent plans to drive the approach into the ground, just as Hollywood did.
Mildly entertaining but a notable waste of a great cast, the film stars Cillian Murphy as Michael, a loafer with only a few remaining hours to pay back money owed to local gangster Perrier (Brendan Gleeson). There's no explanation as to why Michael owes money, and while trying to secure funds, he only serves to make more trouble for himself. Joining him are his fatalistic father (Jim Broadbent in a wild, uncharacteristic performance) and his longtime crush (Jodie Whittaker, from Venus), both of which he's more concerned about than his own head. Goons abound attempt to fulfill the gangster's bounty, offering all sorts of colorful characters: malicious tow-truck drivers; chubby-chasing thieves; dog-loving hoods; a crazed farmer willing to falsely claim rape to get trespassers off her hay.
Falling somewhere between the energy of Guy Ritchie (Lock, Stock, and Two Smoking Barrels) and the inanity of Troy Duffy (The Boondock Saints), writer Mark O'Rowe's screenplay never becomes more than a trite gangster escapade, despite its attempts at a grand meaning. Throughout the film, voiceover narration by Gabriel Byrne playing the Grim Reaper attempts to bring some significance to the story and the many deaths therein, even if the implication is that there's no significance at all. And while the theme of meaninglessness has worked in other arenas (see the Coen Brothers' A Serious Man), here it feels like a lame, completely random reason to tie together these characters and their stories.
So we laugh a brief, temporary laugh at the film's attempted shocks, some of them so macabre that we can't help but cackle. There's a scene where Perrier and his tough, devoted thugs discuss the homosexuality of their co-thug and pleasantly resolve that they're okay with it. Or there's Broadbent's paranoid, cocaine-hungry performance that seems to exist simply because we're used to seeing the actor in less howlingly mad roles. Other moments, such as Perrier's cruel disposal of dogs, we're not sure if we're supposed to laugh or gasp. None of it works in any way that's very involving, but your appreciation for the impressive list of actors onscreen might better the material for you, though not by much.
Void of any visual signature for the audience to cling to, director Ian Fitzgibbon's approach is static. He doesn't have the finesse of Tarantino, nor the gritty, frenetic pacing of Ritchie. Shot on digital in rain-drenched fields and dingy Ireland towns, the film looks overcast and bland, but not in a way that communicates a particular directorial style or reflects the madcap tone of the film. Perrier's Bounty feels several steps away from achieving the style it aspires to, leaving the audience indifferent, if mildly entertained by the talented actors in material beneath their abilities.