Director

Cast

Ron Rifkin

,

Lesley Ann Warren

,

Ben Schwartz

,

Michael C. Hall

,

Sarah Silverman

,

Rainn Wilson

,

Kate Mara

,

Judy Greer

,

Stephen Tobolowsky

,

Taraji P. Henson

,

Alicia Witt

Rated

Unrated

Runtime

86 min.

Release Date

03/25/2011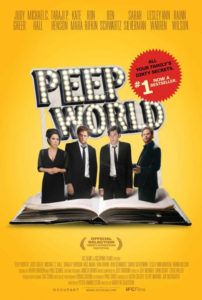 Imagine if the "family of geniuses" from Wes Anderson's The Royal Tenenbaums were not geniuses at all, rather the opposite, but they still clung to their father for approval. Image if the film was directed without much style or craft, and with little or no expressive color or fluid camera movement. Imagine if the actors were a grade or two less than Anderson's performers, and their dialogue contained none of the quirky witticisms or surprising emotion. And imagine if the narrator was considerably less effectual, and his commentary only served to fill in the blanks that the sloppy script couldn't bother showing. The result would be something like the stale black comedy Peep World, from director Barry W. Blaustein and writer Peter Himmelstein.
The Meyerowitz Family stems from caustic patriarch Henry (Ron Rifkin), a self-important developer whose wealth flourishes even during recession. There are four children in all from his first wife (Lesley Ann Warren), who he has since divorced to bed young bimbos and actresses. The children, each quirkier than the last thanks to decidedly transparent character descriptions, resent their father for never being a supportive figure in their lives. Comedian Lewis Black relays information about the characters in his stale narration, emphasizing in his inflection how they're all thin caricatures bound for comic absurdity.
The eldest sibling and "responsible one", Jack (Michael C. Hall), has failed as an architect; he frets over his money problems and increasingly distant relationship with his very pregnant wife (Judy Greer). The black-sheep brother Joel (Rainn Wilson) preys on Jack's kindness, borrowing money in hopes that he can marry his soon-to-be-divorced girlfriend (Taraji P. Henson). Yappy sister Cheri (Sarah Silverman) is a would-be performer; she's suing the youngest brother, Nathan (Ben Schwartz), for authoring a tell-all book, called "Peep World", based on their lives—the source of the whole family's misery. Every year Jack throws a posh dinner party at a swanky restaurant for his father's birthday, and the whole family puts on their fake smiles for the occasion. The movie provides a summary of the hours before this dinner, establishing the interconnected disagreements between them, which will ultimately, and predictably, erupt in escalation comedy fashion at their father's birthday party.
Unlike Anderson's vibrant ode to dysfunctional families, Peep World doesn't bother trying to redeem the father—he hardly appears in the movie aside from his scenes at the dinner. Himmelstein is more interested in placing his characters in wacky situations barely worthy of a sitcom, such as the sequence where Nathan receives an erectile dysfunction treatment and experiences prolonged "readiness". You could say it's convenient, certainly ridiculous, that his new, attractive press assistant (Kate Mara) is willing to jump into bed with him to solve his issues. But then Blaustein directed The Ringer, a movie about Johnny Knoxville joining the Special Olympics, so it's doubtful he cares much about subtlety or plausibility
The above plot description, which reads like your basic teaser synopsis, perhaps spoils too much of the movie. This is because Peep World only runs merely 76 minutes from opening credits to the last scene, which doesn't allow enough time for this many characters to get their due, at least not with Himmelstein's writing. By the time the characters are established, the movie's almost over. As such, it has a pilot episode quality, previewing a never-to-be sitcom about that zany Meyerowitz Family. Picked up by IFC from the Toronto Film Festival, the movie makes its debut on various VOD platforms and then will appear in limited theatrical distribution a month later. They no doubt chose the project because of the bankable stars in the cast, but aside from two or three chuckle-worthy lines from Silverman, the performers barely have a chance to live up to their otherwise good names.