Director

Cast

Rated

R

Runtime

94 min.

Release Date

09/25/2015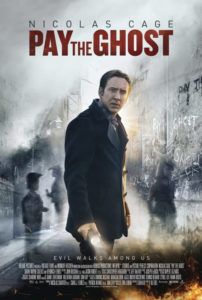 Before watching Nicolas Cage's latest effort, the supernatural thriller Pay the Ghost, I rewatched the actor in director Gore Verbinki's odd comedy, The Weather Man, from 2005. It features a wonderful and subtle comedic performance from Cage, who offers an understated character maligned by his own existence, not unlike his roles in Leaving Las Vegas (1995, for which he won the Best Actor Oscar), Adaptation. (2002, nominated for an Oscar), or Martin Scorsese's Bringing Out the Dead (1999). In the face of Cage's recent paycheck-cashing fare, most of it barely reaching theaters and much of it barely worthy of a spot in your memory banks, it's difficult to remember that before Cage was a joke, he was an accomplished performer.
Pay the Ghost may seem similar to Cage's other efforts as of late (The lovechild of Stolen and Ghost Rider, perhaps?), but its production value and pointed lack of Cage's standard over-the-topness makes it more consumable. The story opens on Mike (Cage) and Kristen Lawford (Sarah Wayne Callies), parents of the young Charlie (Jack Fulton), who's been seeing creepy things in his room late at night. Dismissive of their son's fears, even after he puts together a couple of creepy drawings of the shadowy figure, Mike and Kristen carry on with everyday life—he anxiously awaits his tenure letter from a New York university, while she waits with Charlie for her perpetually late husband.
Trying to make up for missing trick-or-treating on Halloween night, Mike takes Charlie to a neighborhood festival, where everyone's dressed like ghouls and goblins. After saying, "Can we pay the ghost?" while in line for ice cream, Charlie disappears into thin air. A year goes by with no trace of their missing son, but Mike and Kristen, who are now separated, begin to see visions of Charlie—not to mention buzzards and strange apparitions—as Halloween grows near. Though Kristen quite cruelly blames her husband for what happened, Mike soon discovers that dozens of children go missing every year on Halloween, but few of them are ever found, as opposed to any other day of the year, when the chance of recovery is much higher. He keeps investigating and finds a troubled Celtic ghost may be responsible.
Meanwhile, the detective on the case (Lyriq Bent) refuses to believe anything about the myths surrounding child disappearances on Halloween, whereas Mike's colleague (Veronica Ferres) has no trouble finding the sources of Celtic terror that have carried on since 1679 (as hinted by the prologue set in the 17th century). Indeed, spooky Celtic folktales about a woman whose children were taken from her somehow build into a yarn about hundreds of masked children being abducted on Halloween. One of the more unsettling images from the film involves the kidnapped victims, all decked out as sad clowns and downtrodden pirates, swarming together on "the other side"—an ethereal plane shrouded in darkness and CGI fog.
Director Uli Edel (The Baader Meinhof Complex, 2008) brings some consistent, occasionally sharp visual composure to the film (the occasional cockeyed angle), especially thanks to cinematographer Sharone Meir's location shooting (Toronto stands in for New York). But Pay the Ghost is still a low-budget thriller, reliant on silly moments where the specter in question, with its back to the screen, turns to suddenly scream like a banshee. These moments are less jolting than annoyingly predictable. Along with a nonsensical post-credits scene that defies you to grasp its meaning, the film fails to establish a horror lore we would care to follow in a sequel (clearly the goal here). As for Cage, he's done a lot worse, but he's done a lot better too.