Director

Cast

Simon Pegg

,

Nick Frost

,

Jason Bateman

,

Kristen Wiig

,

Bill Hader

,

Blythe Danner

,

John Carrol Lynch

,

Sigourney Weaver

,

Seth Rogen

Rated

PG-13

Runtime

104 min.

Release Date

03/18/2011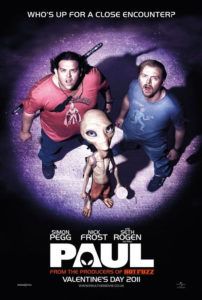 For a select audience comprised of comic book and science fiction nerds, Paul is a fun movie. It uses the conventions of a road trip and buddy movie well, thanks largely to genre-innovating British stars Simon Pegg and Nick Frost, who also wrote the script. Despite the lacking presence of Edgar Wright, the director of Pegg and Frost's contemporary classics Shaun of the Dead and Hot Fuzz, the comedy has surprising heart and humor that's driven by story rather than relentless jokes. Director Greg Mottola (Adventureland, Superbad) handles the material without much style, but in a way, that's just enjoyable enough. Though at times the movie feels perhaps too obvious, the right audience (you know who you are) will enjoy themselves.
Visiting the United States from England on a long-planned road trip, chummy pals Graeme (Pegg) and Clive (Frost) make their first stop at the San Diego Comic-Con, then rent an RV for a cross-country venture to see UFO hotspots like State Route 375's "Black Mailbox" and Area 51. Along the way, they witness a car accident, from which emerges a foul-mouthed, good-humored alien named Paul (voiced by Seth Rogen), who asks for their help to escape from his government pursuers. Jason Bateman plays a rigid Agent on Paul's trail, with two hapless new guys (Bill Hader and Joe Lo Truglio) to assist him. Along the way, Graeme and Clive add yet another unexpected guest to their RV when they're forced to kidnap a witness, Ruth (Kristin Wiig), an inflexible Christian whose ideals about the universe are shattered when she sees an alien. Chased by Men in Black and Ruth's crazed father (John Carroll Lynch), the foursome races toward a rendezvous where their new friend Paul will return home.
Those who have followed Pegg and Frost's careers since Spaced will know that they're diehard fanboys, and so their script contains no end of references to classic sci-fi, but not in a way that makes Paul a parody. Likewise, Pegg and Frost are playing familiar characters—a socially inept pair of best friends who are better at drawing comic books than they are talking to the opposite sex. Much like the aforementioned Shaun of the Dead and Hot Fuzz, the writers take key moments from their favorite films and splice them into a story all its own. For audiences familiar with the material, the movie is even funnier, though knowledge of titles like Aliens, E.T. The Extra-Terrestrial, the Star Wars saga, and especially Close Encounters of the Third Kind is not required. But it helps. Call them in-jokes or "Easter Eggs", there's no end of visual gags and nods to these classics, some of them funnier than others: Sigourney Weaver's appearance leads to some predictable jokes, whereas Steven Spielberg's hilarious audio cameo is priceless.
There's a case to be made that Seth Rogen was perhaps the wrong choice to voice the eponymous alien, if only because the actor's voice is already so identifiable, even overexposed. Some viewers will have trouble putting the image of Rogen out of their minds when Paul speaks, and that's understandable. But for others, Rogen's voice provides a pitch-perfect attitude that Pegg and Frost intended. Frankly, it's hilarious to watch an alien behave in buffoonish ways one moment, and then reveal some hidden secret about the universe or his alien powers the next. Paul was animated using seamless CGI that only occasionally makes the character look cartoonish next to his human cohorts; most of the movie you forget he's animated. In fact, Hader and Truglio's clueless Agents feel more like cartoon characters than Paul.
Devoted fans of Pegg and Frost's previous material will appreciate how Paul uses sci-fi pop culture to tell its story, even if it doesn't come with Wright's bravado visual approach. Mottola's direction is serviceable, and the impressive cast of comedians and cameos make for consistent laughs. The story doesn't set out to reinvent the buddy movie or road movie the way Shaun of the Dead and Hot Fuzz did for their respective genres, but the formulas work here. The diversionary chuckles are pleasant and consistent, with an occasional burst of uncontrolled laughter mixed into the constant sense of moderate amusement. But if a movie starring Simon Pegg and Nick Frost as sci-fi nerds who meet an alien doesn't sound like comic gold to you, chances are you won't appreciate the result the way your average fanboy would.