Director

Cast

Antonio Banderas

,

Asier Etxeandia

,

Penélope Cruz

,

Julieta Serrano

,

Leonardo Sbaraglia

,

Nora Navas

,

Asier Flores

Rated

R

Runtime

113 min.

Release Date

03/22/2019
Now in the twilight of his career, Spanish director Pedro Almodóvar, at 70, has become contemplative about his life as a filmmaker. Once the counterculture renegade whose films such as Law of Desire (1987) and Tie Me Up! Tie Me Down! (1989) gleefully confronted taboos with a colorful, confrontational style, his latest, Pain and Glory, settles into a melancholic and solemn consideration of his life as it is now: a dominant artistic ambition that overrides all other aspects of his life with a prevailing need to create cinema. A cumulative work in which his obsessions converge, the film resists the writer-director's more ostentatious formal touches for something far more pensive and affecting. Call it autofiction, Almodóvar's recurrent approach since his debut more than three decades ago, but of an apparent sort that finds his frequent leading man Antonio Banderas, who got his start in their first collaboration on Labyrinth of Passion (1982), donning the auteur's signature hair as an obvious double. Some of the film's posters even show Almodóvar as a shadow of Banderas' character, making this fictionalized self-portrait part of the thinly veiled subtext. But in this unlikely confessional style, Almodóvar looks back on his career in a raw, carefully considered, and open exploration of self. 
Almodóvar by way of Banderas, our protagonist is Salvador Mallo, an ailing director whose career has been suspended by his growing list of physical maladies, including insomnia, tinnitus, chronic back pain, and headaches of every variety—all detailed in a delirious animated sequence by Juan Gatti with Salvador describing each disorder. The pain has led to a creative crisis, stalling his ambition to make another film after three decades of productive, widely recognized work. Living alone in Madrid, Salvador inhabits an apartment decorated with objects from Almodóvar's own home—"This looks like a museum," says a friend who visits, remarking on the modern art on the walls, and the cold, mannered quality of the space. Salvador has devoted himself to a nostalgic, museum-like existence, where, at any moment, he might drift away into a memory of his childhood. The images of his young life in the cave homes of Paterna, his relationship with his mother (Penélope Cruz), and eventually his first experience with desire hang like framed scenes in his mind. Though Salvador believes his pain makes filmmaking impossible, he also admits, "Without filming, my life is meaningless." 
Almodóvar finds elegant ways of immersing Salvador in memory, using match cuts and delicate transitions to visually connect the past and present, thus building the aged character into a kind of personal myth. When we first meet Salvador, he has submerged himself in a swimming pool, where he remembers his mother washing laundry by hand in a river. Later, he reconnects with Alberto (Asier Etxeandia), the star of Sabor, a famous film from the early part of his career, newly restored by the Madrid cinematheque. When Salvador made Sabor three decades ago, he clashed with Alberto over the actor's drug use, but the past has muted their conflict and deepened their bond. It's a conflict that mirrors one between Almodóvar and Banderas after the actor left Spain for Hollywood in the mid-1990s, before reuniting on The Skin I Live In (2011). The director makes amends with his former star, and then asks "out of curiosity" to smoke some of his heroin, and this "chasing the dragon" not only mutes Salvador's pain but brings about vivid memories that help reconcile longstanding psychological aches—both in his mind and in real life. His poignant reconciliation with his long-lost lover Federico (Leonardo Sbaraglia) also offers a tender reunion. And with each mental block cleared, Salvador's physical pain becomes less of an obstruction to his creativity, inspiring him to write.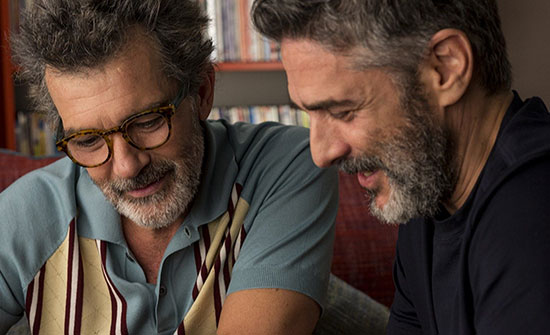 Structurally, Pain and Glory occupies the trajectory of Federico Fellini's 8½ (1963), a touchpoint acknowledged by the presence of a poster hanging on the wall of Salvador's assistant (Nora Navas). Both films follow a filmmaker who cannot launch his next project until he overcomes physical and mental congestion, which are resolved in a series of semi-autobiographical scenes in his memory, some of them drawn from the experiences of their director. But where Fellini's self-indulgent misogyny betrays the emotional impact of his film for some, Almodóvar's vision is far more resonant and less formally agitated. Moreover, Pain and Glory resists turning Salvador's story, in either the past or present, into sensationalism by reducing it to a tale of drug addiction or sexual memory. There's a Bergmanesque quality to the emotional searching here, which is both meditative and moodily emotional. It's a quality enhanced by Banderas' incredible performance, easily among his best, that avoids becoming a mere caricature or even embodiment of Almodóvar, but rather a loving interpretation by a longtime friend and collaborator.
Among the scenes that ache the most are those that seem to bear a palpable connection to Almodóvar. The only memory not set during his childhood, Salvador remembers the final days of his mother's life. Now played by Julieta Serrano, she gives him instructions on how she should be buried and warns him not to use her death in his autofiction. Almost instantly, the viewer thinks of Almodóvar's All About My Mother, released just before his mother's death in 1999, and wonders if he betrayed her actual request. If so, his lingering guilt over her disappointment feels acknowledged when Salvador apologizes to his mother, not only for his artistic betrayal but for his lifestyle that apparently offended her piousness. "I've failed you simply by being as I am," he tells her. That pain is answered by a haunting, beautiful flashback, where his family's illiterate handyman (César Vicente), whom the boyish Salvador teaches to read, washes nude in a basin and implants a lifelong struggle between Salvador's sexual inclinations and the shame personified by his mother. 
Almodóvar and his usual cinematographer José Luis Alcaine rely less on the bold color contrasts and flamboyant camerawork evident in the director's previous films (though, this dialed-down quality remains expressive compared to most other filmmakers). Far removed from the restlessly stylistic mode of his earlier work, Pain and Glory shows the filmmaker exercising patience and dimension, resulting in a feature that emphasizes the essential place of cinema in his life. Film brings everything into clarity for filmmakers like Almodóvar, and thus Salvador, refining and articulating that which festers in the mind. It is a necessary process of buildup and creative purging, symbolized here by a physical, if not psychosomatic, blight. And while the biographically inclined viewer could spend its runtime drawing countless parallels to Almodóvar's life and films, the substance of Pain and Glory manages a complex, profoundly moving experience without it becoming over-reliant on off-screen comparisons. At its simplest and most effective, the film is an honest, unselfconscious portrait of the creative process.