Director

Cast

Chris Pine

,

Aaron Taylor-Johnson

,

Florence Pugh

,

Billy Howle

,

Tony Curran

,

Stephen Dillane

,

Sam Spruell

,

Callan Mulvey

,

James Cosmo

,

Paul Blair

,

Chris Fulton

,

Steven Cree

,

Stephen McMillan

Rated

R

Runtime

121 min.

Release Date

11/09/2018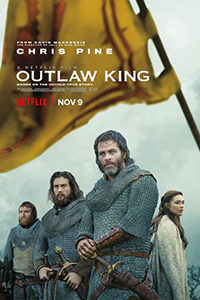 Though I'm fortunate enough to own a home theater system boasting a 65-inch OLED television and surround sound system that will rattle your eardrums, accompanied by recliners that compare to the recent multiplex conveniences, I couldn't help but imagine how much more I would have enjoyed Outlaw King on the big screen. Most audiences will see David Mackenzie's massive production—following Chris Pine's Robert the Bruce, the Scottish leader who took arms against his English rulers after they made a horrific example of rebel William Wallace—in a similar situation. The Netflix production makes its wide debut on the streaming platform, where viewers will consume it on devices of various sizes, ranging from the immersive home theater to the diminutive smartphone. But Outlaw King, apeing the look and tonality of Braveheart, may as well be a sequel to Mel Gibson's bloody, sprawling favorite from 1995—it even shares some of the same actors. It deserves a theatrical experience given its scope, which has been trimmed by about a half-hour since its debut at the Toronto Film Festival. Perhaps Netflix felt a not-so-epic-sized runtime would play better at home.
Desperate for an Oscar, Netflix gave Mackenzie carte blanche to make something similar to Gibson's Best Picture, no doubt hoping for history to repeat itself come awards night. After all, Mackenzie's Hell or High Water (2016), also starring Pine, earned attention from Academy voters. The Scottish director aims for a historical epic less in the tradition of David Lean than Ridley Scott, whose impressively mounted Gladiator (2000) and Kingdom of Heaven (2005) epitomized an early-2000s breed of gritty spectacles that quickly went out of fashion by the time Scott's underrated Robin Hood hit theaters in 2010. Outlaw King resembles those titles, complete with volleys of flaming arrows, armies charging against each other, political intrigue, a steamy sex scene, and swordplay galore. Regardless of such familiar material, Mackenzie's film opens on a promising note: a smooth, eight-minute unbroken shot that glides in and out of a military tent, while establishing most of the major characters and their objectives. It's one of those long shots that proves immersive, rather than distracting, for how long it continues. And it ends with a wowing image when the English king Edward I (Stephen Dillane) demonstrates his army's latest weapon, an enormous catapult that launches Greek fire.
The promise of King Edward I's mega-weapon is never addressed again in the screenplay credited to Mackenzie, co-writers Bash Doran and James MacInnes, and "additional writing" by Mark Bomback and David Harrower, leaving the viewer somewhat robbed of a major showdown. But then, Outlaw King attempts something less narratively convenient than Braveheart—whose historical inaccuracies nonetheless made for a good movie. As Mackenzie rebuts Gibson's treatment of the First War in the ongoing struggle for Scottish Independence, he delivers a depiction of Robert the Bruce that remains somewhat elusive, but not in a way that's compelling. It's not that Pine's Robert the Bruce is a complex characterization or impenetrable; rather, he's an inconsistent character and, unlike the raw emotional drive of Gibson's William Wallace, his motivations seem to change according to the scene at hand. He surrenders to England in the first scene, set in 1306, and then after he assassinates his rival to ensure he's crowned king, he leads a rebellion. He refuses to fight to the death in one battle, then bravely faces down an English army six times the size of his own in the climactic Battle of Loudon Hill. The few scenes between Bruce and his second wife, Elizabeth de Burgh (Florence Pugh), the daughter of an ally to Edward I and a peace offering to Bruce, amount to the film's only intimate relationship.
Cinematographer Barry Ackroyd, a frequent collaborator with Paul Greengrass, shot on digital for a crisp image that captures the gory swordfights and viscera of the battlefield in engaging detail. Filming at various locations throughout Scotland, the production takes advantage of sweeping camerawork captured with helicopters and drones that hover over the lush moorlands. Most of the action takes place on an open landscape, where the contrast between the grayed-out overcast skies and the bright green hills is distinctly Scottish and beautiful to behold. Editor Jake Roberts cuts the footage with a controlled hand, never resorting to the choppiness or fast-cut chaos of the average Hollywood battle scene. The final confrontation between Robert the Bruce's army, united throughout the film from various, previously divided Scottish clans, and the English army led by King Edward's power-mad son (Billy Howle, playing a shade less petulant and sadistic that Joaquin Phoenix's character from Gladiator), is impressive. Although it begins with the tired trope of leaders giving their rousing speech to the troops on horseback, it descends into harrowing, intense combat among hundreds of extras in the mud, recalling the "Battle of the Bastards" sequence from Game of Thrones. It's made all the more exhilarating by Aaron Taylor-Johnson, playing the shamed Lord of Douglas, in an unhinged performance as a kill-crazy lunatic desperate to regain his family's land.
Although the prospect of seeing Outlaw King in a theater would enhance the experience, that prospect remains unlikely given Netflix's stubborn aversion to theatrical viewing. Regardless, they could release the full 146-minute cut of Mackenzie's film, as the extended runtime would allow the viewer to luxuriate in the scenery and, perhaps, create a stronger bond with the hero. Pine, affecting an inconsistent Scottish brogue, is functional in the lead role, but he's hardly the force of Nature that Gibson was—he's the strong, silent type, which is much less compelling to watch. The fault cannot be placed solely on the leading man, however, since much of the film feels like a plodding, by-the-numbers costume drama, hitting each of the required beats that a $120-million period epic requires. Mackenzie seems more interested in portraying an authentic historical moment in the Wars for Scottish Independence than supplying the audience with rich characters and emotions. Outlaw King is often gorgeous and certainly competent filmmaking, but it lacks the dynamism to distinguish it.