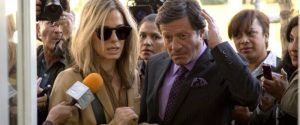 Our Brand is Crisis
2.5 Stars
Director

Cast

Rated

R

Runtime

107 min.

Release Date

10/30/2015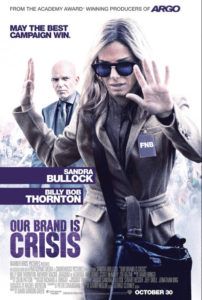 Sandra Bullock offers a strong central performance in Our Brand is Crisis, a film unevenly split between a comical campaign farce and political commentary. Based on Rachel Boynton's 2005 documentary of the same name, the story focuses on an American campaign consultant who breaks all manner of ethical guideline to tip the results of a Bolivian presidential campaign in her candidate's favor. Bullock's excellent performance proves far more deserving of awards consideration than The Blind Side or Gravity, but the film's comedic strains far outweigh the half-hearted attempt at any moralizing remarks—specifically, about the artificiality of democratic campaigns and the U.S. government's interfering in South American politics.
Produced in part by George Clooney, it has been suggested that Warner Bros. greenlit Our Brand is Crisis based solely on the unexpected box-office success of Gravity, in which Bullock and Clooney both starred. Indeed, films of a political nature are rarely audience favorites, and this one in particular questions the entire democratic voting practice (paraphrasing Mark Twain, Bullock's character remarks, "If voting changed anything, they'd make it illegal."). The screenplay by Peter Straughan (The Men Who Stare at Goats, also produced by Clooney) condemns bringing a corrupt element into South American politics, an area already rife with political corruption, but also spends a large amount of time relying on Bullock's comedic side for plenty of physical humor.
Bullock plays "Calamity" Jane Bodine, a former campaign strategist who has retired to an isolated home in the woods. Depressive and dependent on substances during her frenzied campaigning lifestyle, she now lives in serenity as a potter. Then there's a knock on her door from members of a team (Anthony Mackie, Ann Dowd) representing a South American presidential candidate. They've chosen Bodine as a consultant because she's a "disposable"—someone experienced in campaigns but whose detached lifestyle means she can take the blame should their efforts fail. Reluctant at first, she joins the team once she discovers her opponent's strategist is Pat Candy (Billy Bob Thornton), to whom she's lost four campaigns in the past. Candy was based on none other than Bill Clinton's campaign manager James Carville. (NOTE: Thornton played a take on Carville once before in the Clinton satire Primary Colors, from 1998.)
With no investment whatsoever in her candidate, Bodine heads to Bolivia on a "personal" mission to defeat Candy. There she meets the handsome if disinterested Pedro Castillo (Joaquim de Almeida), her upper-crust candidate whom she has no idea how to sell to the working-class majority of the country. Then again, much of her early assessments are spent in a bout of nausea from the high altitude of La Paz, allowing Bullock a few pratfalls and misery-induced laughs in her unkempt state. After an incident engineered by Candy where a disgruntled man cracks an egg on Castillo's head, Bodine snaps out of her funk. She launches a campaign centered on the word "crisis" and how, because of Castillo's previous leadership experience, he's the right man to bring Bolivia out of said crisis.
Of course, the film resists getting too deep into Bolivian politics or the real issues at hand. We see slums and protesters, police in riot gear, and other superficial signs of political unrest, but the real issues are never discussed in any significant detail. This Hollywood production focuses on Yankees pulling the strings on Latin America. It's also Bodine vs. Candy for much of the 107-minute runtime, which could and should have been extended to delve more into the specific political issues and Bullock's complex character. The actress shines in several involving moments where Bodine's self-destructive streak sends her on a bender with some local boys, or when she goes to morally reprehensible lengths to one-up Candy. But her troubled history and last-minute moral turnaround seem underdeveloped.
Director David Gordon Green, once again surprising us with his eclectic filmography, has helmed everything from arthouse treasures like Undertow (2004) to broad comedies like Pineapple Express (2008). His professional work here isn't so uncharacteristic to call it the effort of a journeyman director, as a number of directorial signatures appear throughout. Green's longtime cinematographer Tim Orr delivers authentic location work shooting in La Paz (and Puerto Rico, doubling for La Paz). And there are several scenes representative of the director's work (a slow-mo club scene, a party montage, etc.). Alas, the film appears as if it has much to say, but doesn't end up saying much at all. Instead, it becomes a neutered vehicle for Bullock and her character, whereas so much more could be going on in the film, politically. For true satire that doesn't pull political punches Hollywood-style, seek out Armando Iannucci's In the Loop (2009) or his HBO series Veep.